Rakeem Boyd opts out, declares for NFL Draft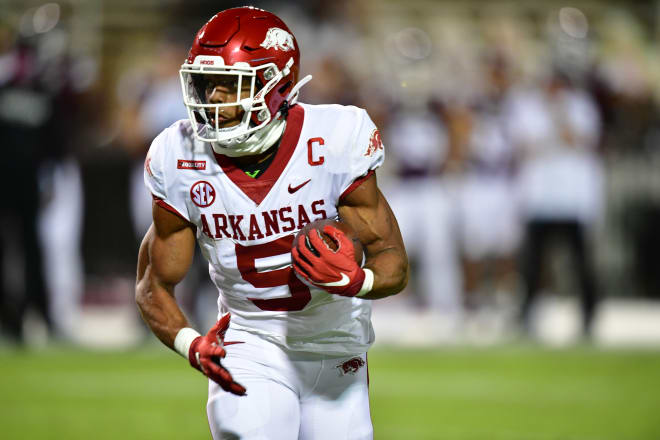 College Students, get a year of HawgBeat coverage for just $11.95. Request details via email from your school account (.edu) to nchavanelle@yahoo.com.
Not a subscriber? Get an annual subscription for 25% off + receive a $75 gift code for NIKE gear. CLICK HERE FOR DETAILS
FAYETTEVILLE — Rakeem Boyd has opted out of the rest of Arkansas' season and will shift his focus to the 2021 NFL Draft, he announced Tuesday.
The Razorbacks have now had six players opt out of the 2020 season, with Boyd joining cornerbacks Jerry Jacobs and Jarques McClellion as the only contributors in that group. Defensive back Jordon Curtis, wide receiver Shamar Nash and offensive linemen Chibueze Nwanna, all of whom are reserves, are the other three.
The decision comes with just two regular-season games left in what has been a disappointing year for the senior. With a chance to assert himself as one of the best running backs in school history, Boyd has rushed for just 309 yards and three touchdowns on 82 carries.
A former four-star recruit who originally signed with Texas A&M and redshirted in his lone year with the Aggies, Boyd transferred to Independence C.C. and rushed for 1,211 yards and 14 touchdowns in 10 games while starring on the Netflix show Last Chance U.
He was a member of former head coach Chad Morris' first signing class and, after a slow start and despite dealing with multiple injuries, led the Razorbacks in rushing with 734 yards in 2018. That included a 102-yard performance against Alabama, making him the first Arkansas player with a 100-yard game against the Crimson Tide since Darren McFadden in 2007.
The next year, Boyd was much healthier and put together a fantastic junior season in which he ran for 1,133 yards and eight touchdowns on 184 carries. The rushing total ranked fourth in the SEC and 15th on Arkansas' single-season charts.
Unfortunately for him, Boyd's most productive seasons were also two of the worst years in UA history. The Razorbacks went 2-10 each of those years and went winless in SEC play.
With a new head coach, offensive coordinator and position coach, he could have opted to skip his senior year and declare for the NFL Draft following the 2019 season, but Boyd decided to return to school.
Needing to replicate his yardage total from the year before to join Arkansas' exclusive 3,000-yard club and ranking third in UA history in career yards per carry (behind only Felix Jones and Matt Jones), Boyd was the Razorbacks' only preseason All-SEC selection, landing on the second team.
He was also voted a team captain by his teammates and praised by the coaches for his leadership during a unique offseason, but the season has been "not ideal" for him, head coach Sam Pittman admitted Monday.
After a tough performance against Georgia's talented defensive line in the opener, Boyd got hurt early in the win over Mississippi State and had to miss the Auburn game. He didn't appear healthy in the win over Ole Miss, but did come out of the open date strong with a 100-yard effort against Texas A&M - the ninth time he'd eclipsed the century mark in his career, which is tied for the eighth most in school history.
Boyd was overshadowed by backup Trelon Smith against Tennessee and Florida, with many fans calling for Smith to get more carries, and then missed the LSU game because of COVID-19 protocols.
However, Pittman said Monday that he anticipated him being back healthy and ready to roll for a strong finish in what he believes will be three more games - at Missouri on Saturday, against Alabama next week and a bowl game.
"There's still three games left…so he can certainly improve his numbers in the next three games if he goes out and plays well and they block well for him," Pittman said. "He knows that he can do something about that, as well, himself.
"We can certainly block better and do some things of that nature, but sometimes as a back you have to go make your own way. He was getting better at that."
By opting out, though, Boyd won't have an opportunity to end his career on a high note.
In three years with the Razorbacks, he racked up 2,176 yards - which ranks 14th on the school's all-time rushing list - and 13 touchdowns on 389 carries. Although his career yards per carry average dropped from 6.1 to 5.6 this year, Boyd still ranks ninth in UA history in that category.
Instead, Arkansas will turn to Smith to carry the load the rest of the season. He has a team-high 469 yards on 89 carries and has scored two touchdowns, highlighted by an 83-yard score at Florida.
Once considered a deep position, the running backs room is now pretty thin. Behind Smith, the only other available scholarship running back on the roster is freshman Dominique Johnson, who has missed the last two games presumably because of COVID-19 protocols and has yet to touch the ball in college.
Josh Oglesby, a track star who joined the football team this year, went down with a season-ending injury in fall camp, while redshirt freshman A'Montae Spivey decided to transfer during the season.
With Boyd and Johnson out against LSU, wide receiver T.J. Hammonds - who has bounced back and forth between the positions - was the Razorbacks' second-team running back and accounted for 80 total yards on two touches. Wide receiver Treylon Burks has also lined up in the backfield on a few occasions, while walk-on freshman Donte Buckner has provided depth without appearing on offense.
The six opt outs, five season-ending injuries, Spivey's decision to transfer and the fact that Jaquayln Crawford is ineligible because of transfer rules leaves the Razorbacks with only 72 available scholarship players for the rest of the season.