Sam Roush's analytical mind led him to choose Stanford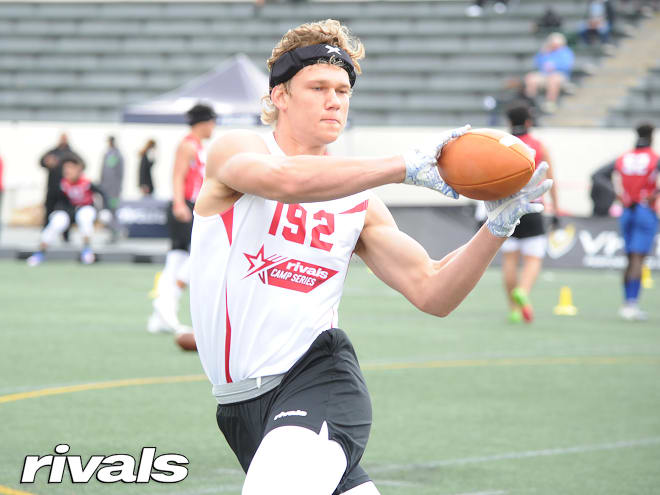 Now is a good time to buy stock in Sam Roush. The 2022 tight end from Bay Area powerhouse Valley Christian committed to Stanford Oct. 12 — news he delivered with a matter-of-fact phone call once he realized that no new information would change his mind.
"Sam has cornered the market on a lot of the positive things that someone can offer," said his head coach, Mike Machado. "He has a great personality, he's a driven kid, he has academic talent and athletic talent. With the personality that he has, he is a 10 out of 10 on the catch scale for some mom out there who has a daughter looking for someone."
A 4.6 GPA student, Roush approach to making a decision or problem solving is described as deeply analytical. One of his AP classes its computer science and he is interested in studying something in that versatile field in college.
Sam is the son of former student-athletes Luke Roush (defensive back at Duke) and Brooke Olsen (volleyball at Montana State) and both sides of the family are stacked with role models in academic and athletic pursuits. Brooke's father is Phil, a former Utah State All-American, and her uncle, Merlin, is a Hall of Famer.
The recruiting process is entirely different from when Luke and Brooke went through it, Luke said. The timeline is greatly accelerated, but Sam never felt rushed to change his course.
"It was fun to watch that unfold," Luke said. "I think Sam was quite consistent with his search criteria. Our family really values education and the character of the people you'll be playing with. That started out as core drivers for Sam and remained important."
The Roush family was fortunate that Sam had plenty of access to Stanford the past two years to get comfortable with the school and program. He has attended multiple games and competed at camp before his sophomore year.
Luke is friends with former Cardinal wide receiver Ryan Whalen and Whalen was able to provide some background on the Stanford student-athlete experience. Sam's cousin, Nate Olsen, also played at Stanford in the 1990s and could vouch for the benefits of attending the university.
"That allowed him to get more comfortable," Luke said. "We also talked a lot about the longevity of college coaches; it's not great. It's a challenging lifestyle. There aren't many schools you can visit and feel like the coach will be there in five to 10 years. It's different with David (Shaw) because he's been there so long and is such a great fit for Stanford. The culture of the team kept coming up from people we spoke with."
Sam traveled to Duke and North Carolina to double check that those schools that also have family ties couldn't pull him away. When he was sure he had the answer he broke the news to tight ends coach Morgan Turner during one of their regular phone calls.
There was zero fanfare. In fact, his parents were out to dinner when Sam had the phone call with Turner and, even though they knew it was coming sooner than later, Luke finds it amusing that he and Brooke weren't even in the room when Sam committed.
Machado laughs when he hears the story, "That's Sam".
"He's a very, very analytical thinker," Machado said. "Sam has his list of goals and there is not a lot of room for anything to get in the way of those. If you're a tight end coming out of Stanford then you're in pretty good shape."
On the field, he has more experience playing rugby overseas in Jakarta, Indonesia — where his family lived for much of his youth. He didn't put on a helmet and pads until his freshman year and his sophomore season was his first on varsity.
He played wide receiver because Macahdo already had a 6-4 senior tight end (Skylar Loving-Black signed with Iowa State) and his squad regularly is deep with players who have FCS or FBS offers. There are 12 such players on Valley Christian this season, including Roush.
Roush was 6-2.5 last year, Machado said, and is now 6-5 with 17 offers offers based on a very small sample size of him actually catching the ball — he had 11 catches for 175 yards in five games. However, his skills are obvious and are bound to get more attention as her plays more games.
Macahado is so confident in Roush's abilities that he presented Roush with a hypothetical to answer before committing: Would Sam change your mind if he knew that this time next year he will have offers from Alabama and Clemson?
Roush thought about it for a second and told his coach he didn't see that changing his mind.
Another wrinkle of interest about his athletic development is what position he may best project to play. Luke is partial to defense because of his experience and because there aren't many 6-5 humans who can bend and move like Sam. He is up to 225 pounds now, according to Luke.
In Machado's opinion, Sam's Hudl by his senior season could have some really good video on the defensive side of the ball.
"He's a special athlete coming off the edge," Luke said. "But he really loves playing tight end.
"He is a determined young man. That's true in the classroom, on the football field and it's really true in the weight room. He is relentlessly pursuing getting better."