The Pittman Factor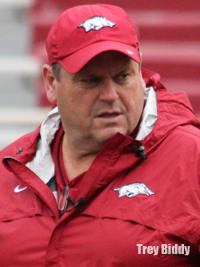 Arkansas is recruiting as well as they ever have on the offensive line thanks in large to assistant head coach
Sam Pittman
.
The latest commitment came Saturday during the US Army All-America Bowl Game when St. Louis (Mo.) Christian Brothers 4-star offensive tackle
Brian Wallace
kicked off the commitments with a pledge to Arkansas over Alabama and Iowa. Pittman has lived, coached and recruited in Wallace's region much of his life.
Wallace's choice move the Razorbacks up eight spots in Rivals.com's team rankings from No. 35 to No. 27, improving the point total from 1455 to 1600. Wallace is ranked the No. 2 overall recruit in the state of Missouri, the No. 13 offensive tackle in the nation and the No. 136 overall prospect in the country.
While plenty of Razorback assistants, as well as head coach
Bret Bielema
, have played a big role as primary recruiters for these prospects, the common denominator is Pittman, who coaches the offensive line.
Since the new staff arrived, they have taken eight new commitments on the offensive line in the 2013, '14 and '15 recruiting classes. They hail from seven different states, including Florida, Hawaii, Colorado, Missouri, Iowa, Arkansas and Texas (2), which definitely indicates strong involvement from regional recruiters on Arkansas' staff.
The biggest recruit of them all may be Pittman. After bringing him over from Tennessee last year, Bielema and athletic director Jeff Long had to pony up $550,000 a year to keep him away from Alabama. It is one of the best investments the UA has made.
How do you compete with the big boys playing their style of football? -Recruit athletes they recruit.
Where does it all start? -The offensive line.
Class of 2013
Notable Offers: Auburn, Florida State, Louisville, Miami, Ole Miss, UCF, UCLA, USC, West Virginia
Notable Offers: Arizona State, Cal, Colorado, Florida State, Georgia, Tennessee, Washington, Washington State
Notable Offers: Arizona St., Cal, Florida State, Michigan, Ole Miss, Missouri, Ohio State, Oklahoma, Tennessee, Vanderbilt, Washington
Class of 2014
Notable Offers: Baylor, Florida, Ole Miss, Missouri, Nebraska, Notre Dame, Oklahoma, Texas
Brian Wallace
, 6-6, 304 - St. Louis (Mo.) Christian Brothers College High
Notable Offers: Alabama, Georgia, Iowa, Missouri, Nebraska, Ohio State
Notable Offers: Florida, Oklahoma, TCU, Texas Tech
Class of 2015
Notable Offers: Baylor, Oklahoma, Texas, Texas Tech, UCLA
Notable Offers: None (was virtual unknown prior to Arkansas commit)