4-star DE Trace Ford Says Hogs are in His Top Five, Talks Visit Plans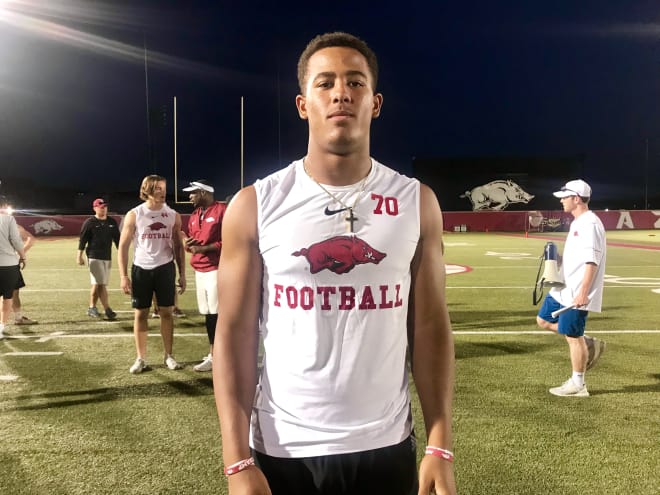 You don't see too many heavily recruited 4-star athletes still competing at camps at schools where they already hold offers but 4-star defensive end Trace Ford came to the Hill to show out, and picked up a camp champ award while he was at it.
"I got here at around 2 or 3 and we toured around to get a better feel for the school," Ford said. "That's why I came. It was like a freeze-out when I came the first time, so I wanted to get around to the facility and the business center and all. It was amazing, I liked it a lot."
Ford had a teammate with him from Santa Fe high school who also camped so it was an opportunity to get better, mingle with the coaches more and a great opportunity to see what it would really be like to be coached by them daily.
"I like Coach Morris and the staff a lot," Ford said. "I like Coach Caldwell. He's kind of quirky. He shows you how to do things and interacts with you, so I like that a lot."
Ford said that the Razorbacks have definitely pushed their way into his top five, but the rest of his list is still blurry.
"I've talked about official visits with Oregon and Arkansas, I was just at Oklahoma State, looking at them too," Ford said.
The No. 4 ranked defensive end in the state of Oklahoma holds 20 offers. He's listed at 6-foot-2 but is probably more like 6-3 these days. Ford says he wants to work on his weight still, adding weight, but also maintaining fitness and even adding quickness.
Ford was easily the most impressive prospect at the Razorbacks' second night camp under Coach Morris.
Ford confirmed at camp that plans to take an official visit to Arkansas but he's in no rush.
"I want to do an official here. They had some this past weekend. Those are for the players that are thinking about (deciding) soon. I haven't made my mind up, so they said we're going to do one in the fall. I want that. This is definitely one of the schools I want to do an official with."
Ford was recently at Oklahoma and Oklahoma State and he'll be in the Lonestar State at Baylor next weekend.