Allen to seek release from Florida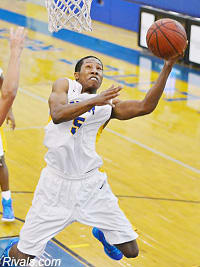 North Little Rock (Ark.) guard and Florida signee
KeVaughn Allen
will seek a release from his National Letter of Intent with the Gators following the departure of head coach
Billy Donovan
, according to Allen's step-father, John Curry.
Curry called into Sports Talk with Bo Mattingly to give the latest on Allen's recruitment Monday afternoon. Curry said Allen will reopen his recruitment and that the instate Arkansas Razorbacks are one of the teams in consideration.
"I guess the best way to put it is he's going to keep his options open," Curry said of Allen. "That's the best way to put it.
"It's coming," Curry said when asked if Allen will ask for his release from Florida. "Florida has to hire somebody before you can actually ask for a release. You can't ask for a release until they bring a new coach in, from my understanding. I'm just going by what I was told, once you get a coach hired, you can formally ask for your release. I don't know if that's true or not, that's just what we were told.
"His whole draw to Florida, besides a beautiful university, [was] the coaches. And that goes for a lot of high school kids. They go to a coach, that's who they go to."
Allen, the nation's No. 67 overall prospect and the Gatorade Player of the Year in Arkansas, helped lead his team to three state championships during his time at North Little Rock High. He committed to Florida on April 30, 2014, signed with the school on April 15, 2015, and remained solid to the program until Donovan left for the Oklahoma City Thunder last week.
There were rumors throughout Allen's recruitment that
Mike Anderson
's Arkansas staff had done a less than stellar job of recruiting the four-star guard, but Curry said it was simply a matter of choosing one head coach over another.
"There's interest in Arkansas, Bo. He never disliked Arkansas...Arkansas has always been in his top three, always been in his top three," Curry said. "But again, like I said earlier, you have a chance to be coached by Coach Donovan or Coach Anderson, you're going to go with the more experienced guy.
"That's no knock against Coach Anderson, but Coach Donovan has been doing it a lot longer at a higher level than Coach Anderson. And I don't mean that with no disrespect, but the man has multiple championships. He's been to the Final Four, he's been to the Elite Eights. When it comes down to it, KeVaughn had a good coach with more experience, a better vibe, and he decided to go to Florida. That didn't mean Arkansas wasn't a good school...Arkansas has always been in his top three.
"So, to get that out there that he didn't like Arkansas, Arkansas was a bad school or they didn't recruit him hard enough, that's all just a rumor."
Curry added that "it's possible" Allen could like Florida's new head coach well enough to stick with the Gators, depending on who they hire to replace Donovan.
He initially chose Florida over offers from Arkansas, Arizona, Baylor, UCONN, Tennessee, Memphis and several others.
Arkansas has signed two players in the Class of 2015 in
Jimmy Whitt
and
Ted Kapita
, and the Hogs gained a verbal commitment from Colorado transfer
Dustin Thomas
on Sunday. Thomas will have to sit out the 2015-16 season per NCAA transfer rules.
The Razorbacks still have two scholarships left to give for this year's class. They are expected to host forward
Ebuka Izundu
on an official visit this weekend.