Analyzing Arkansas' 2021 baseball roster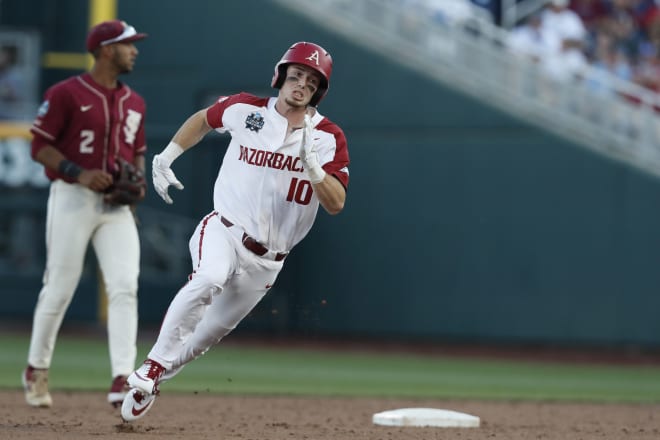 College Students, get a year of HawgBeat coverage for just $11.95. Request details via email from your school account (.edu) to nchavanelle@yahoo.com.
Arkansas will enter the 2021 season with 46 players, according to the roster posted on the UA's official website.
That is down just six players from the 52 listed on the Razorbacks' initial fall roster and it includes 28 returning players and 18 newcomers. They'll hit the field for preseason practice Jan. 29, beginning a three-week practice window before the season opener Feb. 19.
In a normal year, those who did not make the 35-man roster would be barred from practicing with the team or participating in team meetings after the season begins. However, that cap has been lifted for 2021 in response to roster issues caused by the coronavirus pandemic.
A shortened 2020 MLB Draft and blanket eligibility relief from the NCAA has led to a surplus of talent and a created a massive roster crunch across the country.
In addition to removing the roster cap, the NCAA will not require players to receive at least 25 percent of a scholarship and the 11.7 scholarships can be spread out to 32 different players instead of 27 this season.
Another change, specific to the SEC, is that travel rosters have been expanded from 27 to 30.
The reason is two-fold, according to Georgia head coach Scott Stricklin, as it accounts for the larger rosters across the league and gives teams wiggle room in case of positive COVID-19 cases and subsequent contact tracing while on the road.
The other big news in the SEC on Wednesday is that the conference's athletics directors approved a status quo schedule with 10 conference weekends with three-game series and up to 16 non-conference games.
Here is some analysis of Arkansas' 2021 baseball roster, followed by the entire list of players…
Position Breakdown
~RHP: 22
~LHP: 8
~INF: 10 (includes two INF/OF and one C/1B)
~OF: 5 (includes two INF/OF)
~C: 4 (includes one C/1B)
Departures
Of the six players on the fall roster who are no longer listed on the 2021 roster, five of them were previously reported by HawgBeat.
A trio of 2020 signees - Michael Brooks, Jackson Cobb and Clayton Gray - opted to transfer following fall practice, as did returning freshman Bryce Matthews. The other departure was Hunter Milligan, a talented in-state product who was finally forced to retire because of injuries.
The only surprise was sophomore left-hander Liam Henry, who HawgBeat has confirmed is no longer on the team. He did not pitch in the shortened 2020 season, but posted a 4.32 ERA in 8 1/3 innings of relief across nine appearances as a freshman in 2019.
Post-Fall Departures
~Michael Brooks - UCF
~Jackson Cobb - Texas Tech
~Clayton Gray - Crowder C.C.
~Liam Henry - no longer on team
~Bryce Matthews - Washington State
~Hunter Milligan - retired
Summer Departures
~Cole Austin - senior, not returning
~Marshall Denton - student assistant
~Trey Harris - Crowder C.C.
~Kevin Heinrich - St. Johns River State C.C.
~Travis Hester - Baylor
~Jesse Pierce - Grayson C.C.
~Carter Sells - Abilene Christian
~Dominic Tamez - McLennan C.C.
~Collin Taylor - UAB
~Curtis Washington Jr. - Wabash Valley C.C./Purdue commit
Position Tidbits
There was only one real position change, but there are also three players listed slightly differently on the current online roster than they were in the fall. None of them are particularly surprising, though.
After signing with the Razorbacks as an infielder, Zac White is now listed as an outfielder. That reflects the position he played during the Fall World Series.
Listed as solely an infielder in the fall, freshman Cayden Wallace is now an infielder/outfielder on the roster. Originally projected as a third baseman, he got a lot of work in right field during fall practices.
Matt Goodheart had that designation in the fall, but is now listed as just an infielder. His shoulder still hasn't recovered to the point where he'd be able to play in the outfield, so now the focus is on playing first base or being the designated hitter again.
Finally, the third minor change is that freshman Nate Wohlgemuth is listed solely as a right-hander pitcher. He had originally signed as a two-way player and also had outfielder attached to his name in the fall.
Weight Changes
While the football team usually lists precise weights on its roster, Arkansas' baseball team has typically used five-pound increments. For example, instead of listing a player at 189 pounds, he's listed at 190.
After examining the current roster and comparing it to the fall's, HawgBeat found that four players gained at least 10 pounds and all of them are right-handed pitchers. Freshman Tyler Cacciatori gained 20 (236 lbs.), returners Elijah Trest (220 lbs.) and Mark Adamiak (225 lbs.) gained 15 apiece, and freshman Louis Stallone gained 10 (235 lbs.).
Nearly half of the roster - 19 players, to be exact - are listed five pounds heavier than they were in the fall.
Only six players lost weight compared to the fall and each are down five pounds: Zack Gregory, Kevin Kopps, Lael Lockhart, Connor Noland, Evan Taylor and Heston Tole. Noland had gained 10 pounds between the 2020 roster's listing and the fall, so he's plus-5 pounds, while Gregory had gained five, so he's back to his listed 2020 weight.
Complete Roster
As a result of the coronavirus pandemic eliminating almost the entire 2020 season, the NCAA granted all players an extra year of eligibility. Essentially, the year is treated as if it didn't happen, so all returning players are listed as the same classification as last year.
For example, Robert Moore was a freshman and is still listed as such, even though it will be his second year at Arkansas. Those players, which include JUCO and graduate transfers, are denoted with an asterisk (*) in the roster below.
It is an important distinction because it still counts as one of the three years required to be eligible for the MLB Draft. For example, Christian Franklin is still listed as a sophomore, but he'll be eligible for the draft this summer because it's his third season.
Arkansas' 2021 Baseball Roster
| Player | Pos. | B/T | HT | WT | Year |
| --- | --- | --- | --- |
| 1 - Robert Moore | INF | S/R | 5-9 | 170 | *Fr. |
| 3 - Zack Gregory | INF/OF | L/R | 5-10 | 185 | *R-Fr. |
| 4 - Jalen Battles | INF | R/R | 6-2 | 205 | *So. |
| 5 - Jacob Nesbit | INF | R/R | 6-0 | 180 | *R-So. |
| 7 - Cayden Wallace | INF/OF | R/R | 6-0 | 205 | Fr. |
| 8 - Braydon Webb | OF | R/R | 6-0 | 200 | *R-Jr. |
| 10 - Matt Goodheart | INF | L/R | 6-1 | 185 | *Jr. |
| 11 - Cason Tollett | C/1B | R/R | 6-1 | 210 | *Fr. |
| 12 - Casey Opitz | C | S/R | 5-11 | 200 | *Jr. |
| 13 - Connor Noland | RHP | R/R | 6-2 | 220 | *So. |
| 14 - Cullen Smith | INF | L/R | 6-0 | 185 | *R-Jr. |
| 15 - Dylan Leach | C | S/R | 5-11 | 195 | Fr. |
| 16 - Zac White | OF | R/R | 6-0 | 180 | Fr. |
| 17 - Brady Slavens | INF | L/R | 6-3 | 195 | *So. |
| 18 - Lael Lockhart | LHP | S/L | 6-3 | 220 | *Grad-Sr. |
| 19 - Charlie Welch | C | R/R | 6-0 | 205 | *So. |
| 20 - Elijah Trest | RHP | L/R | 6-3 | 220 | *So. |
| 21 - Jacob Burton | RHP | R/R | 6-0 | 185 | *So. |
| 22 - Jaxon Wiggins | RHP | R/R | 6-6 | 220 | Fr. |
| 25 - Christian Franklin | OF | R/R | 5-11 | 195 | *So. |
| 26 - Ethan Bates | INF | L/R | 5-11 | 175 | Fr. |
| 27 - Blake Adams | RHP | R/R | 6-2 | 215 | *Fr. |
| 28 - Kole Ramage | RHP | R/R | 6-1 | 205 | *Jr. |
| 29 - Nate Wohlgemuth | RHP/OF | R/R | 5-11 | 210 | Fr. |
| 31 - Caleb Bolden | RHP | R/R | 6-2 | 190 | *R-So. |
| 32 - Zack Morris | LHP | L/L | 6-3 | 220 | *Fr. |
| 33 - Patrick Wicklander | LHP | R/L | 6-1 | 205 | *So. |
| 34 - Nick Griffin | LHP | L/L | 6-4 | 185 | Fr. |
| 35 - Ryan Costeiu | RHP | R/R | 6-0 | 200 | *So. |
| 36 - Peyton Pallette | RHP | R/R | 6-1 | 175 | *Fr. |
| 37 - Caden Monke | LHP | L/L | 6-3 | 170 | *So. |
| 38 - Mark Adamiak | RHP | R/R | 6-4 | 225 | *Fr. |
| 39 - Evan Taylor | LHP | L/L | 6-4 | 245 | *So. |
| 40 - Corey Spain | LHP | L/L | 5-11 | 215 | *Fr. |
| 41 - Will McEntire | RHP | L/R | 6-4 | 235 | *Fr. |
| 43 - Miller Pleimann | RHP | R/R | 6-4 | 200 | *So. |
| 45 - Kevin Kopps | RHP | R/R | 6-0 | 200 | *R-Jr. |
| 46 - Tyler Cacciatori | RHP | R/R | 6-6 | 235 | Fr. |
| 48 - Heston Tole | RHP | R/R | 6-6 | 210 | Fr. |
| 50 - Matthew Magre | LHP | L/L | 6-1 | 205 | Fr. |
| 52 - Louis Stallone | RHP | R/R | 6-9 | 235 | Fr. |
| 55 - Gabriel Starks | RHP | R/R | 6-1 | 215 | Fr. |
| 57 - Nathan Rintz | RHP | R/R | 6-2 | 190 | *Fr. |
| 58 - Evan Gray | RHP | R/R | 6-4 | 200 | *Fr. |
| 59 - Issac Bracken | RHP | R/R | 6-0 | 195 | *Grad-Sr. |
| 88 - Zebulon Vermillion | RHP | L/R | 6-4 | 230 | *Jr. |