Arkansas basketball announces new assistant coaches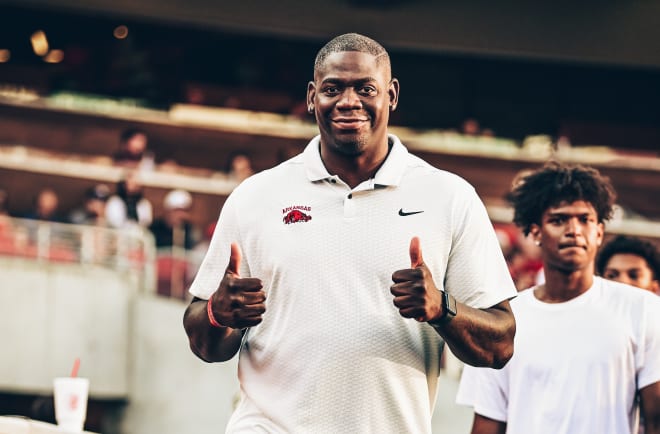 FAYETTEVILLE - Following a successful 2022-23 season that saw the Arkansas men's basketball team reach the Sweet Sixteen, assistant coach Gus Argenal left the program to pursue a head coaching position at California State University in San Bernardino.
To account for Argenal's departure, head coach Eric Musselman announced a restructuring of the Arkansas basketball staff to reflect new NCAA rules that went into effect his past July. Under the new legislation, basketball now allows five assistant coaches for on-court instruction during practices and games.
Musselman and the team announced Monday that Todd Lee, Michael Musselman and Ronnie Brewer will join Keith Smart and Anthony Ruta as assistant coaches. Smart, Ruta and Michael Musselman will be designated as the off-campus recruiters, along with Musselman.
"All three of these coaches have demonstrated their importance to this program and the program will continue to benefit from their knowledge and expertise," Musselman said in a release. "Michael has successfully led our recruiting efforts for the past four years.
"As a former head coach, Todd's contributions this past year were invaluable to me and our program in terms of breaking down our own program and our opponents. Ronnie has played a key role in our recruiting success, done an excellent job getting our players involved in the community and has been a mentor to our players by sharing his extensive NBA knowledge."
Arkansas Razorbacks 2023-24 Men's Basketball Staff:
Head Coach: Eric Musselman (San Diego, 1987)
Assistant Coach: Keith Smart (Indiana, 1995)
Assistant Coach: Anthony Ruta (Arizona State, 2012)
Assistant Coach: Todd Lee (South Dakota, 1986)
Assistant Coach – Director of Recruiting: Michael Musselman (San Diego, 2018)
Assistant Coach – Recruiting Coordinator: Ronnie Brewer (Arkansas, 2015)
Director of Internal Operations: Riley Hall (Arkansas, 2016)
Asst. Dir. of Operations: Caleb Cline (South Dakota, 2020)
Asst. Dir. of Recruiting & Scouting: Blake Wetherington (Murray State, 2017)
Special Assistant to the Head Coach: Tommy Abdenour (Utah, 2012)
Coordinator of Creative Content: Ryan Witthoff (Florida State, 2022)
Graduate Assistants: Alec Kagan (Cincinnati, 2018) • Jackson Lee (Dordt, 2023) • Matthew Musselman (San Diego, 2023)
Tony Hall (Arkansas Tech, 2021) • Austin Howard (Charleston (W.Va.), 2018) • Reid Roberts (FIU, 2020)Jonathan Steelman (Wofford, 2023) • Joey White (Saint Mary's (Minn.), 2023