Arkansas loses a legend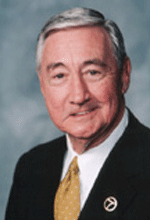 Legendary sports anchor and "Voice of the Razorbacks" Paul T. Eells was lost to this world in a head on collision Monday evening on his way back from the sixth annual Houston Nutt Golf Classic at Stonebridge Golf Course in Fayetteville (Ark.).
Arkansas State Police report that Eells died in a two-vehicle incident in Russellville at approximately 8:13 p.m. close to the 83 westbound mile marker on Interstate 40, a little over an hour's drive from Fayetteville. The other car's driver, Billie J. Burton, 40, of Dover (Ark.) also passed away in the crash, according to a report from the Arkansas State Police
Eells, originally from West Branch (IA) was the Sports Director for Channel 7 News out of Little Rock (Ark.). He was living in Maumelle (Ark.) and had been with Channel 7 since 1978. He is an 11-time winner of the "Sportscaster of the Year Award."
According to Police, Eells was wearing his seatbelt but Burton was not. Eells' 2001 Chevrolete Impala crossed the median and hit Burton's 1997 Lincoln head on in the crash. Both were pronounced dead at the scene, and the accident is still under investigation, according to the police report.
Eells is survived by his wife, Vickie, his son and two daughters. Eells was 70 years old.
He was best known for his famous call, "Touchdown, Arkansas!...Oh my!"