{{ timeAgo('2021-04-07 15:38:12 -0500') }}
baseball
Edit
CJ's Scoring Recap: Arkansas 10, Little Rock 3 (Game 2)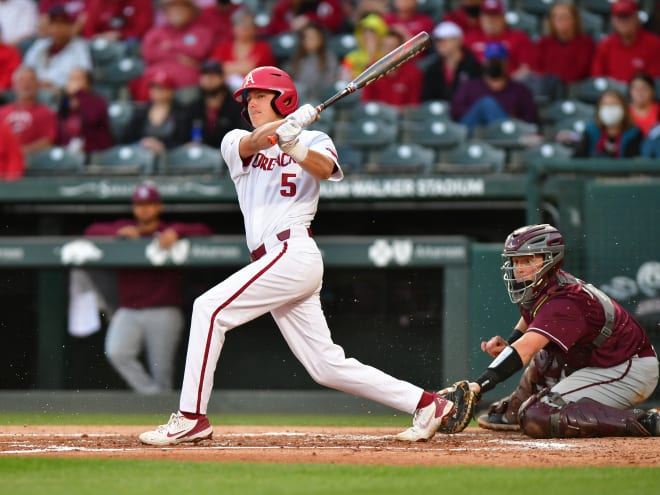 HawgBeat's coverage of the Diamond Hogs' Road to Omaha is brought to you by CJ's Butcher Boy Burgers, which has locations in Fayetteville and Russellville.
Join hundreds of other Arkansas fans in our world-famous game thread, where you can follow live play-by-play updates and commentary, plus get involved in the conversation.
Pregame Notes
As expected, Dave Van Horn is giving starting catcher Casey Opitz the day off and giving freshman Dylan Leach the start behind the plate instead. He has also subbed in Cullen Smith at third base for Jacob Nesbit and is using Charlie Welch as the designated hitter over Matt Goodheart. Other than that, the lineup features regular starters.
Little Rock is sticking with its same lineup as Tuesday.
B-1st: Arkansas 4, Little Rock 0
After back-to-back walks by Robert Moore and Christian Franklin to start the game, Brady Slavens crushed a three-run home run to dead center. The next two batters struck out, but Charlie Welch followed them with a solo home run.
B-4th: Arkansas 5, Little Rock 0
With two outs, Robert Moore hit a solo home run off the scoreboard in right. It was the Razorbacks' 50th long ball of the season.
T-5th: Arkansas 5, Little Rock 2
Robert Moore made a nice sliding stop on a ground ball by Jorden Hussein and threw him out at first, but a run scored on the play because there were runners on second and third with no outs. Tyler Williams followed with an unassisted ground out to first base that also scored a run.
B-6th: Arkansas 7, Little Rock 2
After Jalen Battles reached on an error, he scored on Dylan Leach's triple to left-center. Then he scored on a wild pitch.
T-7th: Arkansas 7, Little Rock 3
Nathan Lyons, a Bentonville native, hit a line drive down the left field line that just barely got over the fence for a home run in the corner. It was a solo shot.
B-8th: Arkansas 8, Little Rock 3
The Razorbacks tacked on another insurance run on an RBI single by Moore. Then with two outs in the inning, Slavens drove in two more with a single.
FINAL - Arkansas 10, Little Rock 3

MORE BASEBALL COVERAGE FROM HAWGBEAT
Starting Lineups
| Arkansas | Little Rock |
| --- | --- |
| 1. Robert Moore - 2B | 1. Nathan Lyons - 3B |
| 2. Christian Franklin - CF | 2. Jorden Hussein - 2B |
| 3. Brady Slavens - 1B | 3. Tyler Williams - CF |
| 4. Cayden Wallace - RF | 4. John Michael Russ - C |
| 5. Zack Gregory - LF | 5. Noah Dickerson - DH |
| 6. Charlie Welch - DH | 6. Kenny Rodriguez - RF |
| 7. Cullen Smith - 3B | 7. Kobe Barnum - 1B |
| 8. Jalen Battles - SS | 8. Miguel Soto - LF |
| 9. Dylan Leach - C | 9. Eldrige Figueroa - SS |
| Pitching: RHP Caleb Bolden | Pitching: RHP Cole Evans |