Diamond Hogs add transfer OF from Wake Forest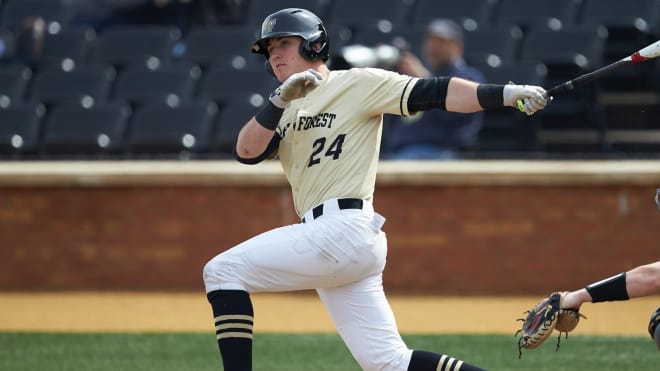 Dave Van Horn dipped into the transfer portal to bolster his outfield once again, as Wake Forest's Chris Lanzilli announced his commitment Saturday afternoon.
The news comes just three weeks after Arkansas nabbed former Oklahoma outfielder and top-40 recruit Jace Bohrofen. The Razorbacks have also added Kent State catcher Michael Turner from the portal this offseason.
In four seasons with the Demon Deacons, Lanzilli hit .298 with 42 home runs and 147 RBIs and earned numerous All-America accolades for his stellar 2019 season.
Coming out high school, the Massachusetts native was a top-400 recruit according to Perfect Game and ranked No. 123 overall by Prep Baseball report.
After a slow start, he eventually lived up to those rankings as a freshman. Although his final batting average was just .268 in 2018, Lanzilli hit .287 in ACC play and seven of his nine home runs came against conference foes. That earned him Freshman All-America honors from Collegiate Baseball.
Lanzilli followed that up with a dominant sophomore season, hitting .347 with 16 home runs and 67 RBIs as Wake Forest's full-time starter in left field. The ABCA and NCBWA named him a second-team All-American while Collegiate Baseball and Perfect Game tabbed him to their third team.
A draft-eligible sophomore that year, Lanzilli opted not to sign with the San Francisco Giants, who took him in the 39th round.
Unfortunately, the 2020 campaign was cut short by the pandemic, but he still managed to hit .299 with six home runs and 12 RBIs in 18 games. Most of his starts (10) came in right field, but he also made six starts at third base and two in left field.
Back in the outfield full time this season, Lanzilli experienced a dip in production. His batting average fell too .259 with 11 home runs and 35 RBIs in 47 games.
The Razorbacks are likely hoping he'll return to his 2019 form and compete for a spot in what will likely be a crowded outfield despite the loss of Christian Franklin to the MLB Draft. Not only did they add Bohrofen from the portal, but they also return right fielder Cayden Wallace.
Those two guys will likely battle for the starting job in center, but the other could start in one of the corner outfield positions. The main candidates for the last spot are likely Lanzilli and junior college signee Landrey Wilkerson, but the two players who split time in left field this year - Zack Gregory and Braydon Webb - and Ethan Bates could also be a factor.
By adding Lanzilli, the Razorbacks now have 49 players on their projected 2022 roster. They'll need to whittle that down to 40 before next spring.
Projected 2022 Arkansas Baseball Roster
Position Players (21)
Ethan Bates - INF/OF
Jalen Battles - INF
*Jace Bohrofen - OF
*Gabe D'Arcy - OF
*Kendall Diggs - INF
Zack Gregory - OF
*Chris Lanzilli - OF
*Cameron Leach - OF
Dylan Leach - C
*Reece McWilliams - INF
Robert Moore - INF
*Jade Putz - INF
Brady Slavens - INF
*Max Soliz Jr. - C
*Peyton Stovall - INF
*Michael Turner - C/INF
*Drake Varnado - INF (drafted, but coming to school)
Cayden Wallace - INF/OF
Braydon Webb - OF
Zac White - INF/OF
*Landrey Wilkerson - OF
Pitchers (28)
Mark Adamiak - RHP
Issac Bracken - RHP
Tyler Cacciatori - RHP
*Dylan Carter - RHP
*Jake Faherty - RHP
Evan Gray - RHP
Nick Griffin - LHP
*Austin Ledbetter - RHP (also 3B)
Matthew Magre - LHP
Will McEntire - RHP
*Isaac Mitchell - LHP
Zack Morris - LHP
*Nick Moten - RHP
Connor Noland - RHP
Peyton Pallette - RHP
Miller Pleimann - RHP
Kole Ramage - RHP
Nathan Rintz - RHP
*Hagen Smith - LHP
Corey Spain - LHP
Gabriel Starks - RHP
Evan Taylor - LHP
Heston Tole - RHP
*Vincent Trapani - RHP
Elijah Trest - RHP (drafted, but coming back)
*Brady Tygart - RHP
Zebulon Vermillion - RHP
Jaxon Wiggins - RHP
*newcomers
Departures
Exhausted Eligibility
~LHP Lael Lockhart (also drafted, signed)
~INF Cullen Smith
Retired
~RHP Jacob Burton
~INF Jacob Nesbit
Transfers/Headed Elsewhere
~RHP Blake Adams (Kansas State)
~RHP Caleb Bolden (TCU)
~RHP Louis Stallone
~C/1B Cason Tollett (Arkansas State)
~INF/C signee Zac Vooletich (Texas Tech)
~RHP Nate Wohlgemuth (San Jacinto J.C.)
Drafted/Beginning Pro Career
~OF signee Braylon Bishop (signed)
~RHP Ryan Costeiu (signed)
~OF Christian Franklin (signed)
~DH/1B/OF Matt Goodheart (signed as UDFA)
~LHP/OF signee Drew Gray (signed)
~RHP Kevin Kopps (signed)
~LHP Caden Monke (signed)
~OF signee Max Muncy (signed)
~C Casey Opitz (signed)
~OF signee Jordan Viars (signed)
~C/1B Charlie Welch (signed)
~LHP Patrick Wicklander (signed)