Examining Arkansas' history of postponed, cancelled football games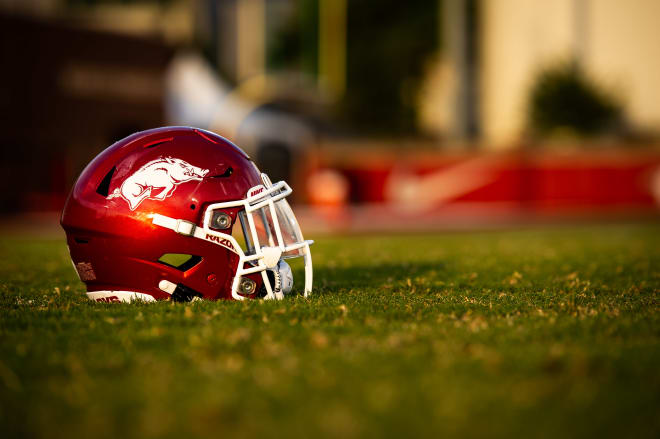 College Students, get a year of HawgBeat coverage for just $11.95. Request details via email from your school account (.edu) to nchavanelle@yahoo.com.
Not a subscriber? Get an annual subscription for 25% off + receive a $75 gift code for NIKE gear. CLICK HERE FOR DETAILS
Arkansas was scheduled to be in Missouri for an 11 a.m. kickoff Saturday, but COVID-19 issues within the Razorbacks' program led to the game being postponed.
Although there had been numerous postponements and cancellations across college football, it was the first time the pandemic had altered Arkansas' 10-game schedule.
It's still worth noting, though, that before the SEC adjusted the schedule, the Razorbacks were set to play four non-conference games that were cancelled: home games against Nevada, ULM and Charleston Southern and a road game at Notre Dame.
To put in perspective how unusual this season is, HawgBeat took a look back at previous times Arkansas has had games postponed or cancelled...
2008 - Hurricane Ike postpones game at Texas
A couple of days before Arkansas was set to travel to Austin, Texas, and resume its old Southwest Conference rivalry with Texas, the Sept. 13 game was postponed because of the looming threat of Hurricane Ike.
Luckily, both teams had a common open date two weeks later and they were able to play Sept. 27.
"We have been monitoring this situation since Sunday and, at this time, feel confident this is the right thing to do," then-Texas AD DeLoss Dodds said in a statement. "A football game becomes less important when you are dealing with the safety of the people of Texas."
It likely just delayed the inevitable for the Razorbacks, who had some ups and downs under first-year coach Bobby Petrino. Led by Colt McCoy's five touchdowns, the Longhorns cruised to a 52-10 victory.
That was part of a brutal three-game stretch in which Arkansas was outscored by No. 9 Alabama, No. 7 Texas and No. 12 Florida 139-31. At the time, the 108-point margin was the worst for a three-game stretch in UA history.
2001 - College football pauses after 9/11 terrorist attacks
Just like the rest of the sports world in the U.S., college football hit pause in the days following the Sept. 11 terrorist attacks, which happened on a Tuesday.
Arkansas was scheduled to play a non-conference game against North Texas that Saturday, on Sept. 15, but it was postponed. It wasn't until two years later that the Razorbacks made up their matchup with the Mean Green.
Needing a game to replace that one in 2001, Arkansas dipped into the FCS ranks and added a game against Weber State for its open date on Oct. 6. It was a blowout 42-19 victory for the Razorbacks, but it is best remembered for the coming out party of a freshman quarterback named Matt Jones.
Although he played a week earlier in the loss at Georgia, the Arkansas native played in front of a home crowd for the first time and gave a glimpse of what was to come during his career. Jones scored on a 59-yard run in the fourth quarter and finished with 81 rushing yards.
1943 - FDR nixes game with service team in Memphis
Because of World War II, the 1943 college football season was truly unique. Eight schools in the SEC, six in the Pacific Coast Conference (precursor of the Pac-12) and a handful of others across the country actually didn't field teams.
Despite some big-time programs - including eight teams in the final top-20 rankings for the 1942 season - not playing, there were plenty of teams for the AP Poll thanks to several "service teams" participating in college football.
Made up of players from all over the country, the service teams formed at flight schools and training centers. Many of those teams were sprinkled throughout the AP Poll, including Iowa Pre-Flight finishing at No. 2 with a single loss to national champion Notre Dame.
One of those teams was located in Memphis, where there was a naval air station. The Razorbacks were scheduled to play a road game against Memphis NATTC on Oct. 23.
However, the base was actually in Millington, Tenn., and they didn't have a stadium there, so the Blues had to travel about 18 miles to Crump Stadium in Memphis for their home games.
Three games into the season, Memphis NATTC was 3-0 with wins over Tulane and SMU. That was good enough to crack the AP Poll and reach as high as No. 13. Unfortunately, a ruling came down that service teams had to play their games on base.
Senator Kenneth McKellar from Tennessee appealed to President Franklin D. Roosevelt to reverse the decision, but it was denied about two weeks before the Blues were set to host the Razorbacks. The rest of their schedule was cancelled.
Not wanting to lose money from ticket sales for the college football games scheduled in 1943, Crump Stadium decided to attempt to put together a six- or seven-game schedule with nearby schools and service teams.
According to the Southwest American, there was talk of Arkansas playing either Vanderbilt or Sewanee - both of which were in the SEC - in Memphis on Oct. 23, but that game never came to fruition. Instead, Arkansas' coaches used the open date to scout future opponents.
1918 - WWI, flu epidemic alter schedule
With a war raging in Europe, there was a question of whether or not Arkansas would even play football in 1918.
In fact, it wasn't until late September that Major George W. Martin, the commanding officer of the Students' Army Training Corps at the UA, even authorized the Razorbacks' season. The only catch was that travel for games couldn't interfere with the players' military training, so they had to leave Fayetteville on Friday evenings.
That eliminated long road trips within the Southwest Conference, which had formed a few years earlier in 1915. Games at Texas and Rice had to be cancelled.
Given the green light to play, head coach Dr. Norman C. Paine called the team together to begin practice. Despite the late start, he was confident the players' rigorous military drills in addition to the two hours per day allotted for athletics would be enough to get the ream ready.
According to a report in the Fayetteville Daily Democrat on Sept.30, "The fineness of football team work will probably not be equal to that of former seasons, but the physical stamina of the men should be superior because of the healthful diet and regular hours, Doctor Paine believes."
In that same report, the Razorbacks' schedule was laid out as follows: at Henry Kendall College (now Tulsa) on Oct. 26, vs. Louisiana University (possibly LSU) or another opponent in Shreveport on Nov. 2, vs. Missouri Rolla School of Mines (now DII Missouri S&T) in Fayetteville on Nov. 9 and at Oklahoma on Nov. 16. It also mentioned the possibility of adding "some strong team" - such as Missouri, Kansas, Kansas State or Oklahoma State - to replace the games against Texas and Rice.
However, the Razorbacks got in only a few days of practice before the flu epidemic broke out. Classes were put on hold as the university - and the entire state - was placed in quarantine. That resulted in three-week suspension of practice.
On the day Arkansas was originally scheduled to travel to Tulsa for a game, the four companies of the Students' Army Training Corps decided they would scrimmage amongst themselves, with the standout players expected to represent the Razorbacks in an upcoming game. Those plans fell through, though, as the medical officers decided to give the men their typhoid and smallpox shots the day before the scrimmages.
Nearly a month after Arkansas was initially authorized to play, a story in the Oct. 29 edition of the Fayetteville Daily Democrat led off, "'Will we ever have a game?' This is a question that hundreds of Razorback enthusiasts have been asking for the last few weeks."
The first game finally happened a few days later, when the Razorbacks hosted the 162nd Depot Brigade from Camp Pike on the day they were originally scheduled to be playing in Shreveport. The UA and a team from Camp Pike had attempted to meet on the gridiron a couple times previously, but it wasn't until the quarantine was lifted that the game was possible.
It was a sloppy game with "many fumbles," according to the Fayetteville Daily Democrat, with Arkansas coming up short in a 6-0 loss. However, newspaper reports over the next few days indicated it was a moral victory because "except for two hours practice just before the game, the eleven Razorbacks had never played together."
The next two games went on as scheduled. Arkansas beat the Missouri Rolla School of Mines 6-0 on Nov. 9 and then suffered the worst lost in school history when Oklahoma won 103-0 in Norman on Nov. 16. (It's worth noting that four of the Razorbacks' best linemen were sent to officers' training schools the week of the game. Considering the war had ended a few days earlier, there was hope they'd be back in time for the game, but that didn't happen.)
As late as Nov. 6, Arkansas didn't have any more games scheduled for the 1918 season. At some point during the next two weeks, though, it added games against the Springfield Normals (now FCS Missouri State) on Nov. 18 and at Tulsa on Nov. 23 - which was Thanksgiving day. The Razorbacks bounced back from their shellacking at Oklahoma by winning both of those games by scores of 12-6 and 23-6, respectively.
The Show Must Go On
Those were the only four instances of Arkansas football games being cancelled or postponed that HawgBeat is aware of, but there were at least two other times during the long stretch between World War II and the 9/11 terrorist attacks that it could have happened...
1970 - Hogs welcome Wichita State 3 weeks after plane crash
It isn't as remembered as the Marshall tragedy that happened a month later, but a plane carrying Wichita State players, staff and others crashed into a mountain in Colorado on Oct. 2, 1970, killing 31 of 40 passengers en route to a game at Utah State.
The Shockers' head coach, athletics director and 14 players were among those who died. However, those who survived the crash and those on the other plane that landed safely voted to continue the 1970 season.
They received special permission from the NCAA and Missouri Valley Conference to play freshmen, which were ineligible for varsity play back then, and their games against Utah State (Oct. 3) and Southern Illinois (Oct. 10) were cancelled, while the Oct. 17 game against Cincinnati was pushed back a couple of weeks to Oct. 31.
That meant their trip to War Memorial Stadium in Little Rock on Oct. 24 was their first game back. Playing with only a 46-man roster - which included 19 freshmen and 20 sophomores - and facing a team ranked 9th nationally, it would have been understandable for Wichita State to cancel the game, but it was determined to play.
According to Orville Henry's report in the Arkansas Gazette, the Shockers were greeted by a minute-long standing ovation from the crowd of 40,000 fans. Afterward, the teams met at midfield and "embraced, shook hands and talked about the football game," according to another story in the Arkansas Gazette.
In between, it was a mismatch of epic proportions. The Razorbacks used their starters for only 18 snaps, at which point they led 20-0. Even with reserves playing most of the game, Arkansas cruised to a 62-0 win.
1963 - Playing a day after the JFK assassination
A day after President John F. Kennedy was assassinated in Dallas, several college football games were postponed - including Baylor-SMU and TCU-Rice. The only game in the Southwest Conference that went on as scheduled was Arkansas' season finale against Texas Tech.
According to a report by the Associated Press, the UA Board of Trustees - in a regularly scheduled meeting that Friday - voted to go on with the game. However, there were adjustments made to the homecoming plans for the weekend. The traditional pep rally and parade were cancelled and there was a "brief and simple crowning" of the homecoming queen at halftime, per the Northwest Arkansas Times.
University President David W. Mullins told the crowd that the only reason Arkansas still played was because Texas Tech was already in Fayetteville and many fans had already arrived, according to the game story in the Northwest Arkansas Times.
In the game, the Razorbacks jumped out to a 20-0 lead, highlighted by an 80-yard punt return by Ken Hatfield, before a furious rally by the Red Raiders to tie the score. Arkansas eventually won on a 24-yard touchdown run by Billy Gray in the fourth quarter.
That proved to be the start of Arkansas' school-record 22-game winning streak, as it won the 1964 national championship with a perfect 11-0 record.