First Look: Georgia Bulldogs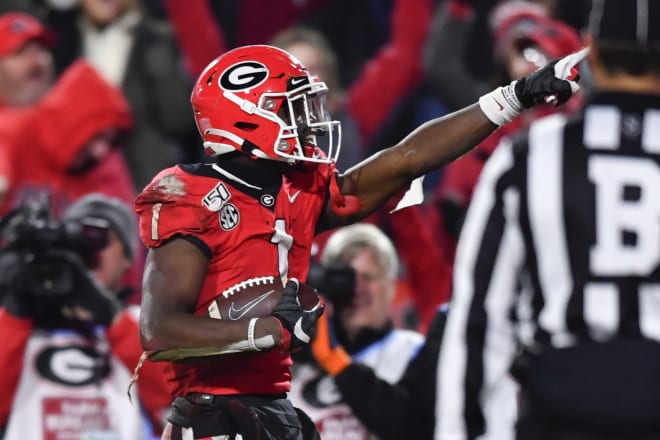 The Razorbacks open the 2020 season at home against the No. 2 ranked team in the SEC–the Georgia Bulldogs.
Kirby Smart is ready to reload for his 5th season as the Bulldogs' head coach, having replaced his offensive line coach, special teams coach and support staff that he lost after Sam Pittman's departure.
The Bulldogs will be breaking out a new starting quarterback after Jake Fromm was picked in the 5th round of the NFL Draft, but the starters identity is still a question mark. After the departure of Wake Forest transfer Jamie Newman, Smart will choose between former USC 5-star JT Daniels, who's been hobbled this offseason, and Dwan Mathis, the Dogs' 2019 quarterback signee.
Georgia Bulldogs
2019 record: 12-2 (7-1 SEC)
All time series vs Arkansas: Georgia leads 10-4
Last meeting: The Razorbacks faced Georgia last in Little Rock in 2014, succumbing 45-32 to the Bulldog defense, which forced three turnovers in the first half, and their run game led by Nick Chubb. The Hogs fought to climb back from a 38-6 halftime deficit but even 296 passing yards from Brandon Allen couldn't get it done by the end-of-game whistle. A month later against LSU, Bret Bielema would finally break the Razorbacks' conference losing streak of 17 games.
Head Coach: Kirby Smart (5th season, 44-12)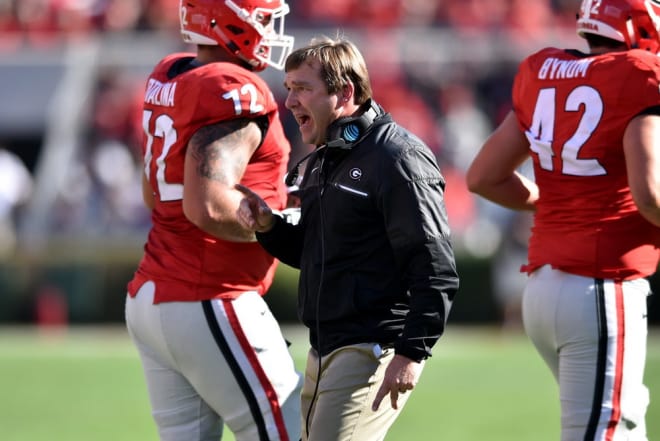 Offense
Coordinator: Todd Monken (1st season) Former OC for the Cleveland Browns, Tampa Bay Bucs. Monken was also previously the head coach at Southern Miss and OC at Oklahoma State.
2019 rushing rank: 41st, 185.1 yards/game
2019 passing rank: 72nd, 223.0 yards/game
2019 total rank: 61st, 408.1 yards/game
2019 scoring rank: 49th, 30.8 points/game
Returning starters: 2
Key losses: Jake Fromm, DeAndre Swift, Andrew Thomas, Isaiah Wilson
Defense
Coordinator: Dan Lanning (2nd season) Co-DC Glen Schuman (2nd season) Lanning has coached at Arizona State, Pittsburgh, Sam Houston State, Alabama and Memphis. Before Georgia, Schuman spent eight years with the Crimson Tide.
2019 rushing rank: 1st, 74.6 yards/game
2019 passing rank: 31st, 201.1 yards/game
2019 total rank: 3rd, 275.7 yards/game
2019 scoring rank: 1st, 12.6 points/game
Returning starters: 8
Key losses: Tae Crowder, J.R. Reed, Tyler Clark
Recruiting
Four-year recruiting rankings (2017-20): 3, 1, 1, 1 (Avg. 1.5)
5-stars signed: 18
4-stars signed: 58
Outlook
It probably won't be a very fun experience for Sam Pittman having to face his former team in Fayetteville a couple years ahead of schedule. Georgia has a new offensive coordinator and a new special teams coordinator so, besides personnel familiarity, the Hogs don't have much of an advantage after hiring several former Bulldogs. After losing DeAndre Swift and the bulk of the starting offensive line, there's a lot of young talent waiting to rise up for the Bulldogs offensively.
Defensively, the Bulldogs once again have one of the most stacked units in the nation with plenty of starters returning and experienced backups. While the Georgia offense may be in for a downturn, the defense is likely to continue to hold teams to three touchdown performances or worse. The Bulldogs placed 10 on the preseason All-SEC teams, voted on by the coaches.
Georgia is the second-hardest team to beat on Arkansas's schedule, placing them at No. 9 behind Alabama.
Difficulty Rating (1-10): 9