Four-star junior Bryce Thompson sorting through visits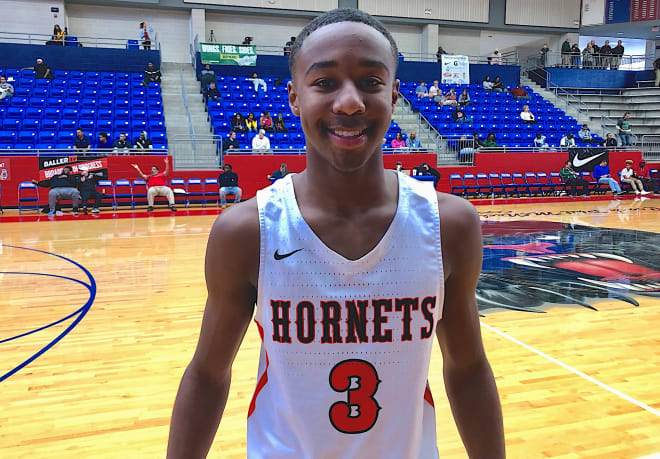 DUNCANVILLE, Tex. -- One of the most dangerous jump shooters in the class of 2020, Bryce Thompson is looking to learn as much as possible about the schools recruiting him.
During the fall, he's been busy taking official and unofficial visits to programs such as Arkansas, Colorado, Kansas, Oklahoma, Oklahoma State and Texas A&M. He discuses the latest with his game, his visits and his plans on how to handle his recruitment in a Q&A with national basketball analyst Eric Bossi.

Eric Bossi (EB): How does it feel to be back out here, and back from injury, especially when on your first night out you roll your ankle?
Bryce Thompson (BT): It was a big scare for me. Especially because last year in the state tournament, I hurt the same ankle and I was struggling the next game. To be able to come back and perform like I did this time was big time, and I'm thankful.
EB: What have you been working on the most lately?
BT: Working on my vision, getting my follow through up on my shot, too. Me being able to shoot from deep, if I have my ball released at a higher point I won't need as much space to get my shot off. Then with my vision, it's all about being better with my passing
EB: You have used the rule that allows juniors to take official visits to your advantage and taken three of them to Arkansas, Colorado and Texas A&M. Let's run through them one by one, starting with Arkansas.
BT: Arkansas was really good. Coach Mike Anderson was great. He really gave off that family vibe to me when I went up there. Everybody was family, everybody seemed to be really cool with each other, so I thought that was good.
EB: Up next, you go to Colorado. How was that?
BT: Colorado, my guy (assistant coach) Kim English is out there. He used to coach at Tulsa, so we have a connection. It was really fun and I had a good time. It wasn't really what I expected. It's better than what I expected because I thought it was just going to be a bunch of snow and everything, but it was beautiful weather.
EB: Then you head down to Texas A&M, another school that is regional for you, like Arkansas. How was that down there?
BT: It was real cool. The Aggie Nation was really good. I went to a football game and saw the 12th man and all of that, it was good. A great experience.
EB: You also went up to Kansas unofficially. You've been there before. How was the most recent visit?
BT: It's always good up there. You know coach Bill Self, what he does speaks for itself. I got to see Late Night in the Phog and all of the crazy fans, so it was good.
EB: You have the in-state schools Oklahoma and Oklahoma State, too. Mike Boynton is getting into his second year at OSU. What kind of vibe do you get from him?
BT: He's very personable and makes things feel very personal with you. He's a player's coach. He gets out there with his players on the floor and he's talking. I really like him a lot.
EB: Then you have the other end of the spectrum in Lon Kruger at Oklahoma, who has years and years of experience. What is he like?
BT: He's good. I talk to him just about every week. He is always telling me that he wants me to come there. I like their playing style. They like to get up and down and he gives them a lot of freedom, so I like them a lot.
EB: Sometimes when you see guys like yourself taking all of these visits it can be an indication that you are looking to get a decision out of the way. Are you looking to decide early?
BT: No, not necessarily. I just want to get out and see everything before I cut the list down. I want to be able to see what everybody has to offer and how everything is going to play out.
EB: So it's just a matter of using these new rules to your advantage? Are you glad that you can do this or does it seem like too much after some visits?
BT: I actually want to do more. I like to get out. I like to see different schools and see what they have to offer and what there is to learn.
EB: At the end of the day, what is going to be most important when making your final decision?
BT: I want to go to school for business. So aside from all of the things on the court, they have to have a good business school. That would be very key.