Garrett Uekman passes at 19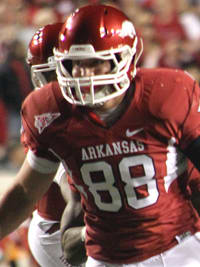 University of Arkansas freshman
Garrett Uekman
, a 19-year old Razorback tight end, was pronounced dead at approximately 12:10 p.m. Sunday at Washington Regional Medical Center.
There are no suspicious circumstances from police, according to the University of Arkansas' release. Uekman was up and active at 10:15 a.m. Sunday playing video games and "appeared to be in good health," according to the release. At 11:15 a.m. he was found unconscious and unresponsive in his dorm room. Attempts to revive him by emergency medical crews were unsuccessful, and he was in cardiac arrest when they arrived just five minutes after Uekman was discovered.
Uekman came to Arkansas from Little Rock (Ark.) Catholic High School and played last night in Arkansas' 44-17 win over Mississippi State in War Memorial Stadium, which is located in his home town and is also the home stadium of his high school team. Uekman, 6-4, 254, chose Arkansas in 2010 over a scholarship offer from LSU, the team Arkansas will face this Friday in Baton Rouge (La.). Causes of his passing are still unknown.
"Garrett Uekman was a special member of our family, and we are all saddened by his passing," Razorback head coach
Bobby Petrino
said. "His loss is a terrible shock, and it makes you realize how precious life is. Garrett was a great teammate and loved being a Razorback. My sympathies are with his entire family during this incredibly trying time, and I share in their grief. Our team will honor and show our respect to Garrett."
I didn't know Garrett very well outside of football, but I started following him his junior year of high school as a recruit and also interviewed him a couple of times in college. I always thought he was a straight-shooter. He never seemed to get too excited or nervous. What impressed me most about Garrett was how he handled things during the summer of 2009 heading into his senior year of high school. Arkansas looked like they would move past him and seemed to like others better at tight end.
This was a kid with options. While some in that position have felt insulted by their home state school and have gone elsewhere in a huff, Uekman knew he was good enough and went to Arkansas' camp to show he deserved an offer. I always respected him for the way he went about that. In this day and age when so many seem to get their feelings hurt so easily, Garrett showed strong character.
One thing about Petrino, he can spot a winner, and the way Garrett handled that is how winners do it...not to mention he had talent. Out of high school, we ranked him the No. 4 prospect in Arkansas in the Class of 2010. This was my 2010 evaluation of him:
Garrett Uekman appeared to be out of the mix for a Razorback scholarship offer early, but instead of sulking he did something about it. He went to the Bobby Petrino Camp and busted his tail and got his offer right afterwards. We love this type attitude - (1) Do what is best for the team, and (2) prove everybody wrong no matter what it takes. In addition to that, Uekman catches the ball with his hands, not his body, he is a bull, and we were surprised with how punishing he was running and blocking at fullback. UA tight ends are required to know both spots.
I thought Garrett made a nice leap forward last spring after redshirting last season. All indications are that his best days of football were ahead of him. In the classroom he was an honor roll student. Uekman was the son of Danny and Michelle Uekman.
"Our son was living his dream of going to the U of A and playing football for the Razorbacks," the Uekmans stated in a release. "He loved his school, his coaches, and his teammates and classmates, and was an influence and inspiration to so many people. We ask for your love and prayers for Garrett, our family and his friends as we all cope with this heavy and painful loss. Meanwhile, we ask for respect and privacy during this time of grief."