Good vibe from commits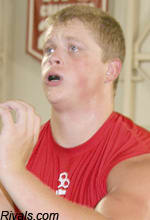 Half of the 18 prospects who took an official visit to the University of Arkansas this weekend were already committed to the Razorbacks, and several said they got good vibes from the non-committed recruits.
The top recruit in the nation, Springfield (Mo.) Hillcrest wide receiver
Dorial Green-Beckham
was among the visitors and the feel around Fayetteville is that the Hogs are in great shape with him.
"Arkansas would probably be DGB's top school," UA wide receiver commit
D'Arthur Cowan
said. "With the fun we had last night and the coaches hanging out with us. I'd probably say he'll end up picking Arkansas just by all the fun that we had this weekend."
UA offensive line commit
Cordale Boyd
got a good vibe from both Green-Beckham and four-star offensive line recruit
Jordan Diamond
.
"I got a very strong and positive vibe about the whole campus itself, and they really liked it," Boyd said. "Especially Jordan, he said he really liked it. And DGB, he liked it too. We have a good chance of nabbing both of them I would think. I hope they come on and Call the Hogs."
Diamond is considering several schools. During the Arkansas-Michigan basketball game, UA offensive line commit
Jeremy Ward
got the impression that those two schools also lead for Diamond's services.
"Jordan, I think we got real close," Ward said. "He's a real big family guy. He likes to have a lot of camaraderie. I kept telling him that's what Arkansas' all about. I don't think he really got what I was saying until he came here. I think he was really blown away. Eat at the Catfish Hole but nothing like that. That pep rally, I think he really, really enjoyed himself, and I think he'll be a Hog honestly.
"We were leaving the basketball game, and he was like 'I'm going to have take your hat,' because I was wearing an Arkansas hat, and I said 'why is that?' And he said because I'm going to have to put it on the table."
Ward also got a good impression for highly recruited linebacker
Dalton Santos
, who is currently committed to Tennessee with a visit slated to Ohio State next weekend.
"Dalton Santos. We talked a good bit. He'll probably end up committing. He loved it. He had a blast," Ward said.
Petrino pumps people up
As with last weekend, the players were also very impressed Saturday night when they went to the team meeting room and were met by Razorback head coach
Bobby Petrino
.
"My favorite part was when Coach Petrino called us all into a room. Before then, we headed from the Catfish Hole and went to the stadium. All the players were still in the room, then we came in the room and sat down and talked to Coach Petrino. Everybody got real hyped, and we just ran out. The players were all bumping up against us trying to get us hyped, and we ran out. It was an experience. I was like 'man, this is crazy,'" Boyd said.
"My favorite part of the trip was really when we got back from dinner yesterday and we went back to the stadium. We were in a group meeting with Coach Petrino, and he was pretty pumped up about September 15th. That's when we play Alabama next year. We got a little pumped up. We were with the team, and it was crazy when we went into the locker room. We were with the players, and then we went out and watched a highlight film. That was really the highlight of the day," Cowan said.
Catfish Hole
Ward is from Pottsville (Ark.), so he is very familiar with the Razorbacks and has been to Fayetteville quite a bit in the past.
"I didn't know it was going to be like that. I wasn't expecting anything like that," Ward said. "I never knew it would be something like that. Honestly, blew me away.
"I've been to Fayetteville a hundred times, but I've never seen it like that."
Saturday night's dinner at the Catfish Hole was also a highlight of the trip.
"It was wonderful. It was more than I expected. It was an overall unbelievable experience for me," Boyd said. "I've been to the Catfish Hole, but I wasn't there when they did all that. They made like a human tunnel of fans. It was an unbelievable experience."
"It was pretty fun walking into the basketball game," Cowan said. "We went to the Catfish Hole for dinner, and they were chanting in there. I really don't have any words for it."