HawgBeat Mailbag: May 14, 2018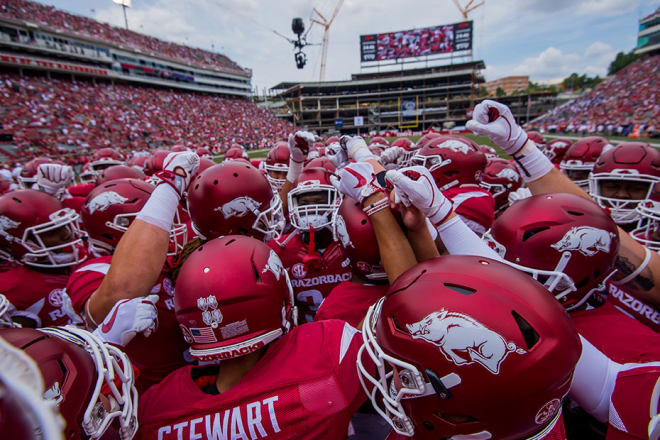 What does the running back recruiting situation look like? – DaltonG
NIKKI: The Hogs are in a good spot with several running backs. Highest priorities I'd say are Marcus Major, Darwin Barlow, Eric Gray, A'Montae Spivey and two backs that we haven't heard much from but are still good fits—Aaron Young and King Doerue. They'll only take one.
Do you think we are holding off on taking a commitment from WR T.Q. Jackson? - heathieboy
NIKKI: I think the staff wants to get all their top guys (Jackson included) on the Hill for official visits. They want it to be a two-way, mutual decision so without an official visit I don't see a commitment happening. And yes, they are on a bunch of elite talent at receiver but I don't think they'd turn down a commitment from Jackson.
Who do you think our next in-state commit will be? - candyred
NIKKI: Most signs point in the direction of wide receiver Treylon Burks. I've already heard many times that Burks doesn't enjoy the recruiting process so he's my pick for next in-state commit. Jadon Jackson is a question mark because of the uncertainty with his future position, Stacey Wilkins we already know will drag out his recruitment for a while, Zach Williams will take all his official visits, Darius Thomas wants to go check out Clemson and Hudson Henry has a big decision to make so it will probably take him a while.
What's so unique about Coach Stepp's recruiting approach that has him on so many elite recruits? Do you see him looking to move into an OC role at some point? - Mr. Uncommon
NIKKI: Well, Stepp has the combination of being a proven talent developer that can put guys into the NFL (Courtland Sutton and Trey Quinn) and he's a great relationship builder. He's good at talking to the kids and their families and showing that he cares—because he genuinely does. I do see him looking to move into an offensive coordinator role at some point, I think all assistants want to continue to move up, who knows when that will be though.
Any feel for the likelihood the OL will be better? - PorkNBean98
HUTCH: The simple answer to your question is that it is highly likely the offensive line will be better this year than it was in 2017, but that is because it was so bad and there seems to be nowhere to go but up. I do believe the new coaching staff is going to help. By all accounts, Dustin Fry is a very hands-on coach and demonstrates techniques and drills more than Kurt Anderson. Chad Morris' background as a high school coach should also help because he'll adapt the offense to what works best with what the offensive line can do.
On an individual level, it is going to be tough to replace first-round NFL Draft pick Frank Ragnow at center, but many experts believe left guard Hjalte Froholdt is going to be a heralded draft prospect this year. Brian Wallace has really impressed the coaches and seems to have a starting spot locked up, which will be new for him at the start of the year. I am anxious to see how he progresses as a starter from Day 1 instead of becoming a starter several games into the season.
That said, I caution everyone to hedge their hopes. The offensive line isn't going to be great. It might not even be "good." I do feel that it will be "better" and "serviceable" in the SEC, though.
Which is the best unit on O and D in 2018? Which unit is most improved from last year and which has the most drop off?" - HawkSavage1
HUTCH: On offense, Arkansas is loaded at tight end. Will Gragg's decision to transfer is a sign of just how deep that position is. Based on what I saw in the spring, I think they will be very active in the Razorbacks' offense this season, particularly in the red zone. Cheyenne O'Grady and Jeremy Patton will catch the majority of the passes, but the coaches also like the versatility of Grayson Gunter - who they have said could be split out as a big wide receiver. Austin Cantrell will be on the field a lot, but I think he'll mostly be a blocker - a good one, at that - who catches a handful of passes in the flats.
It's hard to say which unit will be the best on defense because you can answer it in multiple ways. De'Jon Harris and Dre Greenlaw are one of the top linebacker duos in the conference, in my opinion, but there's a big drop off from them to the second unit. If Dorian Gerald lives up to the hype, the defensive line has a chance to be pretty good and have quality depth. I'm looking forward to seeing what Randy Ramsey does at the rush end spot. However, I think I'm going to go with the secondary because it is the most proven, especially with Kevin Richardson II being granted a sixth year. Ryan Pulley and Santos Ramirez are potential All-SEC guys. Kamren Curl and Chevin Calloway got a lot of experience as true freshmen. Although Curl is changing positions, he seems to be a natural fit at safety.
With Pulley coming back from injury, Curl moving to safety, more quality backups than last year and a defense that will actually pressure the quarterback and not give him all day to throw the ball, I think the secondary will perform much better than it did in 2017. Although I mentioned earlier that I believe the offensive line will be better, one position where there's going to be a significant drop off is at center. Not only did Ragnow get drafted, but Zach Rogers graduated and decided to step away from the game. Now the starting job falls to Dylan Hays, who has gone back and forth between offense and defense during his career, and Ty Clary. Both of those guys are former blueshirts. They may end up being quality players, but they will be a far cry from what Ragnow was last year.
What's Chad Morris's approach to special teams? – hack1577
NIKKI: Chad Morris's approach to special teams is pretty simple. Not many tricks. I think I saw the punter take off for a first down once, maybe twice, in his time at SMU. He does tend to put the best athletes out on the field defending on ST.