Hogs waste great pitching with sloppy fielding, lack of offense vs. Auburn
HawgBeat's coverage of the Diamond Hogs' Road to Omaha is brought to you by CJ's Butcher Boy Burgers, which has locations in Fayetteville and Russellville.

FAYETTEVILLE -- Arkansas couldn't overcome three errors and a lack of offense in a 2-1 loss to Auburn on Thursday.
In a game that didn't feature much scoring, the Tigers struck first with a solo home run in the third by Brody Moore that barely cleared Cayden Wallace's glove in right field.
They scored once more in the fourth on a sacrifice fly by Nate LaRue that was set up by one of the aforementioned errors.
It was a very uncharacteristic defensive showing for the Razorbacks, as third baseman Cullen Smith (2) and shortstop Jalen Battles (1) committed errors on errant throws in the infield.
Smith's errors came errant throw to Robert Moore at second trying to get the lead runner, as well as a bad throw to first. Battles overthrew Moore trying to get the lead runner on a ball where the only play was at first.
"Just a couple of plays that were more mental than physical," head coach Dave Van Horn said.
Braydon Webb produced the only run for the Razorbacks in the fourth, as he led off the inning with a line drive home run into the left field bullpen.
Patrick Wicklander started the game and went six innings, allowing both runs - only one of which was earned - on seven hits and one walk, while adding eight strikeouts.
"He came out and threw a lot of strikes," Van Horn said. "It was really good to see, and something we can build on."
Kevin Kopps came on in relief and pitched the last three innings. He struck out eight out of the twelve batters he faced, allowing only one hit.
"His performance was great," Van Horn said. "We brought him in and had three innings left… Kevin was the right one to go to."
The Hogs just couldn't catch a break, either. To lead off the eighth, Casey Opitz drove a ball into center, but Kason Howell made a terrific diving grab to rob him of a hit.
"Really maybe the play of the game was (by) the centerfielder," Van Horn said. "We are down one run, (it's the) leadoff man and he dives for a ball. If it gets by him, that's a double or a triple, but he made a tremendous play."
Arkansas will try to even the series with Auburn at 6:30 p.m. CT Friday. The game will be streamed on SEC Network-Plus.
BOX SCORE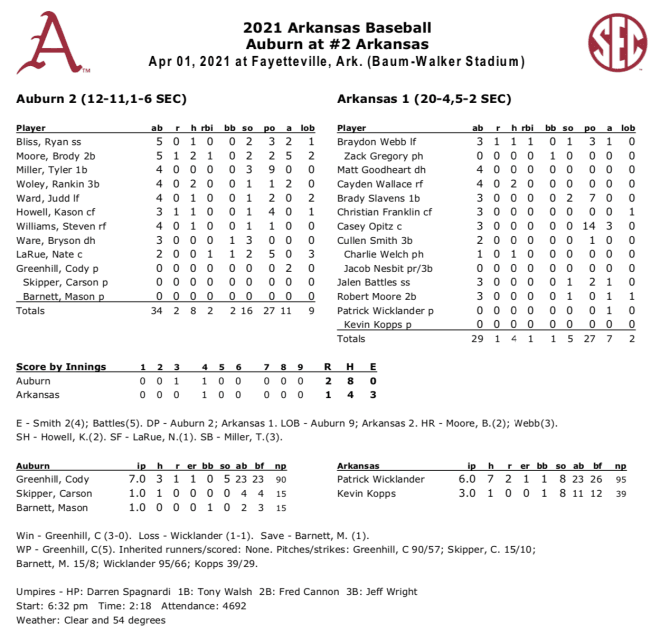 POSTGAME INTERVIEW