{{ timeAgo('2022-05-14 15:58:43 -0500') }}
baseball
Edit
Meet Grant Harmon, the fan who caught a raccoon at Baum-Walker Stadium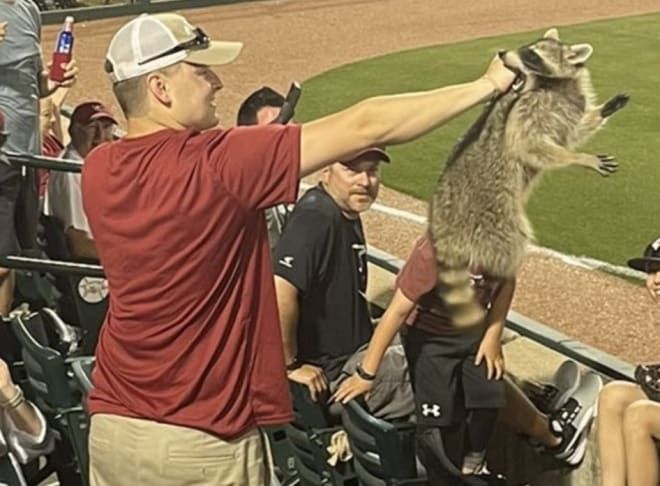 College students, get a year of HawgBeat coverage for just $11.95! Request details via email from your school account (.edu) to andrewhutchinson413 (at) gmail (dot) com.
FAYETTEVILLE — Born and raised in Fayetteville, Friday night's top-25 showdown between Arkansas and Vanderbilt was no different than any other big-time game Grant Harmon has attended at Baum-Walker Stadium through the years.
That changed in the seventh inning, when — with the two teams locked in a tie — the 24-year-old and his mother had their attention taken away from the action on the field.
"We were just sitting there watching the game and then we could hear some commotion, I guess a few rows above us," Harmon told HawgBeat. "People were just kind of oohing and ahhing and standing up. We got to looking around and finally we saw a raccoon running in some rows in front of us and behind us."
A raccoon had made its way into the ballpark and the seating down the left field line, about the time Chris Lanzilli drove in Robert Moore with an RBI ground out to tie the game at 6-6.
As the critter ran down the rows in front of and behind him, Harmon shouted to fans, "Grab it! Grab it! Grab it!" No one got their hands on it, though, and he thought they were in the clear when it ran into the next section.
Instead, the next thing he knew, the raccoon was right under his feet and instinct took over.
"So when it came to me, I was like, 'Alright, I can't not grab it when I was telling them to grab it,'" Harmon said. "I have a little bit of Arkansas blood in me, so that probably took a little bit over and, like I said, I had to be a man of my word. If I was telling people to grab it, I had to be able to do it myself."
A self-described "avid outdoorsman" who loves to hunt and fish, Harmon has a lot of family in the Mulberry/Ozark area about an hour south of Fayetteville, which is where most of his outdoor experiences came from.
That's why, without really thinking about it, he reached down and grabbed the raccoon. It was a chaotic scene, as videos of the incident showed Harmon's mother taking a fall as it happened. (Luckily, she just has a bruise on her thigh and left for vacation Saturday morning — "she's already on the beach right now, so I think she's doing okay," Harmon said.)
"It was definitely a first for me, but I mean, it wasn't anything I was afraid of necessarily," Harmon said. "Raccoon hunting is not an uncommon thing in my family and friends. It was definitely something I was roughly familiar with, just maybe not in that exact sense."
Harmon triumphantly lifted the raccoon up to the crowd — during which it turned its head and bit him in the hand, leading to this iconic image that is now Harmon's new profile picture on Twitter.
He eventually carried the raccoon up the aisle and out of the stadium. While he was ready to go back to his seat and continue watching the game, Harmon was met by a medical team and police officer who advised him to head to the hospital and get a rabies shot — which he reluctantly agreed was in his best interest.
His trip to the ER was about an hour long, so Harmon watched the end of the game on his phone. Unfortunately for him, that meant he saw Enrique Bradfield's three-run home run in the 10th inning that lifted Vanderbilt to a 9-6 series-opening win while sitting in his hospital bed.
Of course, that might have been less painful than what he was there for in the first place.
"The rabies shot was not any fun," Harmon said. "They had to put it right into my hand, like between my fingers, so that was not very pleasant, I will say. … The bite itself was not terrible at all, but the rabies shot, it has got my hand extra stiff this afternoon."
As a "Hog fan through and through," Harmon is well-versed in other wild animals making an appearance during an Arkansas baseball game. He remembers the so-called "rally possum" that ran onto the field in Baton Rouge in a game LSU came back to win in 2016.
The Razorbacks weren't able to finish off Friday's comeback against Vanderbilt, but that hasn't stopped some from dubbing it a "rally raccoon."
"As my phone has been exploding this morning, I've seen several things mentioning the rally raccoon," Harmon said. "I've seen some bigger Twitter accounts saying that they're now taking Arkansas to win the College World Series after that happened, so hopefully that is something we can maybe speak into existence."
The rabies shot won't slow Harmon down. He's been soaking in the fame that followed his viral moment, with numerous interviews set up for the coming days — including an appearance on the SEC Network's "Rally Cap" show with Dari Nowkhah on Sunday night.
In the meantime, he'll be back at Baum-Walker Stadium for Game 2 of the critical SEC series. Arkansas will be trying to even the series and keep its streak of 12 straight SEC series wins at home alive when it faces Vanderbilt at 6:30 p.m. CT Saturday on the SEC Network-Plus.