Michigan State transfer OL Keyshawn Blackstock commits to Arkansas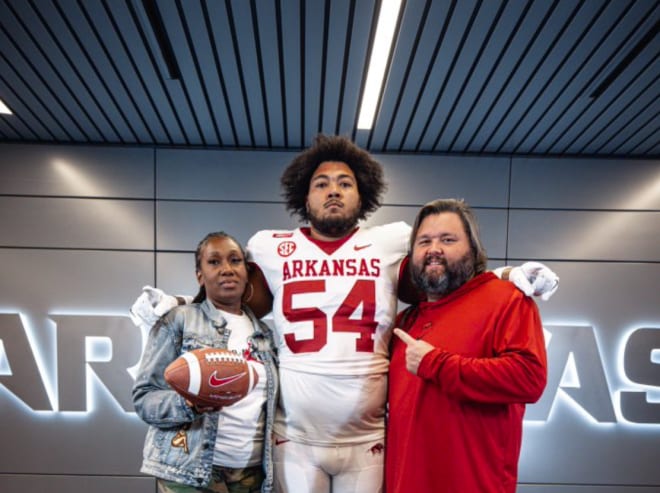 Arkansas got some much-needed help in the trenches on Monday as Michigan State transfer offensive lineman Keyshawn Blackstock committed to the Hogs.
Blackstock, who entered the transfer portal following the firing of Spartans head coach Mel Tucker, made the announcement on his X (formerly Twitter) account.
Blackstock took an official visit to Arkansas on Nov. 11 when the Hogs took on Auburn, a game Arkansas lost 48-10.
He said after the visit he could fill a need the Razorbacks have.
"They treat me like I'm a priority here," Blackstock said. "They need me. Coach Pittman keeps reminding me of that, so I feel like that's big."
Blackstock went to Michigan State out of Coffeyville Community College in eastern Kansas, where he played with current Arkansas offensive lineman Amaury Wiggins and punter Owen Lawson..
"I got guys here like Owen Lawson, a punter that's here," Blackstock said. "Amaury Wiggins that I played junior college with. So I really trust those guys and the insight they've given me into the program. I feel like that that's tremendous to me I talked to (Travis Williams) and guys like that in the staff and like 'We need guys upfront. It starts with the trenches'. I feel like that's big and I'm a priority here."
Coming out of the JUCO ranks, Blackstock was a four-star prospect according to Rivals. He held offers from the likes of Auburn, Florida State, Missouri, Mississippi State and others.
Blackstock is the first transfer commitment for Arkansas in the 2024 cycle. The transfer portal officially opens on Dec. 4. He will have two years of eligibility remaining with the Hogs.