{{ timeAgo('2020-02-14 18:18:03 -0600') }}
baseball
Edit
Noland dominates in Diamond Hogs' season-opening win over EIU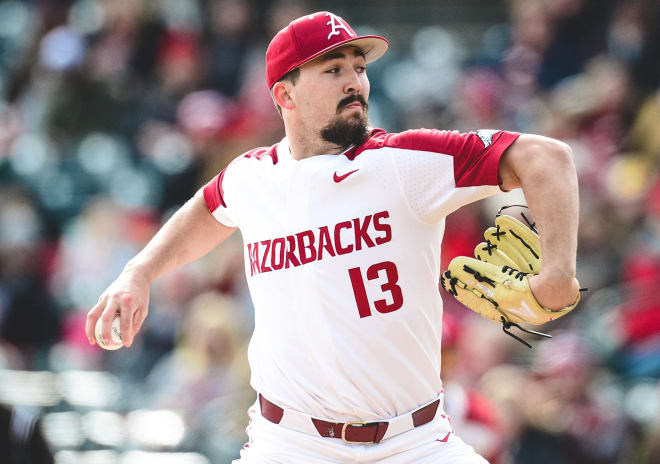 FAYETTEVILLE — Blaine Knight and Isaiah Campbell are gone, but Connor Noland looked every bit the part of a Friday night ace in Arkansas' opener.
The sophomore had a career-high 11 strikeouts in a dominant outing for the Razorbacks, who also used a trio of home runs to beat Eastern Illinois 5-1 on a cold Friday afternoon to start the 2020 season.
"You never what you are going to get," head coach Dave Van Horn said. "You get guys that are a little nervous, new guys in the dugout that are just getting a feel.
"As a coach, you just kind of watch to see how they react. We have some veterans that kind of kept it calm. … I'd call it a really good opener and I'm glad we got a win."
Arkansas will try to clinch the series by winning Game 2 on Saturday. First pitch is scheduled for 2 p.m. and the game will be streamed on SEC Network-plus, meaning it can be watched online on ESPN3.com or the WatchESPN app.
Noland the Ace
There was some concern that Arkansas might not have a pitcher capable of filling in the massive shoes left by Knight and Campbell. It's hard to imagine a better duo of aces in back-to-back seasons, as the pair combined to go 26-1 and led their squads to the College World Series.
However, Noland quieted those fears with an impressive 6 2/3 innings against the Panthers. He gave up just two hits and one walk in addition to the aforementioned 11 strikeouts.
"I had all three pitches - fastball, curveball and slider," Noland said. "I didn't throw too many change-ups, but they have a right-handed heavy lineup, so that's to be expected. But I felt like I could move the ball inside-outside and just control the at-bats when I needed to."
Van Horn said he actually didn't have that command from the jump. He was missing his spots up in the zone, which is unusual for him, and it resulted in a leadoff single by Grant Emme to start the game.
From that point on, though, Noland settled in. He struck out the next five hitters and retired 15 of the next 16 as he faced the minimum through six thanks to catcher Casey Opitz throwing out runners.
Despite sitting at 73 pitches, two shy of his predetermined limit, Van Horn sent him back out in the seventh because he was still consistently getting ahead in the count. Noland was also working at a brisk pace, helping the game last just 2 hours and 21 minutes.
"I like to get in a rhythm and once I start doing that, I push the pace, try to keep hitters off balance and I think I did a good job with that," Noland said. "You get in a zone and you can't miss sometimes and you feel like you're locked in, so that was the big key for me today."
Noland appeared to get his 12th strikeout to start the seventh, as Opitz seemed to catch a foul tip by Emme, but the umpire didn't give it to him. Instead, the EIU leadoff man notched his second hit of the day - a blooper into center - and eventually scored on an error by Casey Martin that could have ended the inning.
Outside of Emme, the Panthers - who hit .295 last season - were a combined 0 for 19 against the Greenwood native. His 11 strikeouts surpassed his previous career high of 10 in seven innings against Tennessee last year.
"His offspeed pitches were incredible today," Van Horn said. "I think he was throwing his slider in the upper 80s - 88 or 89 - and his fastball low 90s, not much difference, and they were having a hard time deciphering what pitch was coming at them. They were seeing fastball and it was a slider and he got a lot of swings and misses today."
Back-to-Back Jacks
Arkansas opened the scoring early with an RBI single through the left side by Heston Kjerstad in the first inning, but it wasn't until the fifth inning that it got some cushion for Noland.
Following Braydon Webb's two-out single - which Van Horn said was one of the biggest at bats of the game - sophomore Christian Franklin got ahold of a 1-0 pitch and crushed it for a two-run home run.
Unlike most of his six home runs last season, this one was not to the opposite field. He pulled it and it sailed over the left field fence, landing in the back row of the seats behind that bullpen.
Van Horn said that it was the result of offseason work to change his swing so it was "not loopy anymore," but rather "short and compact."
"Last year when he pulled a ball like that, he top-spinned it," Van Horn said. "He crushed that ball. He hit the bottom of that ball and there was no doubt about it, middle to the bottom of it and it spun and just shot out of here.
"He would hit balls hard like that and it would be the other way. Now he's a definite threat to pull the ball and he can hit it out of the park."
Franklin admired his home run for a moment before beginning his trot, but that proved to be good because there wasn't much time to celebrate it afterward.
In the very next at bat, Kjerstad took a strike after getting ahead 3-0 and then hit a line drive through the wind that had just enough juice to land in the right field bullpen. In the blink of an eye, the Razorbacks extended their lead to 4-0.
The preseason All-American - about whom Van Horn said, "Nothing surprises me when he steps in the box" - wasn't done. He capped a 3-for-4 performance with another home run, this time hitting a high fly that just hooked inside the left field foul poll for an opposite field shot in the seventh.
"I was hunting a heater because he was being aggressive with it," Kjerstad said about his first home run. "He just threw it low and in and I got a good swing on it and it just luckily stayed up high enough and squeaked over the fence.
"Then the second one, it was just two strikes and the dude threw me an away slider and I just put a good swing on the ball and just stayed through it to the opposite field."
With the two long balls, Kjerstad is officially on the UA's career top-10 list. His 33 home runs are tied with Kevin McReynolds (1979-81), Ryan Fox (2001-03) and Dominic Fletcher (2017-19) for 10th all-time, and he still has almost an entire season ahead of him to continue climbing.
Opitz Shows Off Arm
After polling various professional scouts during the offseason, Baseball America gave Opitz its preseason award for "best catcher arm."
It took all of one inning to see why MLB teams are drooling over the junior from Colorado. Following his leadoff single, Emme was nearly picked off at first - and might have been had first baseman Cole Austin been smoother with the tag.
Eastern Illinois' leadoff man tempted fate again by stealing second base and slid in just ahead of Opitz's throw to avoid a strike 'em out, throw 'em out. Incredibly, Emme didn't learn his lesson and tried to take third on a pitch that got away from the catcher.
This time, though, Opitz gunned him down with a perfect strike to Jacob Nesbit covering third base. The play ended the inning and seemingly helped get Noland into an early groove.
"It helps when you have Opitz behind the dish," Noland said. "You've got guys getting big leads and doing stuff that's out of the ordinary and him just taking advantage of that, when you can do that, it saves me pitches and helps you get deep in a game."
Later in the game, 9-hole hitter Dane Toppel drew a two-out walk in the third and got caught taking too big of a lead at first. Austin completed the pickoff on another perfect throw by Opitz to end the inning.
Emme just about slipped up again in the seventh, as Opitz threw behind him at second base and nearly had another pickoff. He did all of that while also calling pitches.
"Opitz knew what he wanted to call," Van Horn said. "He got the ball back to him and then Connor got back on the mound, he gave him the sign and they got at it.
"We didn't call pitches today. We didn't need to. Those guys were rollin' and it was pretty obvious what Connor was doing."
Klein Solid for EIU
Runs were hard to come by for Arkansas the first half of the game, but that was a credit to Eastern Illinois' starter. Despite posting a 5.11 ERA as a reliever last season, Will Klein is expected to be the Panthers' ace in 2020.
The 6-foot-5, 225-pound right-hander is also considered the top MLB Draft prospect in the Ohio Valley Conference by D1Baseball, so he gave the Razorbacks' talented lineup quite the challenge.
Van Horn said he attacked hitters with his fastball that routinely flashed red numbers up on the radar gun on Baum-Walker Stadium's scoreboard. He was consistently throwing 95 miles per hour and even touched 97 and 98 a couple of times.
When Arkansas started to catch up to that fastball, Klein mixed in his off speed stuff and managed to keep hitters off balance a second time through the lineup. The Razorbacks managed just three hits and a couple of walks through four innings, with their only run being a product of Klein's error on a failed pickoff attempt.
Finally, the top of Arkansas' order got to him with Webb's hit and the aforementioned back-to-back homers the third time they saw him. Klein threw 95 pitches in 5 2/3 innings, allowing four runs - three earned - on six hits and three walks while striking out seven.
"I think if he stays healthy that he'll pitch for a long time," Van Horn said. "He's a big-time prospect. I'm sure the lingo has it that he probably made a little money today. He went through a pretty good lineup a few times. … He may pitch in the big leagues."
Other Tidbits
~Like many games on Opening Day across Division I, a 14-second moment of silence was held before the national anthem in honor of Orange Coast College baseball coach John Altobelli, who was one of nine victims in the helicopter crash that also killed NBA legend Kobe Bryant and his daughter, Gianna. He wore No. 14 at the junior college in California.
~Despite a temperature of 41 degrees and a 2 p.m. first pitch, the Razorbacks still managed to draw an impressive crowd, with some fans arriving at Baum-Walker Stadium before sunrise. The official attendance number - or "tickets distributed" - was 9,188, while the "tickets scanned" number was 5,083.
~The Razorbacks have now won 26 straight openers. They haven't lost their first game of the season since 1994, when they were swept at TCU and ended up losing their first five games.
~With two strikeouts Friday, Casey Martin has now gone down on strikes 145 times in his career. That brings him within one of cracking the UA's all-time top-10 list.
BOX SCORE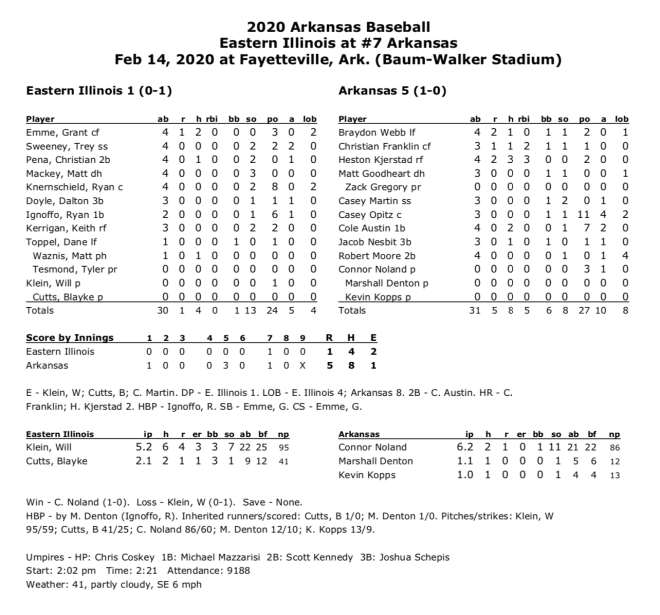 POSTGAME INTERVIEWS