What you need to know about Pittman testing positive for COVID-19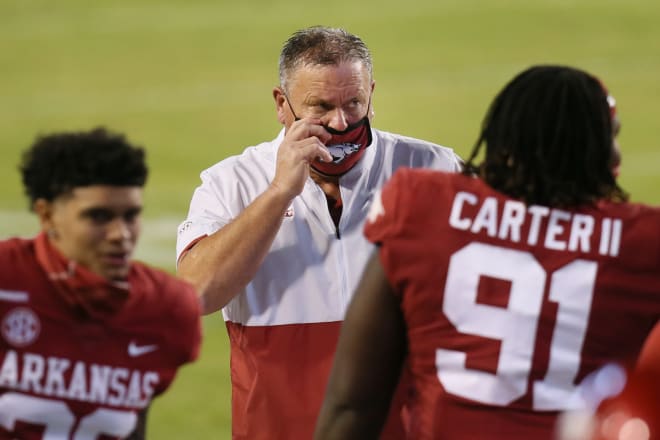 College Students, get a year of HawgBeat coverage for just $11.95. Request details via email from your school account (.edu) to nchavanelle@yahoo.com.
FAYETTEVILLE — Sam Pittman has tested positive for COVID-19 and is self isolating at home, the UA announced Monday.
The first-year coach is asymptomatic after receiving the result early Monday morning to the PCR test taken Sunday as part of the SEC's normal protocol for all players, coaches and staff members. Defensive coordinator Barry Odom will serve as Arkansas' interim coach.
No one else on the team tested positive during Sunday's round of testing, Pittman said. A statement from the UA said those considered close contacts to the coach had been notified and will enter quarantine guidelines.
Although he admitted he was "embarrassed" for testing positive, Pittman appeared to be in good spirits during his regularly scheduled Zoom videoconference with the media Monday afternoon.
"I'm just disappointed," Pittman said. "You get into coaching to coach. I'm just disappointed I'm not going to have the opportunity to do that, assuming the test wasn't incorrect and I don't get three negative tests in a row, which I'm hoping I do."
A positive COVID-19 test results in an automatic 10-day quarantine in the SEC, meaning Pittman will have to miss Saturday's game at No. 6 Florida and won't be able to return to practice until next Thursday.
However, there is a chance it was a false positive. The SEC updated its medical protocols about a month ago to allow a quicker path back for any person who tests positive for the virus.
Pittman took a second PCR test Monday after finding out about his positive result around 6:30 a.m. If that yields a negative result, then he would take another test Tuesday and Wednesday. If both of those come back negative, he would be able to return to work this Thursday by about 8 or 9 a.m.
That has already happened once in the SEC, as Alabama head coach Nick Saban managed to return to the sideline in time for the Crimson Tide's game against Georgia last month after getting a positive result on a Wednesday.
In his absence, Odom will act as the Razorbacks' interim coach. He is no stranger to such a role in the SEC, as he was Missouri's head coach for four seasons before getting fired and joining Pittman's staff as the defensive coordinator.
Unlike Saban, who famously led practice virtually over Zoom, Pittman said he'll let Odom and his other assistants run practice like normal. The only difference is that someone on the equipment staff will be in charge of the timing of practice, which Pittman usually handles.
Instead, Pittman said he'll just watch the tape of practice and then communicate his thoughts to the staff. He'll also address the team via Zoom before practices.
"The bottom line is, we have a coach for every position, we have coordinators for all three phases, and they do the coaching," Pittman said. "That's what happens and they'll continue to do that. I'm not worried about practice."
With Pittman out and Odom moving into an interim coaching role, the Razorbacks will have an opportunity to move someone else - presumably a graduate assistant - into one of the 10 on-field assistant coaching positions.
They plan to wait until seeing the results from Pittman's test taken Monday before making those decisions, though.
"We've got a couple of GAs that we could move up," Pittman said. "I'm not positive where that would help us, to be honest with you, because I don't see the head coaching role for Barry being any change really whatsoever until Saturday."
As far as his day-to-day routine is concerned, Pittman said nothing will change much for the first half of the day. He will still spend his mornings watching film, taking notes, texting recruits and meeting with the coaches.
The first thing that will be different is he won't be able to take his daily walks around campus with Odom around lunchtime. After that, Pittman usually has more personal interactions with players and staff in the afternoon, which obviously won't happen either.
Pittman will of course also miss practice. He said his afternoons might get a little boring, but he expects to spend the extra time watching film of practice or studying more Florida film in search of things that might give Arkansas an edge Saturday.