Razorback Rushmore: Greatest Diamond Hogs of All-Time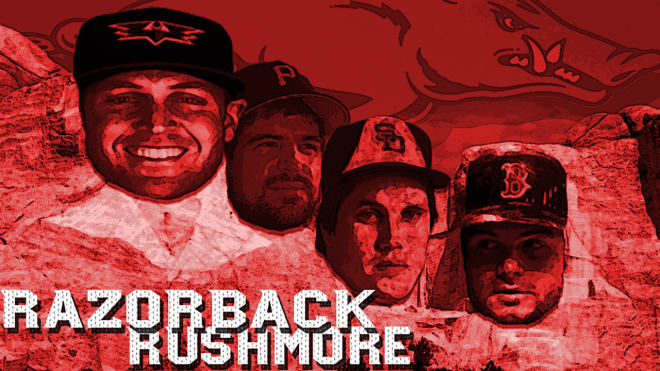 When Nikki first approached me about starting our "Razorback Rushmore" series with the four greatest Arkansas baseball players of all-time, I thought about it for a minute or two before sending her my top four:
Kevin McReynolds, Jeff King, Nick Schmidt and Andrew Benintendi
Considering I was busy covering the softball regional, I figured I might be forgetting someone. After sleeping on it, though, I feel pretty good about my picks – which I based on their careers at Arkansas.
HawgBeat subscriber Chuck Roper naming the same four players in the first reply to the suggestions thread on our message board cemented it.
Here is why McReynolds, King, Schmidt and Benintendi belong on the "Mount Rushmore" of Arkansas baseball players…
Kevin McReynolds (1979-1981)
Arkansas' first homegrown star, McReynolds put up video game numbers as a senior at Sylvan Hills in Sherwood. He hit .638 with 15 home runs and had 60 RBIs through his first 25 games of the season, leading the Bears to a state title and earning Arkansas High School Player of the Year honors. The Brewers picked him in the 19th round of the 1978 MLB Draft, but he chose to play for head coach Norm DeBriyn, who had begun to turn the Razorbacks' baseball program around.
As a freshman in 1979 at Arkansas, McReynolds hit .282 with eight home runs and 37 RBIs. Those stats don't just off the page, but he was a key part of the Razorbacks' best finish at the College World Series in school history. He hit .566 with two home runs and five RBIs as Arkansas came up a run shy of winning the national title against Cal State-Fullerton.
Although he never made it back to Omaha, McReynolds only got better over the next two seasons. He was the first two-time All-American in UA history, earning those honors in 1980 and 1981. In 151 career games, he hit .337 with 33 home runs and 121 RBIs. His .642 career slugging percentage still ranks third in school history and his 33 homers were a record for five years until broken by the next player on our "Razorback Rushmore."
The San Diego Padres took him with the sixth overall pick in the 1981 MLB Draft and he made the big leagues two years later. That began a 12-year career in which hit 211 home runs for the Padres, New York Mets and Kansas City Royals. McReynolds' best season was in 1988, when he hit .288 with 27 home runs and 99 RBIs, finishing third in the NL MVP voting.
Jeff King (1984-1986)
Similar to McReynolds, King turned down pro ball coming out of high school for a chance to play for the Razorbacks.
That turned out to be a great decision for both sides. King led Arkansas to its second College World Series as a sophomore and became the second two-time All-American in school history, earning the honors in 1985 and 1986. He was also named a Freshman All-American in 1984.
King's name is still sprinkled throughout the Arkansas record book. His 42 career home runs broke McReynolds' record and stood as the top mark until surpassed by Ryan Lundquist 13 years later. It is still tied for third. His .372 career batting average and 204 RBIs also rank third, with the latter surpassed only be two four-year players. King still holds the record for career slugging percentage at .695, too.
Just three years after being taken in the 23rd round out of high school, King became the first and only No. 1 overall draft pick – in any sport – at Arkansas, as the Pittsburgh Pirates took him in the 1986 draft. He enjoyed an 11-year career in the MLB, hitting 154 career home runs for the Pirates and Royals.
Nick Schmidt (2005-2007)
There have been many great pitchers at Arkansas through the years, but few – if any – were as dominant as Schmidt in college.
It didn't take long for Schmidt to establish himself as the Razorbacks' ace, becoming their Friday night starter as a freshman in 2005. He went 8-2 with a 2.80 ERA while posting two complete games that season.
His ERA dipped to 3.01 the next year, but he held opponents to a .211 batting average and struck out 145 batters in only 116 2/3 innings. In his final season at Arkansas, Schmidt went 11-3 with a 2.69 ERA and held opponents to a miniscule .196 batting average. He also had five complete games, a number almost unheard of in this era.
Unlike the other three players on this "Razorback Rushmore," Schmidt never played in the College World Series. That wasn't his fault, though, as he had a 1.88 ERA and averaged eight innings in three career postseason starts. Much like King, Schmidt was a Freshman All-American before earning All-America honors his final two seasons.
Although he was taken with the 23rd overall pick in the 2007 MLB Draft by the Padres, Schmidt never reached the big leagues because of injuries. However, that shouldn't diminish what he did with the Razorbacks – all-time leader in strikeouts (345) and third all-time in victories (28).
Andrew Benintendi (2014-2015)
The final addition to our "Razorback Rushmore" of the greatest Arkansas baseball players is the Razorbacks' most recent star, Andrew Benintendi.
A heralded recruit from Cincinnati, he fell to the 31st round of the 2013 MLB Draft because of a high asking price. He put together a decent freshman season, hitting .276 with one home run and 27 RBIs, but he exploded as a sophomore.
For a good part of the 2015 season, Benintendi contended for the SEC's Triple Crown and ended up settling for first in batting average (.376) and home runs (20) and only sixth in RBIs (57). He also had 24 stolen bases, becoming college baseball's first 20/20 player since 2009, and was an excellent defensive centerfielder.
All of that helped him earn the SEC Player of the Year award and Golden Spikes Award, which is college baseball's version of the Heisman Trophy.
Because he was a draft-eligible sophomore, that proved to be his final season with the Razorbacks and it ended in Omaha. The Boston Red Sox took him with the seventh overall pick of the 2015 MLB Draft and it took him only one year to reach the big leagues. He finished second in the AL Rookie of the Year voting in 2017 and is still the Red Sox's starting leftfielder.