Razorbacks announce captains for 2020 football season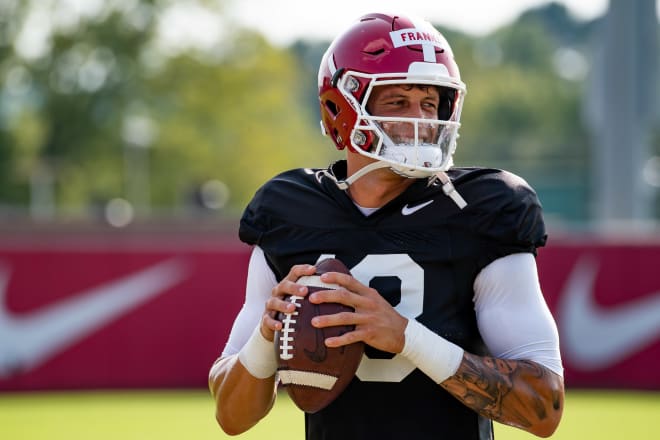 With less than two weeks until the season opener against Georgia, the Arkansas Razorbacks have announced their captains for the 2020 season. The four captains were chosen by the team and they're all seniors – Feleipe Franks, Rakeem Boyd, Jonathan Marshall and Grant Morgan.
Fans should be pleased to see senior quarterback Franks named a captain after two seasons of straight up chaos at the position. The former Florida Gator enrolled at Arkansas in January and has led with confidence ever since. Though the program hasn't made it official, the coaches have confirmed he's the projected starter, making this the earliest the team has had a clear leader and commander for their offense heading into the season since 2017.
"He gets us in the right spots, not just as a receiver but as an offensive unit together," wide receiver De'Vion Warren said of Franks on Tuesday. "He makes sure you are in the right alignment and the right calls are being made. It's pretty good to have a coach as a quarterback on the field."
Franks is the first transfer to be named a captain since Ryan Mallett in 2009 and 2010.
The SEC's second leading rusher from 2019, Boyd has been a team leader for two seasons and was named captain for different games during Chad Morris' tenure, but this time is different. Boyd is approaching the season with laser-like focus and stepping up further in the leadership department.
"From a leadership standpoint, (Rakeem's) been unbelievable," Sam Pittman said of Boyd at the start of fall camp. "He's been really, really good. Not just with the running back group or offense - he's been a great teammate overall. So I can't say enough good things about Rakeem and how he's been. You know production, taking care of the football, pass protection and all those things. Being able to play at tempo where the quarterback is not having to tell the guy what to do."
Boyd, a former Aggie and JUCO star at Independence in Kansas, is the first JUCO transfer to be named a captain since 2013, when fullback Kiero Small and defensive tackle Robert Thomas received the honor.
On the defensive side, it was no surprise to see linebacker and Arkansas native Morgan added to the captains list. A former walk-on who received his scholarship going into the 2018 season, Morgan has played in all 12 games every season since his redshirt year. He hasn't always been a starter, but with a lot of youth in the linebackers unit, his contributions and leadership have been invaluable. Morgan is fighting for a starting role at middle linebacker.
Jonathan Marshall has been a staple of the Razorback defense despite not starting until this year as a senior. After redshirting in 2016, he's been on the two-deep depth chart each of the last three seasons - first as a defensive end in the Razorbacks' three-man front in 2017 and then as a defensive tackle the last two years. Marshall is the team's "strongest man" and is a lock to start opposite either Clemson transfer Xavier Kelly or redshirt sophomore Isaiah Nichols.