Razorbacks Counting on Productivity from Two New Wide Receivers in 2018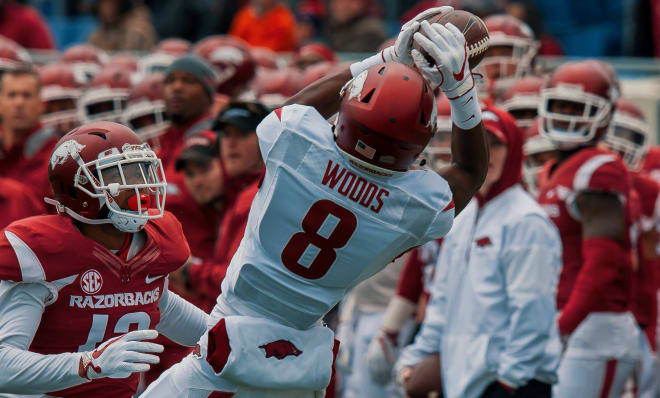 This season the Arkansas Razorbacks begin a new era with a new staff, plenty of new faces and a whole new brand of football. When Arkansas athletics director Hunter Yurachek hired legendary former Texas high school football coach Chad Morris to take over the 4-8 Hogs, it was a move that would cause a huge shift in the style of play.
While former head coach Bret Bielema believed in a pro-style offense that used multiple tight ends, a quarterback taking snaps under center and a slow, deliberate pace that included huddling between plays, Morris's offense is fast-paced, with a more complex playbook and it relies on a healthy balance of running, passing, tight end usage and quarterback mobility.
A key element in Morris's offense is the three wide receiver set, which to run efficiently needs consistent play-makers at the 2, 5 and 9 spots. While wide receivers coach Justin Stepp had found his guys at SMU, Courtland Sutton, Trey Quinn and James Proche, six practices into fall camp, it's still yet to be determined who will step up to perhaps be the first 1,000 yard receiver for the Hogs since Cobi Hamilton in 2012.
Stepp made two additions to his wide receivers room since last season, 6-foot-1, 190-pound true freshman Mike Woods and 6-foot-4, 216-pound Kansas grad transfer Chase Harrell, and the Razorbacks are counting on some productivity from each in order to improve upon the abysmal 4-8 2017 season.
Both being from Houston, they did extra training this summer with one of the most well-known skill trainers Rischad Whitfield, also known as Footwork King, who works with some of the most elite high school prospects, college athletes and pro ballers such as Emmanuel Sanders and Antonio Brown.
Woods, who was a 3-star standout coming out of Magnolia High School, had two catches for 21 yards in the Arkansas Red-White spring game and he's come a long way according to Whitfield.
"I've known Mike before SMU or Arkansas was even in the picture," Whitfield said. "Mike and I have been at it forever. Mike was quiet in high school so he was slept on more than some other guys. Mike is really crafty in his routes, he's quick-twitch. He's just gotta stay focused and do what's asked of him."
Harrell was an unheralded 2-star prospect coming out of Hargrave High School in Huffman, Texas, whose only offers were from Kansas, Kentucky and Houston. Over the last two seasons with the Jayhawks, he caught 30 passes for 302 yards and five touchdowns.
"Chase has been on and off, he couldn't come out much when he was at Kansas but this summer he was out here working hard and he's gotten bigger, quicker, faster," Whitfield said. "Jump balls are his. Any 50-50 ball is his. Any defensive back, he's going to body him. He's going to go out there and get it this season. He's only got one year left so his mindset is different now. He said it out here this summer, he's got to go out and get it this season."

Woods and Harrell have each been getting reps primarily with the second-team offense so far in fall camp, but they have shown glimpses of their potential and could climb the depth chart before the Sept. 1 season opener against Eastern Illinois.