Reggie Chaney leaves Arkansas, enters transfer portal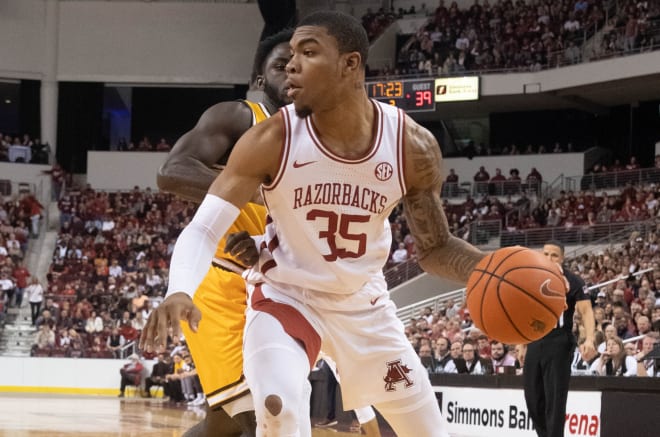 HawgBeat's coverage of Arkansas basketball is brought to you by CJ's Butcher Boy Burgers, which has locations in Fayetteville and Russellville.
Eric Musselman's roster overhaul has continued well into the offseason between his first and second seasons at Arkansas.
In the latest move, Reggie Chaney has opted to leave the team and enter the transfer portal, sources confirmed to HawgBeat on Monday. He is the Razorbacks' second player to take that route since the end of the season, following Jalen Harris, who landed at Georgetown.
The Tulsa native had an up-and-down career at Arkansas in which he appeared in 63 games, including nine starts. He averaged 4.8 points on 59.2 percent shooting - scoring mostly around the basket - and 3.4 rebounds.
Two of Chaney's starts came during his freshman year. That proved to be his best statistical season with the Razorbacks, as he contributed 5.4 points, 3.5 rebounds and 1.4 blocks in 16.3 minutes.
Although he made seven starts, Chaney missed three games entirely and saw his numbers dip as a sophomore in 2019-20. With Musselman at the helm, he shot a more efficient 67.1 percent from the floor, but his scoring dropped to 4.1 points per game.
There were plenty of flashes when he showcased an ability to be a force for the Razorbacks. In 15 career games in which he played at least 20 minutes, Chaney averaged 9.3 points on 65.3 percent shooting and 6.4 rebounds. His best game was a 17-point, 11-rebound effort against Missouri.
However, there were even more times when Chaney virtually disappeared. He went scoreless 10 times, with half of those coming in the final seven games of last season. Although he followed up his first career double-double with a solid 10-point, 6-rebound performance against Tennessee, Chaney was a non-factor the rest of the year.
Over the Razorbacks' final eight games, he scored a total of 10 points. The span was bookended by 18-minute outings in which he scored four points, but in the six games in between, Chaney managed just two points and never played more than eight minutes.
Originally from Tulsa, Chaney began his high school career at Frisco Liberty High in Texas before transferring to national power Findlay Prep in Nevada for his senior year. As a three-star recruit and No. 149 overall prospect in the Class of 2018, he signed with Arkansas over offers from Oklahoma State, Ole Miss, TCU, Texas A&M, Texas Tech and a few others.
Chaney's departure leaves the Razorbacks with just three players who have suited up for them in the past, and that total includes Isaiah Joe, who is still weighing his options as an early entrant for the NBA Draft. The other two are Desi Sills and Ethan Henderson.
If Joe decides to return for his junior year, Musselman's 13 scholarships will be set thanks to the recent addition of graduate transfer Justin Smith from Indiana and subsequent transfer of Chaney. If he remains in the draft, Musselman could add another transfer or leave the scholarship open like he did last season.
As the roster is currently constructed, the Razorbacks will have 10 new pieces next season - four Rivals150 signees, three now-eligible sit-out transfers and three graduate transfers - and all 13 scholarship players will be eligible to play in 2020-21.
Subscribe to HawgBeat today and receive 50% off an annual subscription PLUS we'll send you a gift code for the remaining cost ($49.50) to use on the Rivals Fan Shop! Click here to sign up