Scheduling scenarios for Arkansas' final 2 games of 2020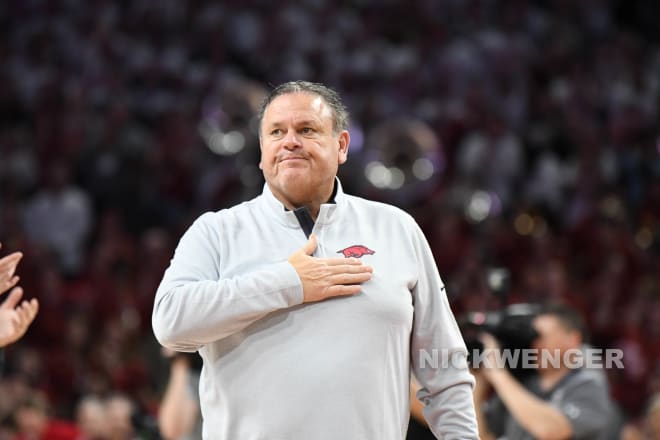 College Students, get a year of HawgBeat coverage for just $11.95. Request details via email from your school account (.edu) to nchavanelle@yahoo.com.
Not a subscriber? Get an annual subscription for 25% off + receive a $75 gift code for NIKE gear. CLICK HERE FOR DETAILS
FAYETTEVILLE — Arkansas' final two games of the regular season are in limbo.
The Razorbacks are scheduled to host Alabama on Dec. 5 and need to reschedule their postponed game at Missouri, with Dec. 12 and 19 being possible makeup dates. Both games are in flux, though, as the SEC could shuffle things around to accommodate all 14 teams in the conference.
Head coach Sam Pittman said he believes he'll get some clarity on the remaining schedule by Friday, but until then, Arkansas is tentatively preparing for both opponents as it works through its COVID-19 situation that led to this week's postponement.
Assuming there are no further postponements because of COVID-19 in the conference, here are the possible scenarios for the Razorbacks' last two games…
Alabama remains on Dec. 5 as scheduled, make up the Missouri game on either Dec. 12 or 19
In a vacuum, this seems like the most logical option. Arkansas is expected to have enough players available to play on Dec. 5, so just keep the Alabama game as scheduled and then play Missouri on one of the two makeup dates.
The Tigers also need to reschedule a game against Georgia. Considering the Bulldogs still have an outside shot at reaching the SEC Championship Game, it would make sense to play that game Dec. 12 and then have Arkansas and Missouri play on Dec. 19.
However, looking at the bigger picture, that doesn't seem likely because Alabama still needs to reschedule its game against LSU. Because the Crimson Tide will likely play in the SEC Championship Game and LSU already has a rescheduled game against Florida (the other likely SEC Championship Game participant) on Dec. 12, there would be no chance to play the Alabama-LSU game.
No game on Dec. 5, Alabama game postponed to Dec. 12, Missouri game on Dec. 19
This scenario would allow the Alabama-LSU game to be played on Dec. 5 and ensure the Tigers and Crimson Tide each get in all 10 regular-season games.
LSU is currently scheduled to play Ole Miss on Dec. 5, but that game could be pushed to Dec. 19 because neither team is still in contention for the SEC West title.
The Arkansas-Alabama game being pushed to Dec. 12 would mean Missouri and Georgia would have to play that same day, then Arkansas and Missouri could play Dec. 19.
Missouri game moved to Dec. 5, Alabama game postponed to Dec. 12
The advantage of this scenario is that Arkansas would not have back-to-back open dates before playing again. Instead of hosting Alabama on Dec. 5, the Razorbacks would travel to Missouri to make up that game and then play Alabama on Dec. 12 - just like in the previous scenario.
The disadvantage of this scenario is that it would create another wrinkle in the SEC schedule.
Missouri is currently scheduled to play Mississippi State on Dec. 5. That game would need to be moved to Dec. 19 in order to make room for the Arkansas-Missouri game, which could happen because neither team is still in contention for a division title.