Shaddy delivers clutch hit, Hogs win Game 1 of super regional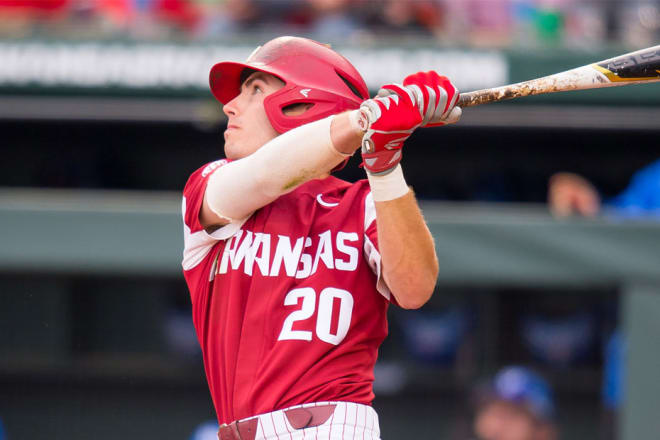 FAYETTEVILLE – Carson Shaddy delivered a hit nearly two months in the making to get Arkansas within one win of the College World Series.
The fifth-year senior cleared the bases with a one-out double in the seventh inning, breaking open Game 1 of the Fayetteville Super Regional in favor of the Razorbacks and leading to a 9-3 win over South Carolina.
After a wild pitch opened up first base, the Gamecocks opted to intentionally walk Dominic Fletcher and set up a potential inning-ending double play with Shaddy.
It was a situation that gave Arkansas fits back in April, when it went 0 for 4 with the bases loaded against South Carolina in its lone SEC loss at Baum Stadium. However, Shaddy plays with a chip on his shoulder and fed off the walk.
"I didn't really try to put too much pressure on myself," Shaddy said. "But I hear a guy behind me saying, 'They have no respect for you,' so I kind of had that ringing in my head. I didn't really want that ringing in my head, but I guess it worked out."
Shaddy connected on a 2-2 fastball on the inside part of the plate and nearly sent it over the left-center fence. Instead, it bounced off the top of the wall and he was able to cruise into second with a standup double.
The play brought the crowd to its feet and it got louder as Shaddy openly celebrated while standing on the bag. He didn't even realize it resulted in three RBIs until after Fletcher cross the plate.
"I lost control when I was about halfway to first," Shaddy said. "You've seen me play and know I don't really hold my emotions when things go well for me. I kind of lost control of my emotions and then I didn't even think to look up to see that Fletcher was scoring. He scored and I thought, 'Oh crap, he scored too!'"
It is easy to second-guess the Gamecocks' decision to intentionally walk Fletcher, especially considering his batting average coming into Saturday's game was 37 points lower than Shaddy's, but the consensus among Arkansas' players and head coach Dave Van Horn at the postgame press conference was that is was a good baseball move.
South Carolina wanted to get a right-on-right pitching matchup and have the ability to keep it a one-run game with a double play, so head coach Mark Kingston stood by the call afterward.
"I thought that was a no brainer," Kingston said. "Obviously we were pitching to him when runners were at first and second and then as soon as the ball got past Hunter to put guys at second and third with one, with a quality lefty up there, you walk him.
"And then Shaddy's groundball rate is 60 percent, so we thought that made the most sense. Got to two strikes on him and then we just left a ball up that he put a good swing on."
Saturday's victory puts Arkansas in the driver's seat of the best-of-three series. Teams that win Game 1 of the super regional advance to the College World Series 79 percent of the time.
First pitch for Sunday's game is scheduled for 2 p.m. and it will be televised by ESPN. Junior left-hander Kacey Murphy (8-4, 2.86 ERA) will start for the Razorbacks, with sophomore right-hander Cody Morris (8-3, 3.68 ERA) likely to get the ball for South Carolina.
"We have a lot of work to do tomorrow," Shaddy said. "South Carolina isn't going to give us anything. … We're not thinking about 'One more to Omaha.' That's not in our minds at all. It's just come to the yard and get to work."
Free Passes
Early on, it appeared there would be a pitcher's duel between Arkansas' Blaine Knight and South Carolina's Adam Hill, both of which went in the top four rounds of this week's MLB Draft.
Hill, a right-hander selected in the fourth round by the New York Mets, faced the minimum through the first two innings thanks to Hunter Taylor throwing out his school-record 22nd potential base stealer in the second inning, nailing Fletcher on a failed hit-and-run.
"Hill had good stuff, especially early," Van Horn said. "We had trouble squaring him up. He threw a lot of off speed an would sneak a fastball in on us a little bit."
Things started shifting in the third inning, with Jared Gates drawing a one-out walk, moving to third on a Jax Biggers single and then scoring on an Eric Cole sacrifice fly to tie the game at 1-1.
It really began to unravel for Hill in the fourth. After a leadoff infield single by Casey Martin, the South Carolina ace hit a couple of batters sandwiched around a walk. Fletcher's hit by pitch drove in the tying run and then Shaddy gave Arkansas the lead with a sacrifice fly.
The Gamecocks turned to top reliever Eddy Demurias following a leadoff walk by Hill in the fifth, but he also struggled with command. Another leadoff walk in the sixth and a wild pitch set up a two-out, go-ahead RBI single by Biggers.
Demurias also threw the wild pitch that set the events in motion in the Razorbacks' big seventh inning highlighted by Shaddy's three-run double.
In all, Hill and Demurias combined for eight walks, two hit batters and two wild pitches.
"They have to make adjustments and you get to the point where if guys aren't throwing strikes, then you need to get the next man in," Kingston said. "That's why, unfortunately, Adam only went four innings tonight.
"We're here tonight a lot because of Adam and what he's done for us, but tonight the four innings and he was walking guys and we just had to move to the next guy."
Knight's Start
Coming off one of the best starts of his career, Knight didn't have his best stuff against South Carolina. The right-hander from Bryant, Ark., needed 31 pitches to get through the first two innings, but limited the damage to only one run.
"I didn't have the big breaker and struggled with fastball command," Knight said. "I just had to gut through it and get it done."
Although Knight seemed to get better as the game progressed, he did give up a couple of solo home runs to LT Tolbert and Madison Stokes. That has been a trend for him this season, with 23 of his 32 earned runs – 71.9 percent – coming via the long ball.
Aside from those homers, the Gamecocks managed only one other hit – a two-out single by Tolbert in the sixth – over his final four innings.
"He had good stuff; he generally does," Tolbert said. "He's one of the best pitchers in the country, but I thought we had some really good at bats off of him."
When Knight walked off the field in the middle of the sixth inning, Arkansas and South Carolina were tied 3-3 and Kingston felt good about the spot his team was in because he knew the Razorbacks' ace was likely done for the night.
"He was on the verge of having a no decision," Kingston said. "We got to the seventh inning pretty much with a draw, so when you can do that against a guy that's 11-0, I think that's a win. We just need to do better late in the game."
However, Biggers' go-ahead hit in the bottom of the sixth put Knight in line for the win and reliever Barrett Loseke closed things out with three no-hit innings.
Knight now sits alone in third on Arkansas' single-season victories list, trailing Rich Erwin (1979) and Steve Krueger (1980) by only one.
Other Tidbits
-With a trip to Omaha on the line and perfect weather, there was a huge crowd at Baum Stadium for Saturday's game. The actual attendance of 11,722 ranks third in UA history, behind only the first two games of the 2015 super regional against Missouri State. "It's a great environment," Kingston said. "It was packed and they were loud, especially when they were trying to make a big pitch to get out of a jam."
-Arkansas had three sacrifice flies in the win, bringing its season total to 38. That ranks third in school history, behind only the 1995 (42) and 1986 (40) seasons.
-In the fourth inning, Heston Kjerstad was hit by a pitch for the 18th time this season. He surpassed the UA freshman record of 12 a while back and is now climbing up the single-season list. Kjerstad is tied with Jack Welsh (2000), Michael Conner (2002) and Michael Bernal (2010) for fourth. The record is held by Collin Kuhn, with 25 in 2010.
-Shaddy turned an unassisted double play in the third inning when he caught a line drive near the second base bag and then tagged the runner coming from first. It was the second unassisted double play by the Razorbacks in their last three games, as Gates turned one in the ninth inning last Saturday against Southern Miss.
-South Carolina rightfielder Jake Olson avoided a golden sombrero by flying out in the ninth inning, but his struggles at Baum Stadium continued. Including the three games during the regular season, he is 0 for 11 in Fayetteville. In the one game at the SEC Tournament, he went 2 for 4.