Taking a closer look at Kelly Bryant's relationship with Chad Morris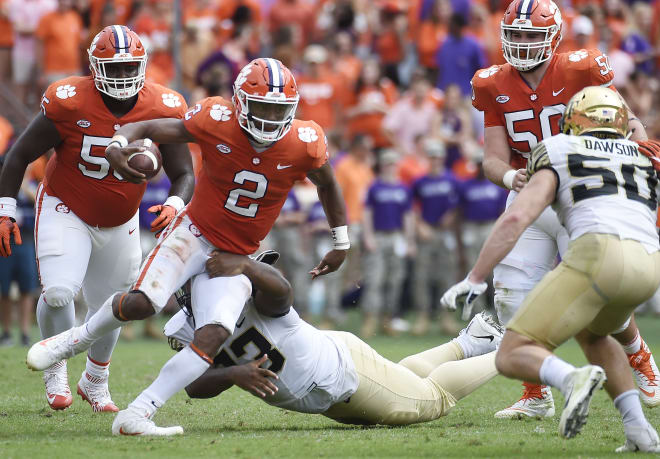 Message boards and social media are buzzing about the possibility of Kelly Bryant playing his final season at Arkansas following his decision to transfer from Clemson.
Despite leading the Tigers to the College Football Playoff last year and compiling a 16-2 record as a starting quarterback, Bryant lost his starting job to true freshman Trevor Lawrence this week.
After skipping two practices this week, the 2017 ACC Championship Game MVP announced he would take advantage of the new NCAA rule that allows players to appear in up to four games and maintain the year of eligibility. With a history degree already in hand, Bryant would be immediately eligible to play in 2019 as a graduate transfer.
The idea of Arkansas being a potential landing spot is not just a wild pipe dream drawn up by fans. Former Clemson quarterback Tajh Boyd specifically mentioned the Razorbacks on ESPN's Campus Conversation podcast Wednesday because of head coach Chad Morris' up-tempo, spread system.
"I know what Chad Morris can do with his type of style of play, with his particular offense," Boyd said. "I think Kelly would fit perfectly in that system, because there's so many different ways you could use him in that offense."
Boyd started at quarterback each of Morris' first three seasons at Clemson, earning first-team All-America honors in 2012.
In addition to the system being a good fit for Bryant's skillset, the former four-star prospect and the Razorbacks' first-year head coach have a preexisting relationship.
Although he never actually coached Bryant, Morris was his primary recruiter as Clemson's offensive coordinator and convinced him to commit. However, the connection between the two goes deeper than that.
Already on the Tigers' radar because his cousin, star wide receiver Martavis Bryant, played for them, Bryant attended a Clemson Junior Day on March 3, 2012.
At the time, he was a rising sophomore coming off a season in which he commanded Abbeville's Wing-T option offense to a South Carolina Class 1A state title as a freshman. He showed enough skill to earn his second scholarship offer, just a couple weeks after South Carolina extended one.
"I like how me and him can just talk like we've known each other for a long time," Bryant told TigerIllustrated's Ryan Bartow a few days later. "That's what I like about Clemson."
The following summer, after leading Abbeville to another title, Bryant attended a summer camp at Clemson and did some one-on-one drills on footwork and mechanics with Morris. The Tigers had been recruiting him as an athlete who projected to be either a wide receiver or safety, but his performance at that camp led Morris to replace his name tag that labeled him as an "athlete" with one that said "quarterback," a gesture that Bryant told TigerIllustrated.com meant a lot.
"Coach Morris has told me I fit, I just need to keep doing what I'm doing," Bryant told Rivals recruiting expert Woody Wommack in a story published July 29, 2013. "I could really see myself playing in that type of high-powered, explosive offense."
Bryant went on to have further impressive camp showings at Ohio State and Auburn, but neither school pulled the trigger with an offer.
Late in the summer, he transferred to Piedmont (S.C.) Wren, a Class 4A school, for personal reasons. The Hurricanes ran a spread offense that allowed him to showcase his passing skills, as well as his running abilities.
In February 2014, though, Bryant fell ill and went to the doctor. An MRI revealed a softball-sized abscess blocking his lower intestine. He needed emergency surgery to remove it and then spent nearly a month in the hospital, losing about 50 pounds in the process.
According to a story on ESPN, Morris never wavered with his interest in Bryant despite the health scare.
Morris was also open about the Tigers' plans to sign two quarterbacks in the Class of 2015, with three-star pro-style quarterback Tucker Israel being the other.
"They were honest about how they're looking at me and how I fit in to their plans…and them being honest means a lot," Bryant told Womack in another story published April 12, 2014. "Someone who is going to be straight up with me is something I like and someone I could see myself playing for."
A few days later, he committed to Clemson. Before Bryant ever had the chance to sign with the Tigers, Morris left to take the head coaching job at SMU.
Bryant played sparingly his first two years in college, completing 13 of 18 passes for 75 yards, one touchdown and one interception and running for 178 yards and three more scores while backing up Deshaun Watson.
With Watson in the NFL last season, Bryant took the reigns and completed 65.8 percent of his passes for 13 touchdowns and eight interceptions. He also added 665 yards and 11 scores on the ground. Those numbers made him a finalist for the Manning Award and semifinalist for the Davey O'Brien Award.
Although he started all four of Clemson's games this year and played well - completing 66.0 percent of passes for 456 yards, two touchdowns and one interception and running for 144 yards and two touchdowns on 30 carries - but it wasn't enough to keep his job over Lawrence, the No. 1 overall recruit in the Class of 2018. In an exclusive interview with The Greenville News, Bryant said the demotion "was kind of a slap in the face."
The Razorbacks are in need of help at quarterback. According to Pro Football Focus, their 40.5 passing grade ranks 127th out of 130 FBS teams, ahead of only UTEP, UNLV and Rutgers.
Neither redshirt junior Ty Storey or redshirt Cole Kelley have played particularly well this season, with the former finally securing the starting job within the last couple of weeks.
Whether they rekindle the relationship is speculation at this point, but there is no question Bryant has a preexisting relationship with Morris, which means this question will likely continue to be asked until he makes a decision on his future.
SUBSCRIBE to HawgBeat and get access to exclusive prospect interviews, the best recruiting network in the industry, inside scoops on recruiting and team news, videos, podcasts and much more.
Join the discussion on THE TROUGH, the Arkansas Rivals premium message board for thousands of Hog fans.