TV designations released for Arkansas basketball 2023-24 schedule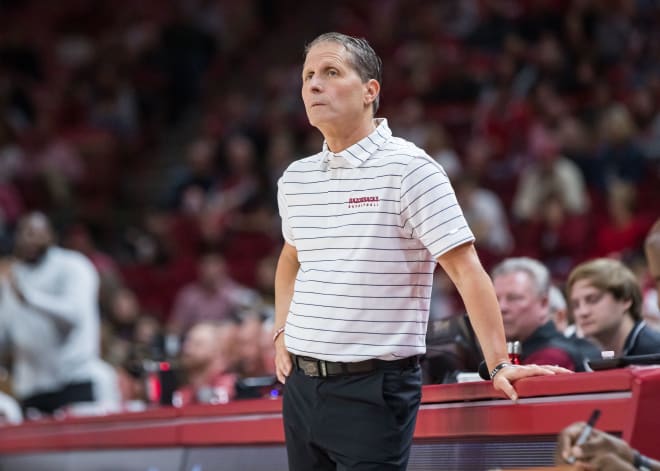 The tipoff times and TV designations for the 2023-24 Arkansas basketball schedule were released Thursday and the schedule was finalized with an Oct. 20 exhibition added.
Head coach Eric Musselman's Hoop Hogs will play on the ESPN family of networks 16 times and it will be on the SEC Network eight times. The Razorbacks will also play on CBS for a game at Kentucky on March 2.
Arguably the most notable part of the release was the fact that the game against Lipscomb at Simmons Bank Arena in North Little Rock will be streamed on the SEC Network Plus. The game in North Little Rock is normally not available for streaming, so this is a much-welcomed development for Razorback fans.
Highlighting the non-conference slate is a matchup with Duke on Wednesday, Nov. 29, and it will be broadcast on ESPN. The Razorbacks are 2-2 all-time against the Blue Devils with the last meeting coming in the Elite Eight in 2022 when Duke beat the Razorbacks 78-69. Arkansas' last win against Duke was a 76-72 victory in the 1994 national championship.
The Hogs will also compete in the Battle 4 Atlantis in November. The field features North Carolina, Memphis, Michigan, Texas Tech, Villanova, Stanford and Northern Iowa. All of those games will be on one of the main ESPN channels.
The first five games of the season will be streaming only on the SEC Network Plus and then the matchup with Stanford to start the Battle 4 Atlantis will be on ESPNU.
Arkansas also finalized its first exhibition game date and opponent. The Razorbacks will host UT Tyler on Friday, Nov. 20. The game time has not been announced.
Here's the full 2023-24 Arkansas men's basketball schedule with known tipoff times and TV designations.
Arkansas 2023-24 Men's Basketball Schedule (times central)
Oct. 4 Red-White Showcase (Barnhill Arena) - 6:30 p.m.
Oct. 20 UT Tyler (Exhibition) - TBA
Oct. 28 Purdue (Charity Exhibition) - 3 p.m. on SECN+
Nov. 6 Alcorn State - 7 p.m. on SECN+
Nov. 10 Gardner-Webb - 7 p.m. on SECN+
Nov. 13 Old Dominion - 7 p.m. on SECN+
Nov. 17 UNC Greensboro - 7 p.m. on SECN+
Nov. 22 vs. Stanford (Battle 4 Atlantis, The Bahamas) - 6:30 p.m. on ESPNU
Nov. 23 vs. Memphis or Michigan (Battle 4 Atlantis, The Bahamas) 1:30 or 6:30 p.m. on ESPN or EPSNU
Nov. 24 vs. TBD (Battle 4 Atlantis, The Bahamas) - TBD on ESPN/2/U
Nov. 29 Duke (SEC-ACC Challenge) - 8:15 p.m. on ESPN
Dec. 4 Furman - 7 p.m. on SECN+
Dec. 9 vs Oklahoma (Tulsa, Okla.) - TBD on ESPN/2/U
Dec. 16 vs. Lipscomb (North Little Rock) - 5 p.m. on SECN+
Dec. 21 Abilene Christian - 6 p.m. on SECN
Dec. 30 UNC Wilmington - 6 p.m. on SECN
Jan. 6 Auburn * - TBD on ESPN2
Jan. 10 at Georgia * - 8 p.m. on ESPN2/U
Jan. 13 at Florida * - 4 p.m. on ESPN
Jan. 16 Texas A&M * - 8 p.m. on SECN
Jan. 20 South Carolina * - 12 p.m. on SECN
Jan. 24 at Ole Miss * - 8 p.m. on ESPN2/U
Jan. 27 Kentucky * - 5 p.m. on ESPN
Jan. 31 at Missouri * - 7:30 p.m. on SECN
Feb. 3 at LSU * - 11:30 a.m. on ESPN/2
Feb. 10 Georgia * - 5 p.m. on SECN
Feb. 14 Tennessee * - 8 p.m. on ESPN2
Feb. 17 at Mississippi State * - 1 p.m. on ESPN/2
Feb. 20 at Texas A&M * - 6 p.m. on ESPN
Feb. 24 Missouri * - 11 a.m. on ESPN/2
Feb. 27 Vanderbilt * - 8 p.m. on SECN
Mar. 2 at Kentucky * - 12:30 p.m. on CBS
Mar. 6 LSU * - 6 p.m. on SECN
Mar. 9 at Alabama * - 11 a.m. on ESPN
Mar. 13-17 SEC Tournament (Nashville, Tenn. – Bridgestone Arena)
Mar. 21-24 NCAA Tournament 1st & 2nd Rounds
Mar. 28-31 NCAA Tournament Regionals
April 6 & 8 NCAA Final Four (Phoenix, Ariz. – State Farm Stadium)