Updated NBA draft prospects for Arkansas's Isaiah Joe, Mason Jones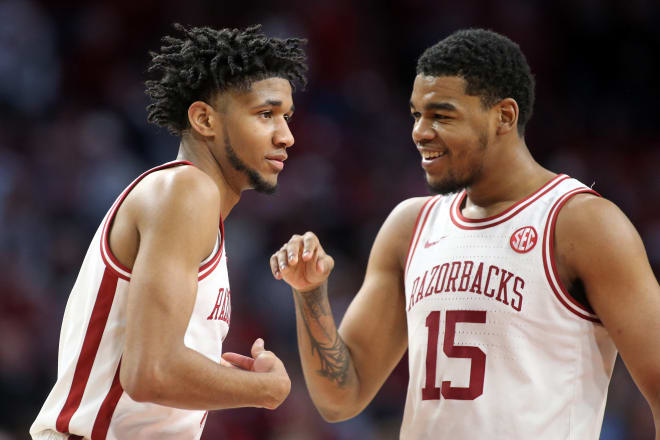 NBA draft projections often help predict whether star players will stick with the draft or return to school for another season. We now know that both of Arkansas's leading scorers Mason Jones and Isaiah Joe are testing the NBA draft waters but only Jones has made it official that he will not return by signing with a non-certified agency.
In 2019, Arkansas lost leading scorer Daniel Gafford to the draft. He was a projected first-rounder in 2018 but decided to return to Arkansas for his sophomore season. After skipping the NIT to prep for the draft, he was picked in the second round by the Chicago Bulls at pick No.38.
The 2020 NBA draft date has been postponed and the deadline to withdraw from the draft has been moved to either August 3, or 10 days after the combine, whichever comes first.
Once a prospect declares, they can explore their options and have conversations with representation but they may not sign with an agent (unless it is one of only a couple dozen NBA certified agents) and still maintain eligibility.
Both Joe and Jones' draft positions vary widely across the various outlets where mock drafts and rankings are found, making it hard to tell where they would realistically go in the upcoming NBA draft. Luckily, one of their best resources to help them determine what they should do is head coach Eric Musselman. Musselman has been a development league coach and an NBA coach, so his advice and insider tidbits go a long way.
Winning SEC Player of the Year and declaring early for the draft has more eyes on Mason Jones lately but he's still outside the two rounds on nearly every mock draft. Isaiah Joe's prospects have been pretty steady and he's still a mid-second round pick by most mock drafts.
Here's a look at where various leading media outlets have both players projected in this year's NBA draft....
Mock Draft Positions/Prospect Rankings
| Outlet | Isaiah Joe | Mason Jones |
| --- | --- | --- |
| ESPN (ranking) | 60 (down from 57) | 77 (up from 80) |
| Sports Illustrated (draft) | 40 (Grizzlies via Suns) | n/a |
| USA Today Rookie Wire (draft) | n/a | 34 (76ers) |
| NBA Draft Room (draft) | 47 (down one Bulls from Grizzlies) | 41 (down one to Pelicans) |
| CBSSports (ranking) | 50 (down from 41) | 64 (up from 69) |
| NBADraft.net (ranking) | 61 (down from 49) | n/a |
| DraftSite.com (draft) | 43 (up from 45) (New Orleans) | n/a |
| Vecenie - Athletic (ranking) | 70 (down from 44) | 76 (down from 72) |