Van Horn provides update on Slavens' injury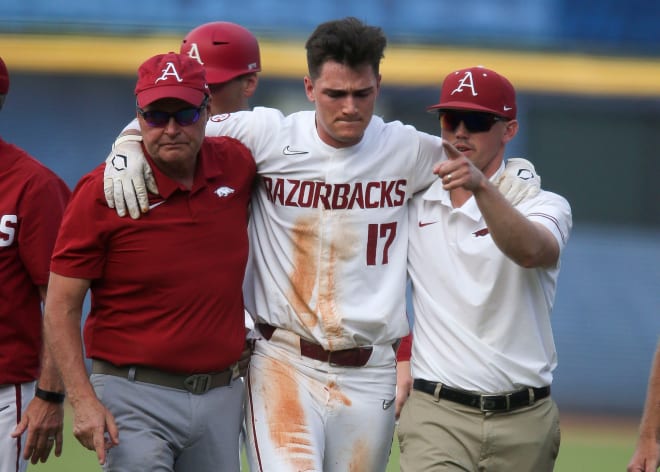 HawgBeat's coverage of the Diamond Hogs' Road to Omaha is brought to you by CJ's Butcher Boy Burgers, which has locations in Fayetteville and Russellville.

**UPDATE (Thursday, May 27): Slavens suffered a lateral ankle sprain and will be out 1-3 weeks, per a UA spokesperson.
------------------
It doesn't sound like the injury that forced Brady Slavens to leave Wednesday's game was season ending, but its exact extent is not yet known, head coach Dave Van Horn said.
The slugger appeared to twist his ankle when his right foot slid off the first base bag as he tried to beat out an infield single in the second inning. He immediately fell to the ground in pain and was eventually helped off the field by trainers.
Van Horn didn't provide many details when speaking to the media afterward, but said it was "probably" not broken and there is "some opportunity" for him to return.
"At first, it didn't look good obviously…but I think the pain went away a little bit," Van Horn said. "He did come back (in the dugout). He's got a boot on his foot right now, just keeping an eye on it, but I don't know exactly what's going on there."
Slavens was shown in the dugout several times during the SEC Network's broadcast of Arkansas' 11-2 win over Georgia.
It's also worth noting that when he left the field, he did put some weight on the leg.
"I know he had two guys carrying him a little bit, but for him to apply even a little pressure on there, it was very good to see," teammate Cullen Smith said. "They put that replay on the big board and I was like, 'Oh, that is not good.' Hopefully it's just a sprain instead of a break."
Smith added that the team got an encouraging update from team trainer Corey Wood, who said Slavens was going to be alright and has a lot of ice in his future.
Slavens shared on Twitter that it was a "minor setback" and that he would be okay.
After the injury, Van Horn inserted Jacob Nesbit as a pinch runner - as Slavens was safe on the play - and moved Smith over to first base, allowing Nesbit to play third.
If Slavens has to miss any time, that is likely how the Razorbacks will go about replacing him in the lineup.
"That's probably what I'd do if I wanted to put the best defense out there," Van Horn said. "I could put someone else over there, but at this time, I don't know if we're ready for that yet, but we'll see. I could go with two or three guys."
The other options Van Horn is referring to are likely Matt Goodheart and Charlie Welch, but both of them have drawbacks defensively.
Goodheart has played first base some, even starting three games there this year, but his shoulder has never quite recovered from the injury he suffered near the end of the 2019 season that required offseason surgery. That limits what he's able to do throwing the ball.
Welch - who is hitting .421 in 38 at bats this season - is listed as a catcher, but Van Horn has repeatedly said his position this year is likely as a designated hitter. Although he's been practicing some at first base, he's still learning the position and Van Horn is not ready to put him there yet.
Similar to Slavens, who played corner outfield at Wichita State and third base in junior college, Smith is not a natural first baseman. He played the other three infield positions while at East Tennessee State before getting a lot of work at first this offseason.
"I'm very comfortable," Smith said. "I played there all fall. That was the one position in my college career that I really hadn't played, so I took it upon myself to really get some reps over there. I feel great over there, honestly."
If the injury to Slavens proves to be significant, it would be the second major blow to Arkansas in the past week.
Right-hander Peyton Pallette, who is third on the team in innings pitched, left last Friday's game with an apparent elbow injury and is likely done for the season.
Another pitcher, right-hander Caleb Bolden, was seen in the Razorbacks' dugout holding an icepack to a black eye during Wednesday's game. Van Horn said he was struck by an errant throw during pregame warmups, but would be fine to pitch in the tournament.