Wicklander, Moore shine as Diamond Hogs remain undefeated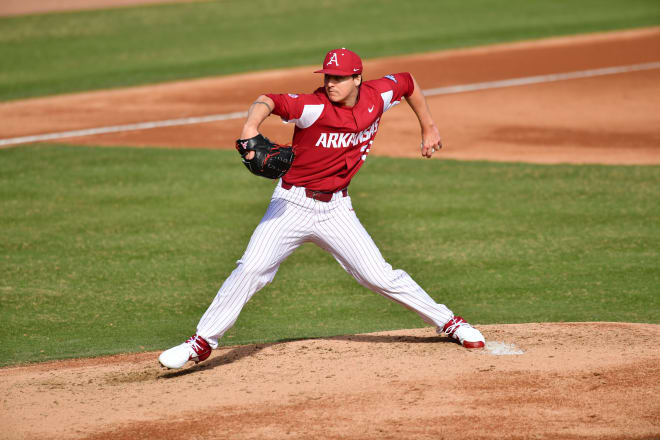 FAYETTEVILLE — For the first time this season, Arkansas' pitchers combined for a shutout Saturday afternoon.
Led by starter Patrick Wicklander, three different Razorbacks silenced Gonzaga's bats on their way to a 5-0 win at Baum-Walker Stadium.
The Bulldogs racked up eight runs on 16 hits in the first two games of the series, but were limited to six base runners in Game 3, with only two reaching on hits.
With the win, Arkansas improves to 6-0 for the first time since 2017, while Gonzaga drops to 2-5.
The Razorbacks will try to complete the four-game sweep at 1 p.m. Sunday. The forecast calls for a 70 percent chance of rain, but head coach Dave Van Horn said the Bulldogs don't leave Fayetteville until Monday and they'd make every effort to get the game in Sunday.
Redshirt sophomore Caleb Bolden (0-0, 0.00 ERA) gets the nod for Arkansas after throwing three scoreless innings last Saturday. It will be the right-hander's first start since April 17, 2018, against Missouri State, as he missed all of last season because of Tommy John surgery. Gonzaga will counter with senior right-hander Nick Trogrlic-Iverson (0-1, 4.50 ERA).
SEC Network-plus will stream the game, meaning it can be watched online on ESPN3.com or on the WatchESPN app.
Wicklander's Gem
Although he threw five scoreless innings in his first outing of the season, Wicklander was even better against Gonzaga on Saturday.
The left-hander from California allowed half as many base runners in one fewer inning than he did against Eastern Illinois, as he gave up just one hit and two free passes - one walk and one hit by pitch - in six innings. He also struck out seven again, bringing his season total to 14 in 11 innings.
"He had a really good outing, better than last weekend's by a lot, in my opinion," Van Horn said. "He gave us six really good innings.
"He got behind a couple of times and battled his way back. What did he give up? One hit? What more could we ask for, it was a great outing."
The key for Wicklander on Saturday was throwing first-pitch strikes - which he did against 16 of the 20 batters he faced - and getting ahead in counts, which helped keep his pitch count low.
"The whole approach we had today was just to mix pitches, get ahead and stay ahead," Wicklander said. "With (catcher Casey) Opitz and (pitching coach Matt) Hobbs, we just kind of went with that plan and we just executed it throughout six innings."
The only time he really struggled came with two outs in the second inning, when he walked Stephen Lund on five pitches and then plunked Josh Bristyan. A mound visit from Hobbs seemed to settle him down, though, and he retired the next eight Bulldogs.
Bristyan notched the only hit against Wicklander when he hit a ball a few feet to shortstop Casey Martin's left for a single into center, but he was thrown out trying to steal second.
Sitting at 82 pitches, the Razorbacks sent him out for the seventh and he retired Gonzaga in order. He needed only seven pitches to do it, getting preseason All-WCC selections Ernie Yake and Brett Harris to pop a bunt up and strike out looking, respectively.
"We were going to let him get through that inning if he could, but obviously if he got up to 100 pitches we'd have got him," Van Horn said. "I think he knew that too. He came and peppered the zone."
Through two starts, Wicklander has yet to allow a run and has given up just four hits and three walks in 11 innings, giving him a 0.00 ERA and 0.64 WHIP.
"He's getting bigger and stronger," Van Horn said. "He threw hard the first few innings. He was throwing the ball 92, 94 miles an hour, throwing his change-up a lot. Really didn't have the breaking ball early, but then the breaking ball got better. He started getting outs with it. Just a good outing."
Moore Stays Hot
The fans at Baum-Walker Stadium on Saturday will probably remember it as the Robert Moore game.
A 17-year-old who skipped his senior season of high school to join the Razorbacks early, he got off to a slow start against Eastern Illinois. He struggled more than any other starter, going 1 for 12 (.083) with a team-high four strikeouts.
In between Sunday's finale against the Panthers and Thursday's series-opener against the Bulldogs, though, he made some adjustments.
"I was watching video of my at bats and I didn't realize I was breathing so heavily the first weekend," Moore said. "I just tried to slow it down and just take deep breaths. Casey has really helped me in trying to slow things down. That's probably been the biggest difference."
That calm demeanor helped him notch yet another two-out RBI in his first at bat of Game 3, as he hit a line drive to center that drove in Christian Franklin and gave the Razorbacks a 1-0 lead.
After coming around to score following a leadoff single in the fifth, Moore hit what looked like a high fly out to left that would end the sixth inning. Even though he slammed his bat down in frustration, the ball carried over the fence and into the bullpen for a two-run home run.
"We take BP every day and I know if you hit a ball in the air - unless you're Kjerstad - it's probably not going to get out to that part of the ballpark," Moore said. "But I guess we had a different jet stream today and it just went out."
The opposite-field homer was the complete opposite of what he did on opening weekend, as a hard-hit ball to right was kept in the park because of the wind. It also gave him three two-out RBIs for the game after he also knocked in two with a two-out double Thursday.
Including his two RBI hits Friday, which came with no outs, Moore now has seven RBIs this weekend.
"I think he's starting to relax at the plate a little bit," Van Horn said. "He got a ball up in the air today and got it out of the park; the wind helped it out. He hit one last weekend that would have been out of the park but the win pushed it back."
The play Moore said was most memorable, though, was actually in the field. He turned a smooth double play in the eighth inning and then made a tremendous play to end the inning.
Mason Marenco hit a slow roller toward the hole between Moore and first baseman Cole Austin, forcing the second baseman to run a long way. He got to the ball, scooped it up, flipped it to Austin with his glove for the out and never broke stride as he continued running to the field.
"I wasn't surprised that he made the play; he's super quick in the infield," Franklin said. "I thought he was going to barehand it, but he ended up getting it with the glove. That was pretty cool to see him make that play and do something flashy."
Moore was visibly excited after his RBI single, home run and defensive web gem, firing up the crowd and his teammates. The emotion is something Van Horn said he liked seeing.
"That's the way it works, in any sport really," Van Horn said. "You're either an energy giver or an energy taker. We like energy givers and he's definitely an energy giver."
A leadoff walk and stolen base in the eighth inning capped Moore's 3-for-3 performance. He's now 6 for 10 with a double, home run, three runs and seven RBIs this weekend.
"I wouldn't say I expected it," Van Horn said. "I mean, he's not even 18 yet. I just wanted him to play good defense and turn double plays, you know."
1st Start for Gregory
For the first time this season, Van Horn made several changes to his lineup. Although most of it was just shuffling the bottom half of the order, he did give redshirt freshman Zack Gregory his first career start.
That meant Braydon Webb, who has hit leadoff and started in left field all season, went to the bench.
"Webb didn't do anything not to play and I told Webb that," Van Horn said. "I said, 'Hey, you're not going to play today.' He didn't smile at all when I said it."
The goal was just to play somebody different after using the same nine players in the first five games.
Despite a slow start in which he struck out to start the game and stranded the bases loaded in the second by flying out to center, Gregory ended up having a nice game.
He collected hits in his next two at bats and then walked in his final plate appearance, finishing 2 for 4.
"I thought Gregory did a really good job," Van Horn said. "He's a tough out at the plate, he makes contact. He found a way to get two hits. … Sometimes he's a little too patient at the plate. I'd like to see him swing more, but he does have the on-base percentage type mentality and I like that."
Other Tidbits
~Thanks to a sunny, 55-degree day, Arkansas drew a really nice crowd to Baum-Walker Stadium on Saturday. There were 7,427 tickets scanned for the game, with an official attendance - or "tickets distributed" number - of 10,536.
~Sophomore right-hander Elijah Trest closed out the game by working around a leadoff single and throwing a scoreless ninth inning. It was his third appearance of the season, with all three coming in the eighth inning or later. "I like what I see because he's throwing strikes," Van Horn said. "He's throwing the ball knee high and he's throwing the ball hard. … He's throwing the ball in the mid-90s right now and it's still February. He's a big strong kid."
~Junior slugger Heston Kjerstad was hit by a pitch in the eighth inning Saturday, giving him 31 in his career. That breaks a tie with Carson Shaddy and Brian Anderson and moves him into sole possession of eighth place on the UA career list.
~Fellow preseason All-American Casey Martin is also moving up the record books, but not in a good way. With strikeouts in his first three at bats, he now has 150 career strikeouts. That moves him past Luke Bonfield and into ninth on the UA career list.
~In the first two games of the series, Gonzaga stole five bases, including a couple Friday on which Opitz made uncharacteristic inaccurate throws to second. The junior from Colorado - who Baseball America wrote had the best catcher arm in college baseball before the season - reminded everyone that it's still a bad idea to run on him Saturday afternoon, gunning down Josh Bristyan at second base to end the fifth inning. It's just the second runner he's thrown out trying to steal - in eight attempts - this season.
~On the flip side, Arkansas had just two stolen bases in three attempts in the first five games of the season, but went 4 for 4 swiping second Saturday. "We knew the catcher's arm wasn't amazing or above average, so we wanted to take advantage of that and we did it today," Franklin said.
~Because usual play-by-play man Phil Elson is in Gainesville, Fla., to call the women's basketball game against Florida and typical fill-in Benjamin Kelly is doing the SEC Network-plus broadcast, Chuck Barrett will be on the call for radio. He was the main baseball play-by-play guy until 2015, when he decided to focus football and men's basketball and Elson took over for baseball.
BOX SCORE
POSTGAME INTERVIEWS