Yurachek, Pittman voice support of #WeWantToPlay movement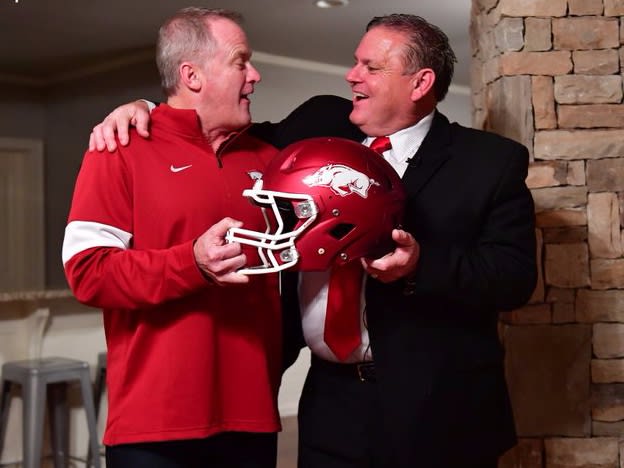 College Students, get a year of HawgBeat coverage for just $11.95. Request details via email from your school account (.edu) to nchavanelle@yahoo.com.
With the 2020 college football season seemingly on the brink of cancellation, star players across the country sprung into action Sunday night.
The #WeWantToPlay hashtag trended on Twitter with Heisman frontrunners Trevor Lawrence from Clemson and Justin Fields from Ohio State leading the charge.
A handful of Razorbacks - most notably Xavier Kelly and Ricky Stromberg - voiced their support, but what Arkansas ultimately provided Monday morning was the first athletics director and head coach to get behind the movement.
Despite being dealt an unfair hand with the SEC's schedule announcement Friday, Hunter Yurachek and Sam Pittman each sent tweets using the #WeWantToPlay hashtag.
Yurachek's message mentioned his son, Jake, who is a walk-on linebacker for the Razorbacks. It's also worth noting that another one of his sons, Ryan, is a graduate assistant on the team.
Around midnight ET, Lawrence also shared a graphic that combined the #WeWantToPlay and #WeAreUnited movements, which had previously popped up in the Pac-12 and Big Ten.
In addition to asking for further safety protocols and protections amid the COVID-19 pandemic, it calls for the creation of "a college football players association." Each of the Power Five conferences are represented in the graphic.
Among the many players who have shared the message are Arkansas star running back Rakeem Boyd and freshman defensive tackle Andy Boykin.
With the Big Ten reportedly already pulling the plug on a fall season, it remains to be seen if this push by players across the country makes a difference in other conferences - such as the SEC - but they aren't going down without a fight.