Arkansas Lands Texas 3-star Tight End Allen Horace Jr.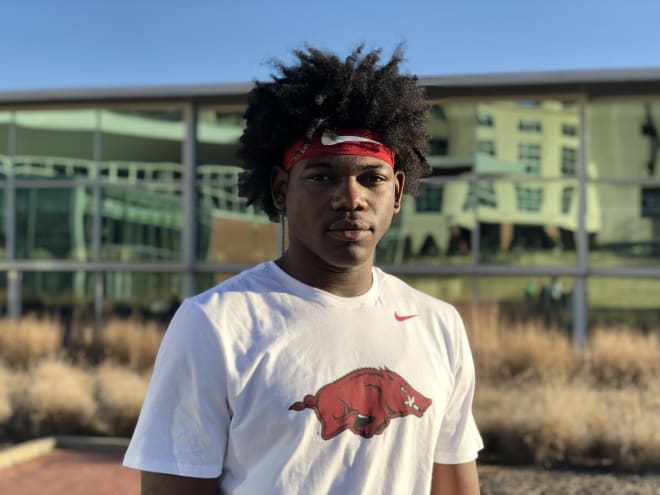 Arkansas had a great shot at landing all three of their official visitors this weekend and locked in at least one this morning with Texas 3-star tight end Allen Horace Jr. shutting it down and calling the Hogs.
"I'm trying to win the national championship here, we really have everything here, the culture, the coaches and that bEast Texas grit," Horace said. "I wanna set the standard for Arkansas Razorback tight ends, for the ones after me. I'm trying to put on for Crockett, Texas. I wanna leave here the best Allen Horace Jr. possible and I know I got the right people in my corner."
Horace has six offers from Division-I programs and chose Arkansas (his third offer) over Baylor, Texas Tech, Nebraska, Houston and Oklahoma State. He visited Texas Tech last weekend, giving him the opportunity to compare what life is like at Arkansas versus a school like Tech. He said the main difference was the coaches.
Recruiting Horace were associate head coach Jeff Traylor and tight ends coach Barry Lunney Jr. Lunney signed one of the top tight ends in the nation in the 2019 class in Arkansas 4-star Hudson Henry and though Horace isn't a ranked tight end by Rivals, he's still one of the top 100 players in Texas and one of the most athletic targets they've been after for this class.
Horace joins wide receivers Ze'Vian Capers, a 3-star from Georgia, and Mason Mangum, a 3-star from Texas, as the Hogs third commit on the offensive side of the ball. They have five total now with in-state 3-star defensive end/linebacker Jashaud Stewart and Louisiana 3-star cornerback Jamie Vance.
A fifth commitment puts Arkansas tied for 21st in the nation in number of commitments and 30th in overall team recruiting ranking. They remain in 10th in the SEC in the team recruiting rankings but tied with A&M, Tennessee, South Carolina and Georgia with five commitments each.
This class is in great shape early despite the lack of "star power" and got to five commitments a few months earlier in the year than they did for the no. 20-ranked 2019 class.
SCOUTING REPORT`
JUNIOR STATS: 29 receptions, 462 yards, 9 TDs
An athlete out of Crockett High in Texas, he plays defensive end as well as tight end, but just labeling him as either of those things is kind of selling it short. He did a little bit of everything this past year, playing H-back, outside linebacker, defensive end, wide receiver, you name it. He is big, and has a physical temperament to his game. It will be interesting to see what side of the ball he ultimately will land on, but he definitely has speed and hands. Primarily runs go routes, great vertical which allows him to high point well and land 50/50 balls. Defensively, he has great closing speed and lateral quickness. Could use work on speed of first step, but has tools to be great pass rusher and even dropped into coverage for an INT. Uses his hands well and can set the edge in the run. Very athletic, plays a lot of roles for his team and seems to have a good amount of potential.
Read more on Horace and his official visit that wrapped up this morning.
SUBSCRIBE to HawgBeat and get access to exclusive prospect interviews, the best recruiting network in the industry, inside scoops on recruiting and team news, videos, podcasts and much more.
Join the discussion on THE TROUGH, the Arkansas Rivals premium message board for thousands of Hog fans.