Latest Updates on Arkansas's In-state 2020 Offers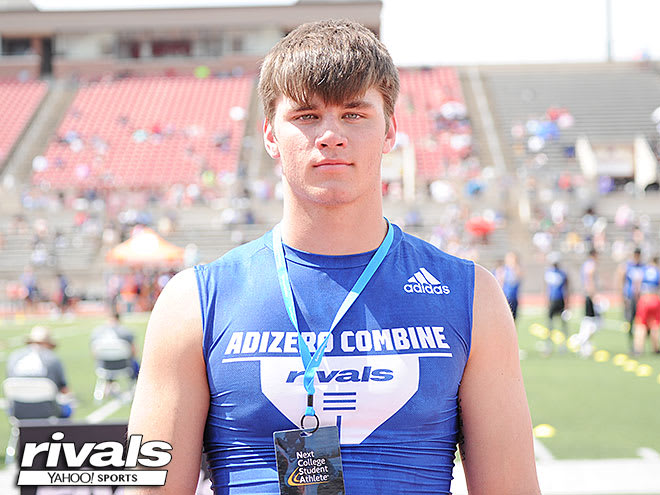 The Arkansas Razorbacks take their in-state offers very seriously. Chad Morris knows what it means for in-state players to get the opportunity to don the cardinal and white like they've dreamed of doing since early childhood, so he doesn't toss offers out to them willy-nilly. There were just nine scholarship offers given out to 2019 prospects, five of which were cashed in.
It was a slow start for in-state recruits in the 2020 class, it wasn't until this past summer that Jacolby Criswell picked up the first lucky offer from the Hogs and it took four months for the Razorbacks to give out another. Even one of the most heavily recruited athletes in the state, Blayne Toll, had to wait until late January to get an offer despite camping on the Hill multiple times this summer.
It's a delicate balance for the coaching staff. They want as many Arkansans as possible on the team, but they have to be able to compete with the rest of the SEC, and the Razorbacks have significantly less in-state talent to choose from.
Arkansas has offered five in-state prospects so far, while on the other side of the spectrum, the Florida Gators have offered more than 50 in-state recruits. Texas A&M also does a good job of being very selective with their in-state offers and even they could fill a whole class and more with their current 2020 in-state offers already. The Razorbacks have to supplement talent from Texas, Louisiana, Tennessee, Oklahoma and more surrounding states to get a highly-ranked class. A third of the Hogs' early 2020 offers are to Texas players.
The in-state offer number will probably go up during players' senior seasons but it looks like the 2020 class won't have as many SEC-caliber prospects as the 2019 class. Arkansas hasn't offered more than 10 in-state prospects (which was the most in 2015) in one class in the last 10 years. Here's a closer look at the current five in-state offers and the latest in their recruitment:
ARKANSAS OFFER DATE: Jan. 21, 2019
FIRST OFFER: March 29, 2018
OTHER OFFERS: Memphis*, Rutgers, Southern Miss., Oklahoma State, Texas State, Louisville, Arkansas State, TCU, Central Michigan, Kansas, LSU, Houston, Tennessee, Ole Miss, Vanderbilt, FIU, Boston College, Baylor, Penn State, Oklahoma, Auburn
Blayne Toll worked and waited on his Arkansas offer and it finally came, just not before SEC offers from LSU and Tennessee. The Hogs at least have the excuse that Toll doesn't quite have a solidified "best" position. He plays quarterback, tight end and defensive end and it's not clear if he's an offensive or defensive player at the next level but at some point you have to recognize talent is talent, and the Razorbacks did just that in late January.
Toll has been very active in his recruitment, taking visits to schools with interest in him all over the country, so it's clear he's willing to leave the state. He's visited Arkansas, Ole Miss, Tennessee and Oklahoma more recently. He's been on the Hill many times and will probably visit several more times before he shuts his recruitment down. Arkansas is still considered the leader for this in-stater and the coaches are working hard to land the "Hazen Hulk," but Oklahoma is also showing very strong interest and it seems to be reciprocated.
ARKANSAS OFFER DATE: Nov. 30, 2018*
OTHER OFFERS: Arkansas State, Liberty, Houston, ULM, Troy, SMU, Memphis
The Razorbacks were first to offer Jonesboro standout DE/LB Jashaud Stewart and his recruitment was heating up but he decided to call the Hogs on March 9. Stewart visited Mississippi State and Memphis before committing to Arkansas. It doesn't look like he has the door open for more interest and is fully set on being a Hog.
ARKANSAS OFFER DATE: Oct. 27, 2018*
OTHER OFFERS: Arkansas State, Virginia, ULM, LA Tech, Houston, Nebraska, Tulane
The Razorbacks were in early on state champion Catrell Wallace out of Bryant High School and his recruitment is still active with new offers from Nebraska and Tulane recently. Wallace came to visit this season and he came to the Razorbacks spring game.
Wallace is listed as an outside linebacker but could be a defensive end at the next level and he plays there some for Bryant. Wallace has also been hearing from Memphis, Missouri and Mississippi State.
ARKANSAS OFFER DATE: June 14, 2018
FIRST OFFER: Jan. 7, 2018
OTHER OFFERS: UCA*, South Alabama, Arkansas State, Memphis, NC State, Ole Miss, Mississippi State, Oklahoma State, Georgia, Colorado, SMU, Purdue, UNC, Houston, Miami
Jacolby Criswell is another in-state prospect who had clear SEC talent from the jump and yet the Hogs waited to offer until the no. 1 player in the state came to camp and showed them his skills in person. Criswell had a quiet junior year recruiting-wise due to an ACL tear that had him sidelined for all but five games, but he still managed to pick up several new offers after the season and his recruitment is far from over.
Criswell contemplated committing to the Razorbacks while on a game visit this season but quarterback scholarships are perhaps the most critical to get right so the Razorbacks are going in a different direction.
Criswell's first SEC offer was from Ole Miss and he still has a very good relationship with former OC Phil Longo, now at North Carolina, and the Tar Heels have moved themselves into the 3-star's top choices. Criswell has visited UNC and Auburn this spring. After Dan Enos's move from Georgia to Miami, Criswell has become a priority target for the Canes as well.
ARKANSAS OFFER DATE: March 9, 2019
FIRST OFFER: February 3, 2019
OTHER OFFERS: Louisiana Tech*, Arkansas State, Missouri, Mississippi State, Louisville, SMU, Kansas, ULL, TCU, Ole Miss
Conway giant Robert Scott had a great month of recruiting in March, picking up five Division-I offer and being the only visitor amongst dozens to pick up a new Arkansas offer on the Hogs' elite prospect day. Since then, he's continued gaining momentum and offers, adding Louisiana-Lafayette, TCU and Ole Miss since the live eval period began. He's visited Mississippi State, Missouri, Arkansas and Louisiana Tech in 2019.
Scott and Conway HS went to the second round of 7A state playoffs but saw the season come to an end at the hands of Bentonville West.
Scott has some great early offers already and though the Hogs will absolutely be at the top, he wants to take his time and explore his options. Arkansas has been to see him this spring eval period and the coaches hope to get him back on campus soon.
SUBSCRIBE to HawgBeat and get access to exclusive prospect interviews, the best recruiting network in the industry, inside scoops on recruiting and team news, videos, podcasts and much more.
Join the discussion on THE TROUGH, the Arkansas Rivals premium message board for thousands of Hog fans.