{{ timeAgo('2020-02-13 08:27:56 -0600') }}
football
Edit
Explaining Arkansas' current scholarship situation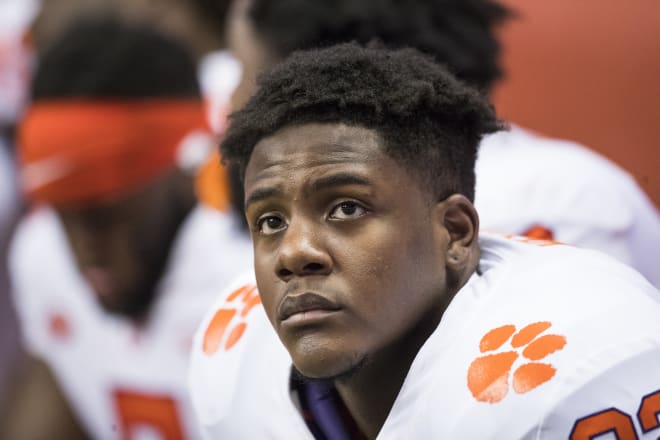 FAYETTEVILLE — Sam Pittman is getting his first taste of the major decisions faced by head coaches each recruiting cycle.
With one scholarship remaining in the Class of 2020, Arkansas' first-year coach must choose to use it on unsigned three-star running back commit Ebony Jackson or Clemson graduate transfer defensive tackle Xavier Kelly.
Both players would help fill the Razorbacks' current needs, but they can take only one of them because they've already used 24 of their 25 slots - or "initial counters" - for the year.
The NCAA defines initial counters as players receiving scholarships from an institution for the first time. That means high school signees, junior college transfers and transfers from four-year schools each count toward the annual limit of 25.
In addition to bringing in 20 traditional recruits in this class (19 from high school, one from JUCO), Pittman has also landed four graduate transfers: quarterback Feleipe Franks from Florida, linebacker Levi Draper from Oklahoma, cornerback Jerry Jacobs from Arkansas State and kicker AJ Reed from Duke.
That leaves the lone spot for either Jackson or Kelly. NCAA rules prohibit coaches from commenting on prospects before they actually sign, but Pittman walked a fine line in an interview with 5NEWS earlier this week.
He seemed to indicate the Razorbacks would prefer to add a running back (Jackson), but also wouldn't mind adding depth to their defensive line (Kelly).
"To be honest with you, I think that spot's being saved for a dynamic guy with a ball in his hand," Pittman said. "If we can find whatever that is, if we can find that guy then that's the one we'll probably take. If we can't get him, then obviously we need some help on the d-line and at the tight end spot."
Of course, the issue Pittman could run into is that Kelly doesn't have to wait around for Jackson to get his grades in order. He could transfer to another school while Arkansas holds him in limbo.
Landing neither would allow the Razorbacks to bring in another transfer - such as a tight end, like Pittman mentioned - or they could choose to pocket that initial counter for 2021.
That is a loophole used by teams to sign more than the annual limit of 25, as they can count some early enrollees back a class if the previous year wasn't completely full.
For example, Arkansas would be allowed to sign 26 players in 2021 if the aforementioned scenario played out, as long as at least one of them was an early enrollee. The Razorbacks used that loophole just last year, when it brought in 29 initial counters in 2019 and counted four early enrollees back to the small 2018 class.
It is also worth mentioning that in order to be able to bring in early enrollees, the Razorbacks must use all 85 scholarships this season.
With running back Chase Hayden entering the transfer portal Wednesday night, Arkansas is currently at 83 projected scholarships for 2020 - two shy of the limit.
One of those spots could presumably be filled by Jackson or Kelly, but Hayden's departure does not mean the Razorbacks can take both because it has no impact on the previously discussed annual limit of 25 initial counters.
Instead, any remaining open scholarships - the number of which will likely grow as normal attrition occurs following spring practice - must be used on players who have been in the program for at least a year.
Last season, because there was an unusually large amount of attrition, Arkansas had to quietly put seven walk-on players on scholarship just to get to 85.
That could happen again this year depending on how many players decide to transfer out, but there are two prime candidates to be put on scholarship if the spots become available: Luke Jones and T.J. Hammonds.
Jones is a transfer from Notre Dame who officially joined the team last summer, while Hammonds is a former scholarship athlete who lost his aid after leaving the team and now must be a walk-on for a full year before having the opportunity to be put back on scholarship this summer.
If one more scholarship player decides to leave between now and the beginning of the 2020 season, both of those players could be placed on scholarship. A mass exodus would be the worst-case scenario for Pittman. Because of the annual limitations, he would be stuck replacing them with walk-ons.
However, there are only a finite amount of walk-ons who have been with the program for at least a year and wouldn't be considered initial counters. (Class of 2020 preferred walk-ons like Kevin Compton would have to count toward the annual initial counter limit and there aren't any open spots for them.)
If there aren't enough, the Razorbacks would have to operate at a scholarship deficit - preventing them from bringing in early enrollees and sending them down a path that is hard to correct.
Kansas has infamously struggled to build back up to 85 scholarships over the past 10 years because of roster mismanagement as it transitioned from Mark Mangino, to Turner Gill, to Charlie Weis, to David Beaty.
The result was a decade in which the Jayhawks became arguably the worst Power Five program in the country, never winning more than three games and compiling a 21-99 record (.175) between 2010-19 - despite not being too far removed from winning the Orange Bowl in 2007.
With only six transfers since he took over as head coach, though, Pittman has done a solid job navigating this tricky aspect of the job so far.