Tracking Arkansas' MLB Draft Signings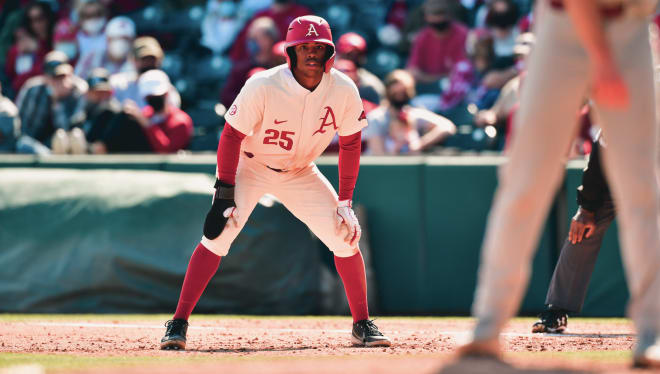 Arkansas had nine players and six signees taken in the 2021 MLB Draft this month.
Of those 15 players, only two - signees Braylon Bishop and Drake Varnado - aren't expected to sign a professional contract ahead of the Aug. 1 deadline.
This story will be updated with each signing as they become known...
(NOTE: This list doesn't include Matt Goodheart, who has signed with the Phillies as an undrafted free agent.)
OF Christian Franklin - Chicago Cubs
Pick: 4th round, 123rd overall
Signing bonus: $425,000 (source: MLB.com's Jim Callis)
Slot value: $464,500
A true junior, Franklin signed for 8.5 percent under slot. Even though he has leverage, it isn't uncommon for third-year college players to sign slightly under slot like that.
Widely considered the top prospect on the team, Franklin was the second Arkansas player off the board in the 2021 MLB Draft, following Kevin Kopps. He's the Razorbacks' third center fielder taken in the top four rounds since 2015, following Andrew Benintendi (1st round, 2015) and Dominic Fletcher (2nd round, 2019).
Franklin is coming off a season in which he hit .274 with 13 home runs and 54 RBIs while also making numerous highlight-reel plays that landed him on the SEC All-Defensive Team.
During his three-year career in Fayetteville, which included the pandemic-shorted 2020 season, the Overland Park, Kan., native slashed .288/.402/.499 with 22 home runs and 99 RBIs. His speed was not only used in the field, but also utilized on the base paths, as he was successful on 26 of 33 stolen base attempts.
The biggest negative for Franklin throughout his time in college has been his swing-and-miss issues at the plate, as his 158 career strikeouts rank seventh in UA history and each of his two full seasons (2021 and 2019) rank among the top five highest single-season strikeout totals.
LHP Caden Monke - Kansas City Royals
Pick: 14th round, 409th overall
Signing bonus: $125,000 (source: Baseball America's database)
Slot value: $125,000
Players taken in the 11th round and beyond technically don't have a slot value. Instead, teams are allowed to give bonuses up to $125,000 without being penalized. Anything above that number counts against their bonus pool for the first 10 rounds.
Much like Franklin, Monke is a third-year player with two years of eligibility remaining, but his leverage still would have decreased being another year older next year. That is likely why he took the full $125,000 from the Royals.
Teammate Kevin Kopps got all of the attention, rightfully so, but Monke was the Razorbacks' next best reliever in 2021.
As a junior, the Texas native made 27 appearances - behind only Kopps' 33 - and went 5-1 with a 3.71 ERA and 42 strikeouts in 34 innings. Although he struggled with command at times, as evidenced by his 21 walks, Monke was hard to hit. Opponents batted just .162 against the left-hander, which is the same as Kopps.
Including the pandemic-shorted 2020 season, Monke posted a 3.42 ERA and averaged 11.1 strikeouts per nine innings over the last two years at Arkansas. Even including his freshman year, when he struggled with command and pitched only three innings, he still held opponents to a minuscule .159 batting average during his college career.
LHP Lael Lockhart - Los Angeles Dodgers
Pick: 9th round, 282nd overall
Signing bonus: $2,500 (source: Baseball America's Carlos Collazo)
Slot value: $149,800
It may be shocking, but it is actually very common for college seniors with no remaining eligibility to receive four-figure signing bonuses. Teams routinely draft players like Lockhart near the end of the first 10 rounds because they have no leverage and can sign for well under slot, helping them save money for earlier, more expensive picks.
A graduate transfer from Houston who took advantage of his extra year of eligibility at Arkansas, Lockhart was a weekend starter for the Razorbacks in 2021.
The left-hander went 3-3 with a 4.47 ERA, 68 strikeouts and only 17 walks in 58 1/3 innings this season. Opponents hit just .233 against him. His season was highlighted by a near seven-inning perfect game at the SEC Tournament.
LHP signee Drew Gray - Chicago Cubs
Pick: 3rd round, 93rd overall
Signing bonus: $900,000 (source: MLB.com's Jim Callis)
Slot value: $627,900
To get him to skip college and begin his professional career immediately, the Cubs gave Gray a signing bonus that is 43.3 percent above slot.
Signed with Arkansas as a two-way player, his future is likely as a left-handed pitcher, as he has elite spin rate and his fastball has already touched 94 mph - despite still being a raw prospect.
Playing at IMG Academy his senior year, the Illinois native went 3-0 with a 1.88 ERA and 41 strikeouts in 18 2/3 innings across seven appearances this year. His biggest issue appears to be command, as he also had 18 walks.
Gray is considered a top prospect as an outfielder, too. He hit .474/.630/.578 with three RBIs and only two strikeouts with eight walks in 19 at bats this season at IMG.
Last summer, Gray participated in the Perfect Game National Showcase and was selected to play in the Perfect Game All-American Classic. He also made the Area Code Games All-Tournament team as a pitcher.
Gray is the younger brother of current Arkansas pitcher Evan Gray.
C Casey Opitz - Chicago Cubs
Pick: 8th round, 244th overall
Signing bonus: $90,000 (source: MLB.com's Jim Callis)
Slot value: $168,500
Although he technically has another year of eligibility remaining because of the pandemic relief from the NCAA, Opitz is still a fourth-year college player who turns 23 at the end of this month. That is likely why he received a bonus 46.6 percent under slot value.
Considered one of the top defensive catchers in the country, Opitz threw out an incredible 43 percent of the 107 would-be base stealers during his career at Arkansas. He also drew praise from the coaching staff for his ability to block and frame pitches, as well as how he called games behind the plate.
The biggest knock on Opitz is his bat, as he slashed just .257/.367/.346 with only 12 extra-base hits - including just two home runs - this year. Although he never displayed much power, with only six career home runs, Opitz had very good plate discipline as evidenced by his 32 walks and 33 strikeouts.
Many expected the Colorado native to turn pro last year, but he went undrafted in the five-round draft and returned to Arkansas for an extra year. With the Cubs selecting him, he could be reunited with Christian Franklin in Chicago's system.
OF signee Jordan Viars - Philadelphia Phillies
Pick: 3rd round, 84th overall
Signing bonus: $747,500 (source: MLB.com's Jim Callis)
Slot value: $721,900
It wasn't as much as Gray, but Viars still received a bonus 3.5 percent above slot.
One of the younger players in the draft, he is only 17 years old, which makes him even more appealing to pro teams. He has a lot of raw power and made the North Texas High School Baseball Coaches Association All-Star game following his senior season.
RHP Ryan Costeiu - Los Angeles Angels
Pick: 7th round, 201st overall
Signing bonus: $222,500 (source: MLB.com's Jim Callis)
Slot value: $229,700
A 20-year-old who won't turn 21 until November, Costeiu received very close to the slot value for the No. 201 pick. His bonus was just 3.1 percent below slot.
Despite giving up home runs to three of the final four batters he faced and finishing the season with a 5.10 ERA, he has good stuff, as evidenced by him holding opponents to a .198 batting average.
While he couldn't be extended past two innings at a time, the right-hander also had 40 strikeouts in 30 innings across 26 appearances. However, eight of the 21 hits he allowed this year went over the fence.
OF signee Max Muncy - Oakland Athletics
Pick: 1st round, 15th overall
Signing bonus: $2.85 million (source: Baseball America's Carlos Collazo)
Slot value: $2,740,300
Muncy is the ninth first-round pick with a publicized signing bonus and he's the first to receive more than slot value, as he got a bonus 4.0 percent above slot.
Although he's not related to the Dodgers star with the same name, Muncy is a heralded prospect from the Los Angeles area. Most outlets considered him a top-50 draft prospect, while Perfect Game ranked him as the No. 48 overall recruit in the Class of 2021.
Playing in talent-rich southern California and and alongside fellow draft prospects Roc Riggio (Oklahoma State) and Charlie Saum (Stanford) at Thousand Oaks, Muncy put up impressive numbers his senior year. In 28 games, he hit .469 with 11 home runs (including four grand slams), 49 RBIs and 10 stolen bases.
That helped the Lancers - who are coached by former MLB All-Star Jack Wilson - go 29-1 en route to a Southern Section Division 2 championship. He earned first-team All-America accolades from Collegiate Baseball and MaxPreps, plus was named the Player of the Year by the Los Angeles Daily News and Los Angeles Times.
Muncy is the first Arkansas signee taken in the first round since 2011, when the Mets took both Brandon Nimmo and Michael Fulmer in the opening round.
RHP Kevin Kopps - San Diego Padres
Pick: 3rd round, 99th overall
Signing bonus: $300,000 (source: The San Diego Union-Tribune)
Slot value: $587,400
Despite sweeping all of college baseball's major awards this season, Kopps received a signing bonus barely equal to 50 percent of the slot value of the 99th pick. That is because he doesn't have a lot of leverage as a 24-year-old sixth-year senior. To be honest, the fact he got $300,000 is pretty impressive for a player in his situation.
On the field, Kopps is certainly deserving of that number, if not more. He put together one of the most dominant seasons by a relief pitcher in college baseball history in 2021. He was a versatile weapon for the Razorbacks, pitching multiple innings in multiple games each weekend.
Armed with arguably the best pitch in the country - his cutter/slider - Kopps led all qualified Division I pitchers with a 0.90 ERA and 0.76 WHIP. He also racked up 131 strikeouts and only 18 walks in 89 2/3 innings, while limiting opponents to a .162 batting average.
Kopps pulled off a rare "double-double" with 12 victories and 11 saves - both of which rank among the top 10 single seasons in UA history. The only blemish on his record was a loss to North Carolina State in the Fayetteville Super Regional, but he allowed only three runs in 8-plus innings in the performance, which was his lone start of the season.
Those numbers and the way Arkansas used him en route to the No. 1 overall seed in the NCAA Tournament has led to him cleaning up the postseason accolades. In addition to being a unanimous first-team All-American, Kopps has also won the Golden Spikes Award, Dick Howser Trophy, Collegiate Baseball National Player of the Year, D1Baseball Player of the Year and numerous other awards.
C/1B Charlie Welch - Seattle Mariners
Pick: 19th round, 564th overall
Signing bonus: $125,000 (source: MLB.com's Jim Callis)
Slot value: $125,000
Welch announced on Instagram that he had signed with the Mariners earlier in the day and now it is known that he received the full $125,000 signing bonus allowed without Seattle losing any of its bonus pool.
A junior college addition who began his career at Pepperdine, Welch figured to be a backup catcher for the Razorbacks in 2021, but he evolved into arguably the best pinch hitter in college baseball.
The Florida native slashed .388/.494/.821 with eight home runs and 25 RBIs despite getting only 67 at bats throughout the season. He delivered the game-winning hit against Florida, giving Arkansas the regular-season SEC title, and also hit the home run that sealed the win over Nebraska in the Fayetteville Regional.
2B signee Brenden Dixon - Pittsburgh Pirates
Pick: 20th round, 583rd overall
Signing bonus: $125,000 (source: MLB.com's Jim Callis)
Slot value: $125,000
Having already announced he planned to sign professionally and forgo his Arkansas career, it was revealed Tuesday (July 20) that Dixon will receive the full $125,000 bonus allowed without penalty for Pittsburgh.
After beginning his career at Texas and spending the COVID-shortened 2020 season with the Longhorns, Dixon decided to go the JUCO route and landed at Weatherford College. He committed to the Razorbacks in March.
In his lone season at Weatherford, Dixon hit .335/.495/.633 with 10 home runs and 39 RBIs in 53 games.
Expected to come to Fayetteville and compete for a spot in the infield, playing time would have been tough to come by with the unexpected return of first baseman Brady Slavens and shortstop Jalen Battles. Second baseman Robert Moore will also be back, plus two of the Razorbacks' top infield signees - Peyton Stovall and Drake Varnado - have announced plans to come to school.
OF signee Braylon Bishop - Pittsburgh Pirates
Pick: 14th round, 403rd overall
Signing bonus: $268,700 (source: MLB.com's Jake Crouse)
Slot value: $125,000
Despite originally announcing that he'd come to Arkansas rather than signing with Pittsburgh, Bishop decided to sign a few days ahead of the Aug. 1 deadline. He received more than double the amount he could get without the Pirates being penalized ($143,700 will count toward their bonus pool) and will now begin his professional career instead of playing college baseball.
Once considered a top-10 prospect in the Class of 2021 who even drew comparisons to Ken Griffey Jr., Bishop saw his draft stock drop considerably in the past year as he struggled against better competition. He was just inside the top 100 on prospect lists by Baseball America and MLB Pipeline entering the draft.
Ranked the No. 54 overall recruit in the Class of 2021 by Perfect Game, Bishop is the third-highest signee in the Razorbacks' class and certainly has the potential to back up his draft position, as evidenced by his selection to the 2020 Perfect Game All-American Classic.
He has run the 60-yard dash in sub-6.6 seconds and is a great athlete, also playing quarterback and running track in high school. Two of his cousins - LaDarrius Bishop and Montaric Brown - are currently defensive backs at Arkansas after being four-star recruits, so he also has good bloodlines.
The biggest issue is with his swing that most scouts agree needs some work with its mechanics, which could happen at the minor league level. He likely would have had a hard time cracking the outfield at Arkansas.
LHP Patrick Wicklander - Tampa Bay Rays
Pick: 8th round, 251st overall
Signing bonus: $147,500 (source: MLB.com's Jim Callis)
Slot value: $163,400
Even though they had already saved more than $1 million on their other signees, the Rays signed Wicklander to a relatively small bonus of $147,500 - which is nearly 10 percent below slot.
After working his way into the starting rotation and earning SEC All-Freshman Team honors in 2019, he struggled during the pandemic-shortened season and didn't get off to a great start this year.
However, as the 2021 season progressed, the California native got things figured out and evolved into a bonafide Friday night ace for the Razorbacks.
In 18 appearances, including 13 starts, Wicklander went 7-1 with a 2.09 ERA and 85 strikeouts in 77 2/3 innings as a junior this season. He issued 24 walks and opponents hit just .226 against him. That earned him second-team All-SEC honors.
Did Not Sign
~RHP Elijah Trest (19th round, Rockies)
~INF signee Drake Varnado (17th round, Diamondbacks)