Hogs lose pitching coach Wes Johnson to MLB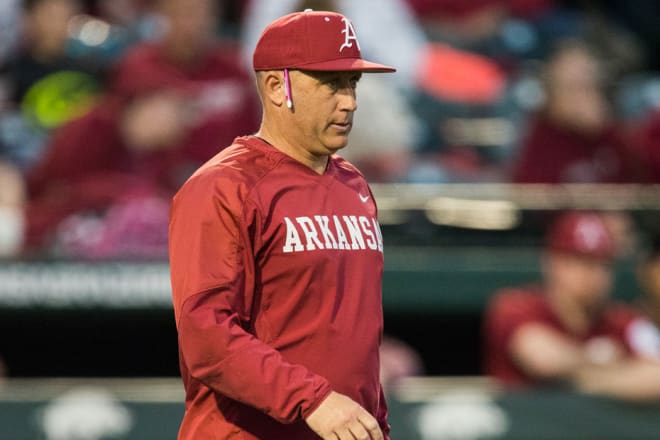 FAYETTEVILLE — Arkansas is searching for a new pitching coach after Wes Johnson has made the jump to the professional ranks.
Following two seasons with the Razorbacks, Johnson has accepted the same position with the Minnesota Twins, according to multiple reports. The Athletic first reported the news Thursday afternoon and D1Baseball has since confirmed it.
Head coach Dave Van Horn confirmed his departure in a statement through the UA, but it just said he has "accepted a position within Major League Baseball" and didn't specify his destination.
Here is Van Horn's complete statement:
"I can't say enough about the amazing job Wes has done for our program over the last two years. I knew Wes was the right fit for our program when I hired him and he brought his passion for the game and for the Razorbacks every single day.
"Wes' energy and tireless work ethic was infectious from our players to our staff. I know he had a positive impact on everyone he worked with and every aspect of our program.
"I'm excited for him, personally and professionally, and I know this is a once-in-a-lifetime opportunity for him. I couldn't be more happy for Wes and his family as they embark on this new journey."
A native of Sherwood, Ark., Johnson returned to his home state following a one-year stint at Mississippi State. Before that, he was at Dallas Baptist for four years and also worked at UCA and Southern Arkansas.
Under his guidance, the Razorbacks hosted an NCAA Regional in consecutive years and they reached the College World Series this summer, finishing runner-up to Oregon State.
Arkansas pitchers - including the likes of Trevor Stephan, Blaine Knight and Kacey Murphy - struck out a school-record 619 batters in 2017 and matched that total in 2018. The 2018 season also saw Matt Cronin record a school-record 14 saves, which were part of a team-record 26 saves.
After receiving a $30,000 raise this summer, Johnson was set to make $230,400 next season. D1Baseball's Kendall Rogers is reporting Minnesota is giving him a multi-year deal worth "well north" of $350,000 annually.
With the Twins, he will join former Arkansas standout Logan Forsythe, who was traded to Minnesota during the season. Former Arkansas pitcher D.J. Baxendale has also been a top prospect in Minnesota's system, reaching the Triple-A level, but he became a free agent this offseason.
SUBSCRIBE to HawgBeat and get access to exclusive prospect interviews, the best recruiting network in the industry, inside scoops on recruiting and team news, videos, podcasts and much more.
Join the discussion on THE TROUGH, the Arkansas Rivals premium message board for thousands of Hog fans.