Why Fountain is changing how Burks catches punts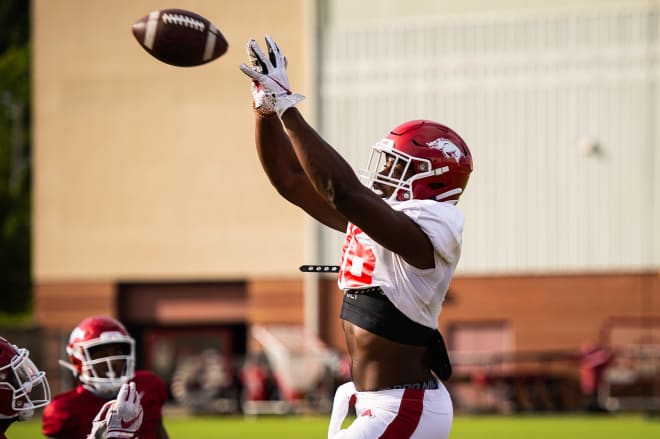 College Students, get a year of HawgBeat coverage for just $11.95. Request details via email from your school account (.edu) to nchavanelle@yahoo.com.
FAYETTEVILLE — When Arkansas started working on special teams in camp last season, wide receivers coach Justin Stepp immediately set out to fix Treylon Burks' unique way of catching punts.
After a few days of watching him field them above his head, the Razorbacks' staff finally decided to give up trying to get him to do it the traditional way. The freshman had massive hands that required special-ordered 5XL gloves and they didn't want to over-coach.
With Scott Fountain as a dedicated special teams coordinator in the fold now, though, fans should expect to see Burks using the typical cradle-style utilized by most returners.
"He's a kid who, when I first got here, Coach Stepp had mentioned he catches the ball above his head," Fountain said. "So I brought him in - this was before we ever had spring ball - I said 'Treylon, if an NFL team has two guys of equal value, both great returners - and you're a great returner - who are they gonna take: a guy that catches above his head or a guy that's gonna catch it properly with a body tuck?"
Breaking the habit of catching punts like a jump ball has been challenging, but Fountain said Burks has taken his message to heart and really worked on it in camp.
When he spoke to the media last month, after about one week of practices, Burks said learning the new technique was "a battle every day."
"Sometimes I get in that old habit and catch the ball with just my hands, but we've been working, the team has been working with me to get better at catching the ball like I'm supposed to," Burks said. "I'm going to do it the right way this time."
Despite his unusual style, Burks didn't have any issues fielding punts last season. In fact, he was electric enough for some to say he's the Razorbacks' best punt returner since Joe Adams graduated following the 2011 season.
While his 12 returns weren't enough to qualify for the NCAA leaderboard - which requires 1.2 returns per game - Burks' 10.8-yard average would have ranked 17th in the FBS if the requirements were slightly loosened.
That kind of explosiveness helped land Burks on the preseason watch list for the Paul Hornung Award, which is awarded to the most versatile player in college football.
Now that he'll be catching the ball in a traditional manner, Fountain said he believes Burks will be even more dependable and appealing to NFL scouts.
"Any time you catch the ball above your head or if you're running down the field with the ball over your head, it's certainly got a better chance of getting knocked out," Fountain said. "We'd just like him to tuck the ball to his body and keep that from happening. … I'm just trying to work with him on securing it and trying to not only make his future better here but make his future better down the road."