{{ timeAgo('2021-06-07 17:00:18 -0500') }}
baseball
Edit
CJ's Scoring Recap: Arkansas 6, Nebraska 2 (Game 7)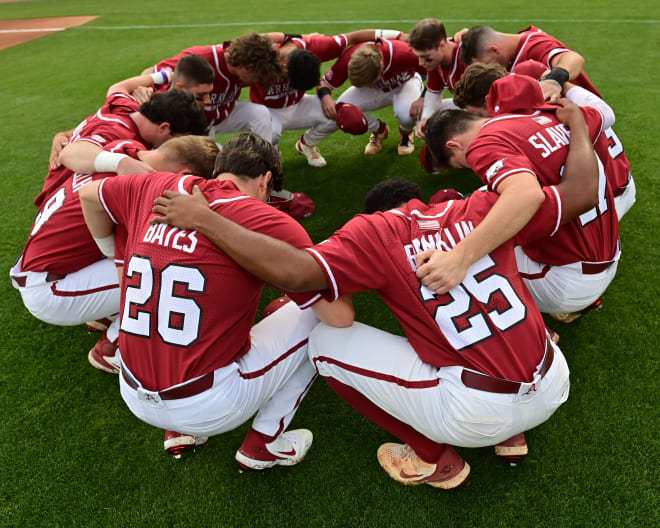 HawgBeat's coverage of the Diamond Hogs' Road to Omaha is brought to you by CJ's Butcher Boy Burgers, which has locations in Fayetteville and Russellville.
Join hundreds of other Arkansas fans in our world-famous game thread, where you can follow live play-by-play updates and commentary, plus get involved in the conversation.
Pregame Notes
Dave Van Horn has moved a couple of players back to their normal positions - Matt Goodheart to designated hitter and Cayden Wallace to right field - and inserted Zack Gregory into left field.
Nebraska is using its same lineup.
Full lineups for both teams are listed below.
T-2nd: Nebraska 1, Arkansas 0
After a perfect first inning, Jaxon Wiggins gave up a leadoff home run to Luke Roskam in the second. It was a no-doubter.
T-3rd: Nebraska 2, Arkansas 0
Wiggins walked the first two batters and Arkansas turned things over to Kevin Kopps. Joe Acker laid down a sacrifice bunt and then Jaxon Hallmark notched an RBI on a ground out.
B-5th: Nebraska 2, Arkansas 1
Casey Opitz gets the Razorbacks on the board with a leadoff home run that cleared the left field bullpen.
B-6th: Arkansas 2, Nebraska 2
Robert Moore ties the game with a two-out home run in the sixth.
B-8th: Arkansas 6, Nebraska 2
Three straight walks loaded the bases with two outs and then a wild pitch brought in the go-ahead run. Pinch-hitter Charlie Welch followed with a three-run homer.
FINAL - Arkansas 6, Nebraska 2
--------------------------------------
First pitch: 6 p.m. CT
Stream: ESPN3
Listen: Click here (FREE)
Taking a Closer Look at...
2021 Fayetteville Regional Schedule
Friday, June 4
Game 1 – Arkansas 13, NJIT 8 – RECAP + BOX
Game 2 – Nebraska 8, Northeastern 6 -- RECAP
Saturday, June 5
Game 3 – NJIT 3, Northeastern 2 (Northeastern eliminated)
Game 4 – Arkansas 5, Nebraska 1 – RECAP + BOX
Sunday, June 6
Game 5 – Nebraska 18, NJIT 4
Game 6 – Nebraska 5, Arkansas 3 -- RECAP + BOX
Monday, June 7 (If Necessary)
Game 7 – Arkansas vs. Nebraska – 6:00 p.m. CT

MORE BASEBALL COVERAGE FROM HAWGBEAT
Starting Lineups
| Arkansas | Nebraska |
| --- | --- |
| 1. Matt Goodheart - DH | 1. Joe Acker - RF |
| 2. Cayden Wallace - RF | 2. Jaxon Hallmark - CF |
| 3. Brady Slavens - 1B | 3. Spencer Schwellenbach - SS |
| 4. Christian Franklin - CF | 4. Luke Roskam - 1B |
| 5. Robert Moore - 2B | 5. Griffin Everitt - C |
| 6. Casey Opitz - C | 6. Cam Chick - 2B |
| 7. Cullen Smith - 3B | 7. Brice Matthews - 3B |
| 8. Jalen Battles - SS | 8. Mojo Hagge - LF |
| 9. Zack Gregory - LF | 9. Logan Foster - DH |
| Pitching: RHP Jaxon Wiggins | Pitching: LHP Cade Povich |