LIVE COMMENTARY: Diamond Hogs vs. Missouri (Game 2)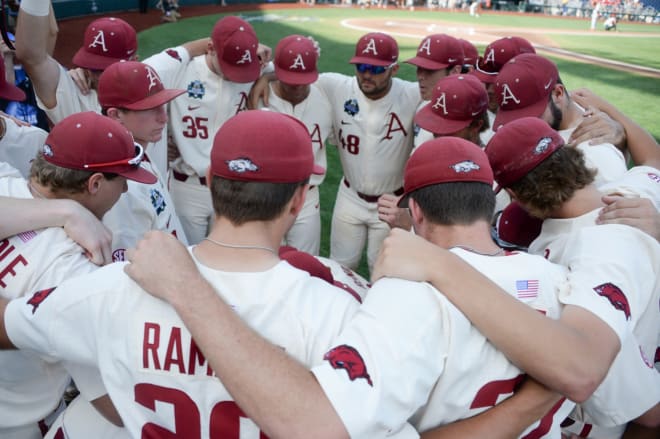 First pitch: 2:02 p.m.
Live stream: SECN+ (Click here - SIGN IN REQUIRED)
Listen: Click here (FREE)
In-depth preview: Arkansas opens SEC play vs. Missouri (FREE)
~Starting pitchers for Arkansas/Missouri
~Scouting report on the Tigers
~Weather Report
~Note on an Arkansas connection on Missouri's roster
~Stat of the Week
~Stat comparison
MORE BASEBALL COVERAGE FROM HAWGBEAT
Hogs win SEC opener behind Goodheart, Campbell (FREE)
WATCH: DVH, players recap Game 1 win over Mizzou (FREE)
Hogs run-rule WIU, Denton gets 1st win (FREE)
WATCH: DVH, players recap WIU win, preview Missouri (FREE)
DVH gives scouting reports on 6 lightly used freshman pitchers (PREMIUM)
Kjerstad, Wicklander shine in Game 1 win (FREE)
HawgBeat Composite Poll (FREE)
Beyond the Box Score: Week 4 (PREMIUM)
As always, you can join hundreds of other Arkansas fans in our world-famous game thread, where you can follow live updates and commentary, plus get involved in the conversation.
Bottom 1st - Arkansas 1, Missouri 0
After escaping a bases-loaded jam in the first inning, Arkansas scored a run thanks to a throwing error by Missouri shortstop Chris Cornelius.
Bottom 2nd - Arkansas 2, Missouri 0
With the bases loaded, Christian Franklin delivered a sacrifice fly to score a run for the Razorbacks.
Bottom 4th - Arkansas 4, Missouri 0
Franklin comes through again, this time with a two-run single up the middle with two outs.
Top 5th - Arkansas 4, Missouri 1
Peter Zimmermann hit a one-out double for the Tigers and eventually scored on a two-out single by Josh Holt Jr., chasing Noland out of the game. Arkansas brings in Kole Ramage from the bullpen.
Top 8th - Arkansas 4, Missouri 3
Luke Mann's double down the first base line scores Clayton Peterson from first. Then Cornelius drove in another run with a single.
FINAL - Arkansas 4, Missouri 3
Starting Lineups
| Missouri | Arkansas |
| --- | --- |
| 1. Josh Holt Jr. - LF | 1. Casey Martin - SS |
| 2. Luke Mann - 3B | 2. Heston Kjerstad - RF |
| 3. Kameron Misner - CF | 3. Trevor Ezell - 1B |
| 4. Chris Cornelius - SS | 4. Dominic Fletcher - CF |
| 5. Chad McDaniel - C | 5. Casey Opitz - C |
| 6. Tony Ortiz - 1B | 6. Matt Goodheart - DH |
| 7. Mark Vierling - 2B | 7. Jack Kenley - 2B |
| 8. Peter Zimmermann - DH | 8. Jacob Nesbit - 3B |
| 9. Clayton Peterson - RF | 9. Christian Franklin - LF |
| Pitching: LHP Jacob Cantleberry | Pitching: RHP Isaiah Campbell |
SUBSCRIBE to HawgBeat and get access to exclusive prospect interviews, the best recruiting network in the industry, inside scoops on recruiting and team news, videos, podcasts and much more.
Join the discussion on THE TROUGH, the Arkansas Rivals premium message board for thousands of Hog fans.