Ragnow set to be highest drafted Razorback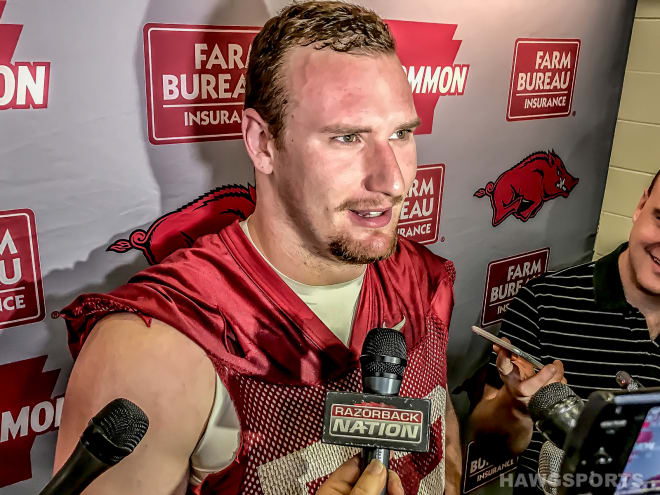 Senior Bowl festivities kicked off this week, but one highly-decorated invitee won't be participating in the game as Arkansas center Frank Ragnow was invited to play but is still in the process of recovering from season-ending ankle surgery.
Because his recovery is ongoing, Ragnow will only take part in the interview process. He suffered the injury against Auburn but was able to play through the pain in his final game as a Razorback.
Recruited out of Victoria (Minn.) Chanhassen, Ragnow was named to the All-SEC Freshman team in his first season as a backup center but didn't become a permanent starter at right guard until his sophomore year.
In Ragnow's final two seasons, he played a majority of his snaps at center, becoming one of the best in the nation. He graded out higher than any other offensive lineman in the nation this season according to Pro Football Focus. Through 2,603 career snaps, Ragnow never allowed a single sack. He was a consensus All-American and was placed on numerous postseason teams.
Ragnow battled incredible adversity, including the loss of his father, in his time at Arkansas. His passion, perseverance and work ethic made him a fan-favorite.
Despite his prior injury, he will still likely be Arkansas' highest-drafted prospect. CBS Sports' latest prospect board places Ragnow as the 32nd best player and the best center in the 2018 NFL Draft. Most pundits project him to be selected between the second and fifth rounds. If Ragnow sneaks into the first round, he'll be the first Razorback to do so since 2008 (Darren McFadden and Felix Jones).
Earlier this week, Ragnow weighed in at the Senior Bowl at 6-4, 307 pounds. The game is scheduled for this Saturday, January 27 at 1:30 pm (CST) on NFL Network.