Rivals' Ultimate 2021 SEC Baseball Preview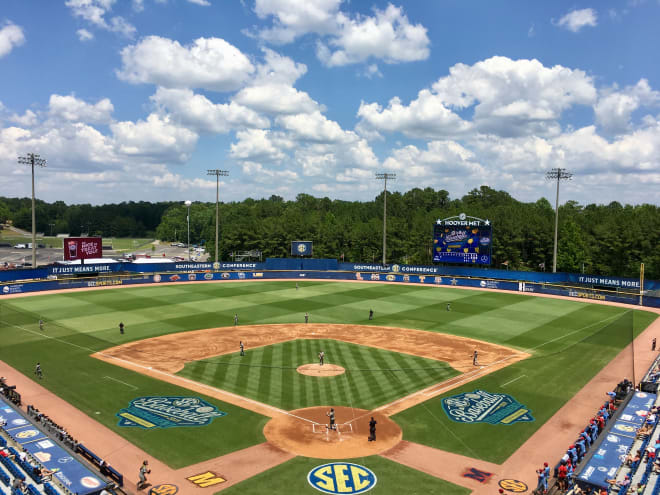 After the 2020 season was unexpectedly cut short because of the COVID-19 pandemic, college baseball makes its triumphant return Friday.
All 14 SEC teams were scheduled to open the 2021 season this weekend, but Kentucky's series at North Carolina has been canceled because of COVID-19 issues within the Wildcats' program.
That could be an issue throughout the season and stadiums across the conference won't be as packed as usual, but baseball is back. To help you get ready for it, Rivals worked together to bring you breakdowns of each team in the best conference in the country.
Links to each preview - which includes a projected roster, weekend rotation and key reserves/bullpen arms - can be found below, as well as the Rivals Preseason Composite Poll, the preseason All-SEC teams, the coaches' preseason predicted order of finish and a list of the biggest non-conference games of the season...
Team Previews
Western Division
Eastern Division
Rivals Preseason Composite Poll
2021 Rivals Preseason Composite Baseball Poll
| Team | Points | High/Low |
| --- | --- | --- |
| 1. Florida | 150 | 1/1 |
| 2. UCLA | 141 | 2/4 |
| 3. Texas Tech | 135 | 3/4 |
| 4. Vanderbilt | 132 | 2/6 |
| 5. Ole Miss | 126 | 4/6 |
| 6. Louisville | 119 | 2/11 |
| 7. Mississippi State | 106 | 7/12 |
| 8. LSU | 97 | 7/13 |
| 9. Miami (FL) | 86 | 6/21 |
| 10. Virginia | 83 | 5/16 |
| 11. UC-Santa Barbara | 79 | 8/21 |
| 12. Arkansas | 76 | 8/22 |
| 13. Texas | 74 | 9/22 |
| 14. N.C. State | 73.5 | t-11/17 |
| 15. TCU | 65.5 | 10/NR |
| 16. Arizona | 62 | 10/22 |
| t-17. Florida State | 39 | 9/NR |
| t-17. Georgia Tech | 39 | 15/NR |
| 19. East Carolina | 34 | 13/NR |
| t-20. South Carolina | 30 | 18/NR |
| t-20. Tennessee | 30 | 16/NR |
| 22. Oklahoma State | 23 | 17/NR |
| t-23. Arizona State | 22 | 15/NR |
| t-23. Michigan | 22 | 18/NR |
| 25. West Virginia | 21 | 14/NR |
Coaches' Preseason Preseason All-SEC Teams
First Team
| Pos. | Player | Team |
| --- | --- | --- |
| C | Casey Opitz | Arkansas |
| 1B | T.J. Collett | Kentucky |
| 2B | Robert Moore | Arkansas |
| 3B | Rankin Woley | Auburn |
| SS | Ryan Bliss | Auburn |
| OF | Jud Fabian | Florida |
| OF | Christian Franklin | Arkansas |
| OF | Tanner Allen | Mississippi State |
| DH/UTL | Matt Goodheart | Arkansas |
| SP | Kumar Rocker | Vanderbilt |
| SP | Connor Prielipp | Alabama |
| RP | Devin Fontenot | LSU |
Second Team
| Pos. | Player | Team |
| --- | --- | --- |
| C | Hayden Dunhurst | Ole Miss |
| 1B | Josh Hatcher | Mississippi State |
| 2B | Max Ferguson | Tennessee |
| 3B | Tim Elko | Ole Miss |
| SS | Josh Rivera | Florida |
| OF | Rowdey Jordan | Mississippi State |
| OF | Owen Diodati | Alabama |
| OF | Cade Beloso | LSU |
| DH/UTL | Wes Clarke | South Carolina |
| SP | Jack Leiter | Vanderbilt |
| SP | Tommy Mace | Florida |
| RP | Ben Specht | Florida |
Coaches' Preseason Predicted Order of Finish
SEC Champion: Florida (12), Mississippi State (1), Vanderbilt (1)
Predicted Order of Finish
| West | Votes (1st place) | East | Votes (1st place) |
| --- | --- | --- | --- |
| 1. Ole Miss | 78 (7) | 1. Florida | 91 (13) |
| 2. Mississippi St. | 73 (3) | 2. Vanderbilt | 79 (1) |
| 3. Arkansas | 72 (2) | 3. Tennessee | 58 |
| 4. LSU | 63 (2) | 4. South Carolina | 55 |
| 5. Texas A&M | 36 | 5. Georgia | 51 |
| 6. Auburn | 32 | 6. Missouri | 28 |
| 7. Alabama | 31 | 7. Kentucky | 23 |
Key Non-Conference Games
Biggest SEC Non-Conference Games of 2021
Date(s)
Game(s)

Feb. 19-21

- State Farm College Baseball Showcase - Arkansas/Ole Miss/Mississippi State vs. TCU/Texas/Tech Tech

- Miami (Fla.) at Florida

Feb. 20

- Notre Dame at LSU

Feb. 26-28

- Round Rock Classic - Auburn/Texas A&M/Oklahoma/Baylor (round robin)

- UCF at Ole Miss

- South Carolina vs. Clemson (one home, one road, one neutral site)

March 4-7

- Frisco College Baseball Classic - Missouri vs. Dallas Baptist (x2), Oklahoma, Arizona

March 12-14

- South Carolina at Texas

- Vanderbilt at Oklahoma State

March 13

- Baylor at LSU

March 16

- Oklahoma at Arkansas

- Florida at Florida State

March 30

- Georgia at Clemson

- Missouri at Kansas

- Texas at Texas A&M

April 6

- Kentucky at Louisville

- South Carolina vs. North Carolina (Charlotte, N.C.)

April 13

- Auburn at Georgia Tech

- Florida State at Florida

April 20

- Clemson at Georgia

- Louisville at Kentucky

April 27

- Georgia Tech at Georgia

- Missouri at Kansas State

May 4

- Vanderbilt at Louisville

May 18

- Georgia at Georgia Tech

- Kansas at Missouri