2019 Arkansas Coaching Staff Changes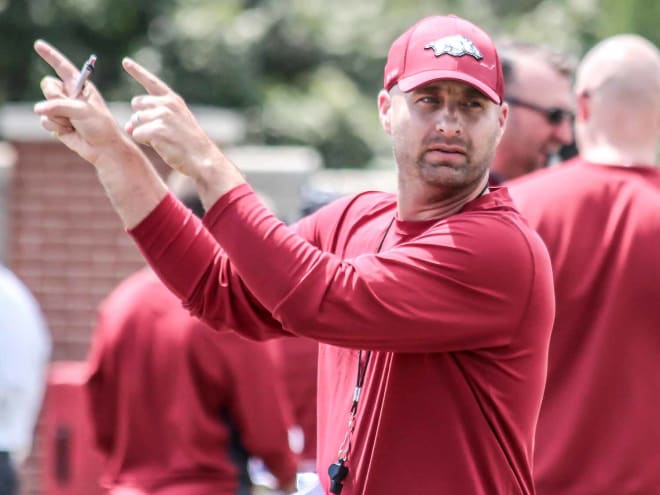 Before the end of the 2018 season, Arkansas defensive coordinator John Chavis confirmed that he'd opt in to his two-year contact extension and so far, there's been two major coaching changes announced in Fayetteville. Defensive tackles coach John Scott Jr. left Arkansas to return home to South Carolina. The other eight position coaches signed multi-year contracts with offensive coordinator Joe Craddock holding the longest deal that goes through February of 2021.
There have already been several minor staff changes and there will likely be more as grad assistants, QCs and analysts look to advance their careers elsewhere. Follow the HawgBeat staff changes tracker for all the latest news:
NEW ADDITION: TURNER GILL
Chad Morris hired former Liberty head coach Turner Gill to be the Hogs' executive director of player and staff development. He accepted the job in June.
NEW ADDITION: JOSHUA THOMPSON
Arkansas hired former ULL director of recruiting Joshua Thompson as their new executive director of recruiting in mid-May. Thompson was a recruiting assistant at A&M during John Chavis's time in College Station.
NEW ADDITION: DJ GILLINS
A former SMU transfer quarterback, DJ Gillins was hired in the offseason as Justin Stepp's new WR graduate assistant. Gillins departed SMU and spent a season at UTSA before joining the coaching ranks.
DEPARTURE: KELVIN BOLDEN
After one season as Justin Stepp's WR graduate assistant, Bolden almost took a job at Auburn, then decided to stay, then departed the program for good.
DEPARTURE: JORDAN TRAYLOR
The former A&M QB, Jeff Traylor's son, spent one season as an Arkansas offensive quality control coach before leaving Fayetteville for a scouting role with the New Orleans Saints. Previous stops include a graduate assistantship at the University of Texas.
NEW ADDITION: KAP DEDE
Arkansas hired two defensive analysts in the last week, the second being former Auburn Tiger Kap Dede. He's now a senior defensive analyst for the Hogs. Dede's last job was a defensive quality control position for the Florida Gators. He's also worked for Mississippi State.
The Virginia native went JUCO and then signed with Auburn to play linebacker and safety. He went on to sign as an undrafted free agent with the New York Giants in 2007, getting cut before the season, and then spent some time in the CFL. He was also a high school coach in Georgia briefly.
NEW ADDITION: ALONZO HAMPTON
Arkansas has added Alonzo Hampton to the staff as a defensive analyst on May 6. Hampton was most recently the special teams coordinator at Florida State but he has coached at several collegiate programs including Oregon, Arkansas Pine-Bluff and South Florida. Hailing from the Natural State, he was the head coach at Dumas High School in 2004 and Warren High School in 2000-2003.
Hampton played corner for ULM and ran track as well.
NEW ADDITION: JESS LOEPP
Arkansas added former SMU defensive backs coach Jess Loepp to the staff prior to the spring. He is an analyst working with the offense to give them a defensive perspective.
Read the full story.
NEW ADDITION (AND DEPARTURE): ARMANI PEREZ
Arkansas added Armani Perez, former Louisiana Tech Director of Recruiting, to the staff as a Player Personnel Director at the beginning of spring football.
UPDATE: Perez left Arkansas for a job with the Seattle Seahawks.
NEW ADDITION (AND DEPARTURE): LARRY MCDONALD
After Taylor Edwards accepted a new position at Maryland, the Hogs were searching for weeks for a new director of recruiting but sources have told HawgBeat that A&M assistant director of recruiting Larry McDonald has accepted the position in Fayetteville and has already informed the Aggies. The Hogs tried to hire other from within the SEC but finally landed on McDonald. He's a solid hire with great ties in Texas that will undoubtedly help Morris and his staff in the 2020 class and beyond.
McDonald was a personnel assistant before moving over to the assistant recruiting role. A&M has recruited very well under Jimbo Fisher and I'm sure the Hogs are hoping some of that magic comes with McDonald to Fayetteville.
UPDATE: McDonald returned to A&M following the departure of the Aggies' director of recruiting.
NEW ROLE: MARK MODLESKI
After spending one season working in recruiting and in the player personnel department, Mark Modleski was added to the graduate assistant ranks as Dustin Fry's OL assistant.
NEW ROLE: WILL GILCHRIST
After spending one season as Arkansas's Associate Director of Player Personnel, Gilchrist has made the move over to the coaching staff as a new defensive graduate assistant. Gilchrist played quarterback at Memphis before switching to wide receiver, he graduated in 2013.
PROMOTION: BARRY LUNNEY JR.
Arkansas's tight ends coach for the past six seasons, Barry Lunney Jr., will add the title of Special Teams Coordinator for his seventh season in Fayetteville. Lunney will have the assistance of the new addition from Colorado, Daniel Da Prato. Per documents obtained by HawgBeat, Lunney's promotion has not come with a new contract agreement. Read up on the new coaches' contracts and salaries here.
NEW ADDITION: KENNY INGRAM
The Razorbacks have officially found their replacement for John Scott Jr. after nearly two months without a defensive tackles coach. He's being replaced by Auburn Director of Player Personnel Kenny Ingram, who has also been a defensive tackles coach, linebackers coach and defensive coordinator in his +15 years of college football. Coach Ingram made the hire official on Feb. 18 by revamping his Twitter with Hog logos.
NEW ADDITION: DANIEL DA PRATO
The Razorbacks announced their hire of new special teams analyst and quality control coach Daniel Da Prato on Feb. 9. Da Prato comes to Fayetteville after three years at Colorado where he was in the same role. Da Prato has 15 years of college football coaching experience. He replaces Tanner Burns who left Arkansas after the season to take the special teams coordinator job at Liberty.
DEPARTURE: DL COACH JOHN SCOTT JR. 
It was reported by Rivals for several days that Arkansas defensive line coach John Scott Jr. was at the top of the list to fill a similar position at South Carolina and the Gamecocks made the hire official Tuesday morning. He's been the Hogs' defensive line coach for two seasons, was previously a quality control coach in the NFL and has coached in college for more than 10 years. Scott is a graduate of Western Carolina where he was an All-Southern Conference defensive end.
DEPARTURE: TAYLOR EDWARDS
After helping Arkansas recruit a top 20 recruiting class for 2019, Taylor Edwards, Director of Recruiting, has accepted the same job at Maryland. Edwards was an assistant at Alabama before coming to Fayetteville.
DEPARTURE: JESSICA JEFFERSON
Jessica Jefferson was on staff as an on-campus recruiting director for the 2018 season but has left the staff, per her LinkedIn. Jefferson worked in the Clemson's recruiting department during Chad Morris's time in South Carolina. Jefferson has been hired as director of recruiting for Colorado State.
NEW ADDITION: ALEX DALE
The Razorbacks added Alex Dale, a Memphis native and former safety at Middle Tennessee, this spring. His official role is as defensive player personnel assistant. He was a Rivals 3-star in the Class of 2012 out of Memphis University School, where 2020 4-star OT target Marcus Henderson plays. Dale also spent time coaching at Austin Peay as a grad assistant.
I am fortunate enough to have accepted the opportunity to be Graduate Assistant at The University of Arkansas. Much love to the coaches, players, and staff at Austin Peay that showed me so much love. It's time to start calling The Hogs! 🐗🐗 #WooPig pic.twitter.com/isHUepqWwZ

— Alex Dale (@CoachDaleWPS) January 10, 2019
DEPARTURE: COREY CHAMBLIN
After just one season with the Razorbacks, defensive quality control coach Corey Chamblin accepted the head coaching position for the CFL's Toronto Argonauts. Chamblin played at Tennessee Tech and was an undrafted free agent signed by the Baltimore Ravens. He was on several NFL rosters through 2004 before coaching in the CFL. Chamblin was the Argonauts' defensive coordinator before he decided to come back to the U.S. and coach for Arkansas.
DEPARTURE: TANNER BURNS
After five seasons as Arkansas's special teams quality control coach, Tanner Burns has accepted a position with Hugh Freeze at Liberty to be the special teams coordinator. Burns's father is Keith Burns who was a defensive back for Arkansas from 1980-82, a GA and defensive coordinator as well for the Hogs.
DEPARTURE: XAVIER ADIBI
Defensive analyst Xavier Adibi has accepted the defensive coordinator position at Texas A&M Commerce, the D2 champions in 2017. Adibi was a standout linebacker at Virginia Tech and then was drafted by the Texans in the fourth round in 2008. He also played briefly for the Vikings, Bears and Titans. Adibi coached linebackers at Garden City C.C. before taking the job at Arkansas.
DEPARTURE: BRIAN BONACCI
Running backs and special teams assistant Brian Bonacci has accepted a strength staff job at Wagner College in New York. Bonacci played football at Iowa State before becoming a recruiting and strength assistant at Texas. He was also an assistant coach at Southlake Carroll before coming to Fayetteville for the 2018 season.
DEPARTURE: TYLER PASCHAL
Defensive backs quality control coach Tyler Paschal will not return to Arkansas for the 2019 season. Previous to working for the Razorbacks, Paschal was an undergrad assistant at Arkansas State and coached high school in the Natural State.
UPDATE: Paschal has accepted the head coach and AD job at Des Arc High School.
DEPARTURE: GJ KINNE
GJ Kinne spent the 2018 season with the Arkansas Razorbacks as an offensive analyst. He was recently spotted back with the Philly Eagles where he was on and off the roster from 2013-2015, sources say he won't return to the staff in 2019 and is likely to find a position with the Eagles. Kinne was coached by Arkansas coach Jeff Traylor at Gilmer High School before playing for Chad Morris at Tulsa in 2010. Kinne also coached at SMU and called plays for the Mustangs in the 2017 Frisco Bowl after Morris departed for Arkansas.
UPDATE:
SOURCE: Former Eagles QB G.J. Kinne has agreed to become an offensive assistant with the Philadelphia Eagles. Last year Kinne worked an analyst/asst. QB coach at #Arkansas working under Chad Morris and Joe Craddock.

— Bruce Feldman (@BruceFeldmanCFB) February 4, 2019