{{ timeAgo('2020-02-13 17:12:45 -0600') }}
baseball
Edit
HawgBeat Preview: Diamond Hogs open 2020 season vs. Eastern Illinois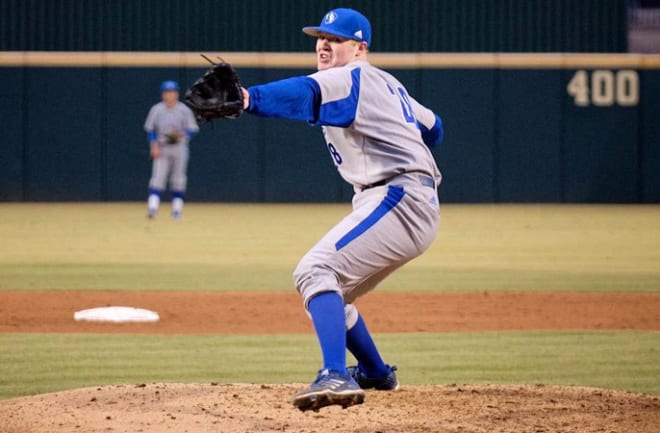 The offseason is officially over, as Arkansas opens the 2020 season against Eastern Illinois this weekend. Here's a preview of the three-game series…
Schedule (TV)
Friday, Feb. 14 - 2 p.m. CT (SECN+)
Saturday, Feb. 15 - 2 p.m. CT (SECN+)
Sunday, Feb. 16 - 1 p.m. CT (SECN+)
All three games will be streamed on SEC Network-plus, meaning they can be watched online on ESPN3.com or on the WatchESPN app. Links to each individual game are included in the parenthesis above.
Also, note that first pitch of Friday's opener has been moved up an hour. It was previously scheduled for 3 p.m., but will now start at 2 p.m.
Weather Report
Cold temperatures and an even colder predicted wind chill led to Arkansas moving first pitch of Friday's game up an hour. Even with the time change, it will still be 44 degrees when the teams take the field, according to the Weather Channel.
It will be warmer each of the next two games, with highs of 55 and 61 degrees on Saturday and Sunday, respectively. However, it will be windy for Game 2, with winds of 10-20 miles per hour out of the south-southwest - or blowing in from right field.
The good news is there's no real chance of rain all weekend.
Arkansas' Starting Rotation (2019 stats)
Friday - So. RHP Connor Noland (20 games/19 starts, 3-5, 4.02 ERA, 55 K/14 BB, 78 1/3 IP)
Saturday - So. LHP Patrick Wicklander (22 games/15 starts, 6-2, 4.32 ERA, 90 K/37 BB, 66 2/3 IP)
Sunday - Fr. RHP Blake Adams (HS: 12 games/12 starts, 7-0, 1.69 ERA, 90 K/38 BB, 66 1/3 IP)
Considering they ended were both Freshman All-SEC selections in 2019, there was no doubt that Noland and Wicklander would earn the top two spots in this year's rotation. The question was who would win the No. 1 job.
At least to start the season, it seems like Noland did enough in his first full offseason without football to get the Friday nod. Instead of trying to play quarterback, he made his primary goal this fall to add velocity and he's done just that.
Noland's fastball is now consistently 91-93 miles per hour, which should help him improve on the mound as a sophomore.
"You add that with the good off-speed stuff, if he's on and spotting that fastball up and he's keeping that breaking ball low with a pretty good changeup now, those hitters have to guess and get out there a little quicker," head coach Dave Van Horn said. "The difference between 89 and 91, 93, it's a big difference when you're standing in the batter's box."
The key for Wicklander this season is having better control and not letting his pitch count get up. When he threw strikes last season, opponents hit just .209 against him - just five points better than they hit ace Isaiah Campbell (.204).
Where the left-hander ran into trouble was when he couldn't find the strike zone. He issued a team-high 37 walks and also had a team-high hit batsmen to go along with five wild pitches.
"I think he pitched 60-something innings and had 90-plus strikeouts," Van Horn said. "That's pretty good, especially for a freshman, but I think he had 30-something walks, something in there. He's got to cut that in half. If he does that, I think he's going to win a lot of games."
The Razorbacks could have gone with a veteran like Kevin Kopps or Kole Ramage as the Sunday starter, but Van Horn likes to keep guys like that in the bullpen.
Although there's a chance those guys will get an opportunity to start, Adams will get the nod against Eastern Illinois. For more on the stud freshman from Springdale Har-Ber, click here.
In the Polls
Arkansas is a consensus top-15 team, with five of the six major college baseball polls also having it in the top 10. In the Preseason HawgBeat Composite Poll, which combines those rankings, the Razorbacks are tied for sixth nationally. Eastern Illinois is unranked and picked to finish eighth out of 11 teams in the Ohio Valley Conference.
Scouting the Opponent
2019 record: 26-30 (13-17 OVC)
Head coach: Jason Anderson (4th season)
Eastern Illinois' starting rotation (2019 stats)
Friday - Jr. RHP Will Klein (19 games/0 starts, 1-1, 1 save, 5.11 ERA, 34 K/27 BB, 24 2/3 IP)
Saturday - Jr. LHP Trevor Nicholson (JUCO: 14 games/13 starts, 4-7, 6.26 ERA, 65 K/29 BB, 69 IP)
Sunday - Sr. LHP Foster Anshutz (13 games/11 starts, 7-2, 6.15 ERA, 23 K/24 BB, 52 2/3 IP)
The Razorbacks' powerful lineup will get a challenge right out of the gate when it faces Klein on Friday. The OVC's top MLB Draft prospect, according to D1Baseball, the 6-foot-5, 225-pound right-hander will consistently throw 95-plus miles per hour.
The next two days, Arkansas will face its Achilles heel from a year ago: left-handed pitchers. In 2019, the Razorbacks hit 54 points lower against lefties than righties (.265 vs. .319).
Nicholson is a junior college transfer from Rend Lake College who will be making his Division I debut, while Anshutz is a returning starter. Van Horn said the latter is a soft thrower who sits in the mid-80s.
Offensively, the Panthers have to replace their top two power hitters in Jimmy Govern and Hunter Morris because of graduation. The pair combined for 28 home runs and 105 RBIs, or more than half of the team's long balls and nearly a third of its RBIs, last season.
They do return their top three hitters in terms of batting average, however. Third baseman Christian Pena was a first-team All-OVC selection after hitting .381 last year, while center fielder Grant Emme was named to the OVC's All-Freshman Team after hitting .349 with 14 stolen bases.
Another player to watch is catcher Ryan Knernschield. Now entering his third straight season as Eastern Illinois' catcher, he's hit over .330 each of the last two seasons.
We Meet Again
If some of those names sound familiar, it's because Arkansas also opened 2019 against the Panthers.
The Razorbacks won the first two games handedly, cruising to 15-7 and 12-3 victories in a doubleheader on the first day of the season. They managed to complete the sweep the following day, but it wasn't easy.
Eastern Illinois scored two runs in the eighth inning to tie the game at 2-2 before Arkansas won in walk-off fashion, with Heston Kjerstad driving in the game-winning run on a one-out single in the ninth.
The trio of Pena, Emma and Knernschield went a combined 8 for 18 (.444) in the series, but the Panthers' current starting pitchers didn't fare as well. Although he notched five strikeouts, Klein gave up five earned runs in two innings of relief, while Anshutz gave up one earned run in one inning of relief.
Game 3 Recap - Kjerstad's walk-off completes sweep
Beyond the Box Score: Final look at EIU sweep
Stat of the Week
It is not an exaggeration to say Arkansas has had one of the most powerful lineups in college baseball for three straight seasons.
Since 2017, the Razorbacks have hit 269 total home runs. That is by far the most they've ever hit in a three-year span, surpassing the previous high 249 set at the end of the live-bat era, from 2008-10.
Only Tennessee Tech, which has hit 321 over that span, has more home runs the last three years than Arkansas in Division I baseball. The closest SEC team is Florida, which hit 230.
Arkansas-Eastern Illinois Stat Comparison
| Stat | Eastern Illinois | Arkansas |
| --- | --- | --- |
| Batting average | .295 | .298 |
| Slugging percentage | .439 | .489 |
| On-base percentage | .386 | .393 |
| Home runs | 53 | 88 |
| Runs/game | 6.73 | 7.44 |
| ERA | 5.46 | 3.90 |
| WHIP | 1.59 | 1.24 |
| Strikeouts/9 innings | 9.13 | 9.52 |
| Strikeout-to-walk ratio | 2.00 | 2.58 |
| Fielding percentage | .966 | .972 |
| Stolen bases/game | 0.68 | 1.23 |
HawgBeat's Player Breakdown Series
READ NEXT